Click here to get this post in PDF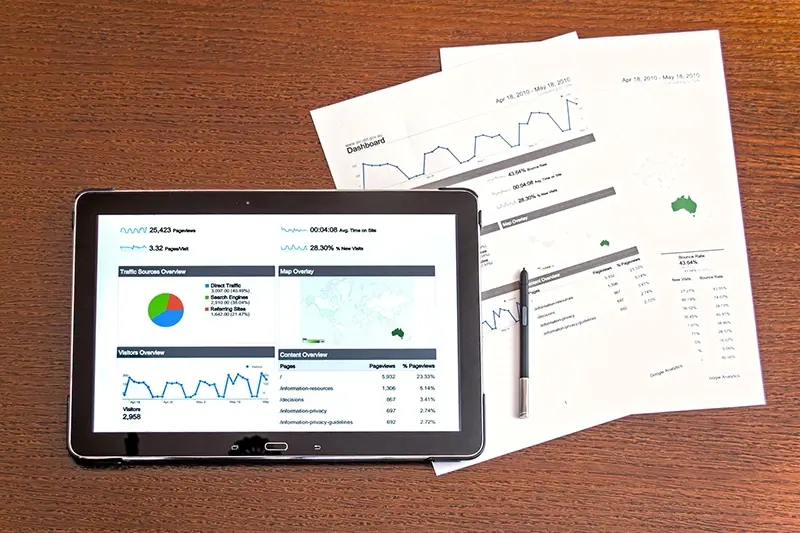 The amount of information available to us is staggering. From spending habits to purchase patterns and more, there is a lot you can learn about the market, your own business, and your potential customers to capitalize on niche market needs. For your own company, you can use data analytics to improve turnaround times, delivery estimates, and pinpoint unprofitable aspects of your organization. In today's world, if you aren't leveraging the advantages of data analytics, you're hurting your bottom line and denying yourself an edge that many of your competitors are gaining. 
What Is Data Analytics?
Data analytics is the process of taking large amounts of data and figuring out correlations among them. For example, you have data that says that umbrella sales go up by 50% during specific periods. You also have data that shows weather patterns in your area. Using data analysis, you would correlate the increase in sales with spikes in temperature or rainfall. As a business, you can use this information to drive up sales by running sales or promotions right before or during the correct times. 
How Do I Use It for My Company?
Get a Sense of Who Your Customers Are
One of the first steps people ask you to take when you start a business is to figure out your customer profile. This is often seen as one of the most important aspects of starting up, and it is one of the most confusing as well. It can be challenging to target who exactly you want as customers because, realistically speaking, you want as many people as possible. Additionally, this profile often changes as you progress on your journey, and you might find your actual clients don't fit the profile you started out using. 
This can hurt your business severely. Different groups of people are targeted with ads and services in different ways, and you want your products and services to fit their wants and needs completely. By gathering data on your customers, you can change aspects of your company that is disconnected from your audience, re-think branding and marketing strategies, or even explore new avenues for sales. 
Streamline Planning and Logistics
Weather intelligence is a step above simple weather forecasts. Forecasts tell you when it will be sunny or snowing. Weather intelligence will tell you that a local blizzard on a Wednesday will add three days to your shipping times, so you need to inform your client of the possibility of a delay and make arrangements to reschedule outdoor work so that your overall workflow is not disrupted. When you plan long-term business strategy and monthly operations, you plan for best-case scenarios. It is easy to forget to plan for disruptions, and it is difficult to plan for disruptions to normal workflow. 
Proper crisis management can make or break a business, and data analytics helps to do this precisely. Using weather intelligence, you can assess what logistical and operational disruptions might look like for your company. You can run scenarios of possible disruptions to your operations and construct backup plans that will help you stay on track and deliver your products or services to clients on time, every time. You can leverage weather intelligence using one of the weather apps on this list compiled by Climacell.
Run a Tight Ship 
Internal operations are often the lowest priority in many organizations. However, underperforming assets are the cause of consistent hits to your bottom line. Using performance analytics, you will be able to track everyone's work output, evaluate them in terms of both quality and quantity, and make a decision on whether they are a good fit for your organization or not. Using productivity measuring tools is not only helpful for you, but it is also great for employees as well. Employees get a fair and unbiased idea of what you expect from them, how they are performing their roles and responsibilities, and what aspects of their jobs need additional focus or effort. 
If there are any improvements or focus adjustments to be made, you and your employee are on the same page about the context of the conversation. You also have the added benefit of being able to track employee engagement, analyze the reasons for attrition rates, and build a better team to power through your entrepreneurial journey. Finally, performance management software can also help you make decisions about promotions and salaries. Using these tools enable you to avoid promoting people who might produce good work but harm other people's productivity.
You may also like: 5 Reasons Why Data Analysis is Important for Every Business
Image Source: Pixabay.com