Click here to get this post in PDF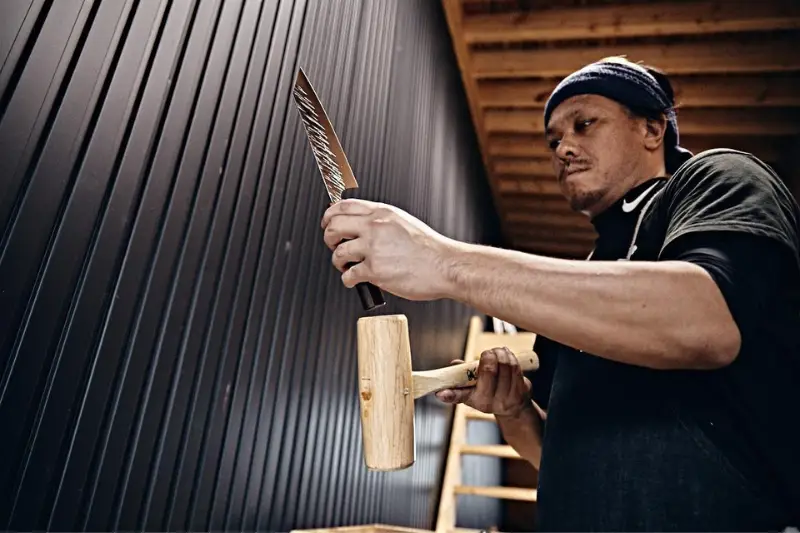 Japanese chef knives are not merely tools; they are a testament to Japan's rich culinary heritage, embodying centuries of artistry, dedication, and skill. In the intricate dance of crafting these blades, metallurgy meets aesthetics, producing knives that are both functional and breathtakingly beautiful. The meticulous craftsmanship behind each knife tells a story, weaving in tales of samurai swords, ancient forging techniques, and an unwavering pursuit of perfection.
One such blade that holds a special place in the heart of Japanese culinary tradition is the Nakiri. With its straight blade designed explicitly for chopping vegetables, the Nakiri knives are a testament to the importance of precision in Japanese cuisine. Its name, which roughly translates to "knife for cutting greens," speaks to its primary role in the kitchen, ensuring that each vegetable is sliced with respect, preserving its texture and flavor.
The Heritage of Japanese Chef Knives
Knife craftsmanship in Japan is deeply rooted in a rich tapestry of tradition, skill, and reverence for materials. Originating from the same ancient forging techniques used to create the renowned samurai swords, Japanese chef knives carry forward a legacy that is as much about function as it is about art. Every knife is a product of dedication, where the bladesmiths spend years perfecting their craft, ensuring each blade's sharpness, balance, and durability.
Over the centuries, as the culinary landscape of Japan evolved, so did its arsenal of knives. From the versatile Gyuto, akin to the Western chef's knife, to the precise Nakiri knives, each knife type has been developed in response to specific culinary needs. This diverse array of blades reflects the intricacies of Japanese gastronomy, where every ingredient is treated with respect, and each dish has its unique preparation method. The knife, in this context, becomes more than just a tool—it's an extension of the chef's hand, mirroring their intent, skill, and passion.
Thus, the journey of Japanese chef knives is a testament to Japan's unwavering commitment to culinary excellence, marrying form and function in equal measure.
Discover the unique features of Nakiri knives!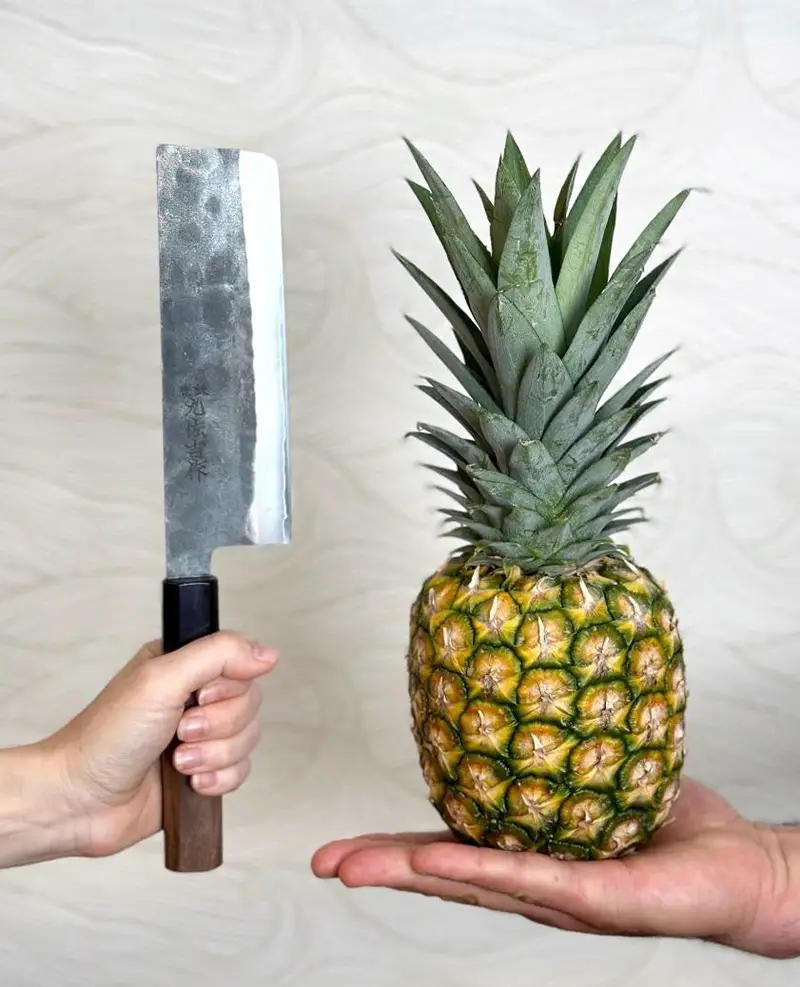 At the heart of Japanese culinary tradition lies the Nakiri, a knife that seamlessly blends form with function. Characterized by its straight blade and squared-off tip, the Nakiri knives are uniquely designed with a singular purpose in mind: to cut vegetables with precision and ease. Every stroke of the Nakiri, whether chopping, slicing, or dicing, speaks to its craftsmanship, ensuring vegetables retain their texture and vitality.
The name "Nakiri" offers a glimpse into its very essence. Derived from the Japanese words "na" (leaf) and "kiri" (cut), its moniker paints a vivid picture of its primary role: a specialized tool for cutting greens and vegetables. This dedication to purpose underscores the Japanese culinary philosophy of respecting each ingredient and its intended function.
In the vast family of Japanese chef knives, the Nakiri's closest sibling is the Usuba. While both are tailored for vegetable preparation, they have distinct differences. The Usuba, often seen in professional kitchens, is thicker and typically has a single-beveled edge, making it perfect for intricate vegetable work and traditional Japanese dishes. The Nakiri knives, on the other hand, are often double-beveled and are more versatile for everyday kitchen tasks. Together, they exemplify the nuanced approach of Japanese culinary tools, each tailored for specific tasks yet sharing a common ethos of precision and respect for ingredients.
Expert tips for ensuring blade sharpness!
Japanese chef knives, revered for their precision and beauty, require meticulous care to maintain their sharpness and longevity. The convergence of expert care practices and traditional wisdom can ensure these blades of long-lasting tools like Nakiri knives remain in pristine condition.
Ensuring Blade Sharpness and Endurance: The key to retaining a blade's edge is regular honing using a honing rod, ideally before or after each use. This realigns the blade's edge, ensuring consistent sharpness. Additionally, periodic sharpening on a whetstone is essential, as this helps to grind away any small nicks or imperfections, revitalizing the edge to its original sharpness.
Cleaning and Storage: To maintain the knife's integrity, always hand-wash it with mild soap and warm water, drying immediately with a soft cloth. Never let the knife soak or place it in a dishwasher, as this can lead to corrosion or damage. Once cleaned, knives should be stored either on a magnetic knife strip, in a wooden block, or within blade guards to prevent unnecessary contact with other utensils, ensuring safety and minimizing edge wear.
The Significance of Manual Sharpening: Automated sharpeners might seem convenient, but manual sharpening on a whetstone is the most recommended method for Japanese chef knives. The gentle, controlled motion on the stone allows for precise edge realignment, respecting the knife's geometry and metallurgy. This traditional method not only sharpens but connects the user with the centuries-old art of Japanese blade craftsmanship, emphasizing the respect and care these culinary masterpieces deserve.
Become a master chef with a little help from Sharp Edge Shop
With every Japanese chef knife, particularly with the revered Nakiri knives, lies an intricate tapestry of history, craftsmanship, and unparalleled functionality. Investing in such a knife isn't merely adding a tool to your kitchen; it's embracing a piece of art steeped in centuries of tradition.
Owning premium Japanese chef knives, like the Nakiri knives, can transform your culinary journey. The precision with which it cuts, the balance it offers, and the sheer beauty of its design is unparalleled. Each slice or chop is a testament to generations of blacksmiths who have honed this craft.
While standard knives might serve basic purposes, a Nakiri or a high-quality Japanese chef knife elevates the cooking experience. It speaks to the respect given to ingredients, the passion for culinary excellence, and the quest for perfection in every meal. Dive deep into the world of Japanese chef knives, and you'll not only be investing in a tool but a legacy. Remember, Nakiri knives aren't just for cutting; it's a symbol of dedication, respect, and the rich tapestry of Japanese culinary arts. Elevate your kitchen arsenal and, in turn, every dish you craft.
You may also like: Benefits of Upgrading your Commercial Kitchen Equipment
Image source: https://sharpedgeshop.com/