Click here to get this post in PDF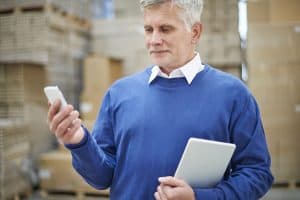 Crowdfunding has never been more popular – with more than 3.8 billion U.S. dollars invested into successfully launched projects to date on Kickstarter alone. The platform also enjoys a funding success rate of 36.29 percent[1], offering a significant carrot to startups and established businesses alike.
However, there is a growing challenge beyond the initial funding question – that of delivery.
We take a look at some of the strategies and tools now available that can streamline and mitigate the most common pitfalls in delivering high tech projects, often from a standing start.
It should come as little surprise to find that the biggest element in ensuring a smooth delivery is planning, and most importantly, planning for failure. Not planning to fail, but planning for failure – most commonly in the supply chain, a complex area particularly for a small startup.
Indeed, that challenge becomes particularly acute for tech startups, which face the worst possible position, a combination of sometimes minimal market experience, no brand recognition, a lack of established supplier contacts, and finally facing a sudden requirement for relatively small component orders after a successful crowdfunding.
Then, of course, there is the actual assembly of the components into the product, testing, packaging, shipping – not forgetting customs and regional regulation paperwork.
In fact, the closer you look at a tech fulfillment roadmap, the more complex it becomes – it's surprising that anything gets delivered at all!
Here are a few top tips to make sure your startup doesn't become a negative statistic when it comes to the crunch:
Let the product pick the methodology
You'll hear people eulogise about Lean development strategies, rave about Agile or Devops, and berate Waterfall, but these software-oriented methodologies allow for varying amounts of evolution as a software product is created, which is the opposite of the hardware world, where the decisions you make early on have an increasingly large impact. That's not to say these methodologies won't work for your project though, as each project must be considered on its merits and fitted to a methodology, not the other way around. However, pure hardware requires more upfront validation before decisions can be made.
Don't be afraid to ask for help
There are plenty of distributors out there who will be more than glad to lend their expertise to your project, helping to collate parts lists, secure alternatives and monitor delivery timelines, all potential project killers. Choose a specialist distributor in your product area (for example, Avnet for pressure sensor projects) and a little due diligence on industry track record goes a long way, but otherwise, there are no downsides to enlisting the experts!
Design for logistics
It's worth remembering that the choice of materials and shape of an item can significantly change logistical costs. Pressurised containers and lithium batteries are two obvious examples, where shipping is significantly restricted due to handling dangers. In some cases, an MSDS (Material Safety Data Sheet) certificate will be required. Equally, sometimes just a few millimetres of extra packaging can tip a product into a more costly category, adding significant cost over the whole production run. Specialist logistics firms can advise here, and often will point out significant savings.
Factor in the factory
Once prototyped and with funding secured, you can face up to one of the biggest challenges in the process – choosing a manufacturer. The most important general consideration is to choose the right manufacturer for the volume you require – a bad fit here will cause enormous trouble. Swamping a small factory will lead to delays while they ramp up, or even failures to deliver on promises while placing a small order at a large factory leads to similar results for the opposite reasons. Due diligence on the manufacturers is the key, and there are many matchmaking services and startup schemes to help minimise the legwork.
Design for manufacturing (DFM)
Many manufacturers will claim to have experience in DFM, where your prototype design is tweaked to minimise manufacturing complexity, perhaps by creating moulds of key parts for example. For any complex design, it's worth letting your chosen factory create a complete design from scratch, or go to them with a finalised version. Although making small improvements to reduce manufacturing costs and to improve product quality at this stage is a great idea, making big decisions can become expensive fast.
Think out of the box for shipping
Sometimes using a logistics company to manage the entire customer delivery stage is a good plan – shipping products globally gets expensive fast, and sometimes tricks of the trade can make a big difference. For example, consolidating shipments, organising customs clearance in advance, and using a local trusted courier for the final mile can dramatically cut costs. Sea is always cheaper than air, which in turn is cheaper than courier.
Plan for regulation
Of course, each jurisdiction has its own regulations, and it's easy to imagine that customers will be responsible for these details – such as customs charges or VAT. However, smoothing the way by enumerating any specifics and mitigating any that can be managed cost-effectively will not only be seen as good customer service but also prevent a deluge of similar questions becoming a huge time sink.
The EU market requires a CE mark, which requires a process of evaluating which directives apply to your product, testing that it meets them, then the production of an "EC Declaration of Conformity" and accompanying technical file. Third party inspections may be required, and enforcement agencies will request copies of the file. Industry bodies such as the BSI can help here and have robust guidelines to help companies navigate the relevant regulations in advance.
Finally, remember the backers…
It's always tempting to communicate regularly when projects have positive news, and then lean off when difficulties or delays crop up. However, this is a mistake for any business that has a community behind it, whether of backers or a wider community. Delays in production happen to most small businesses, and explaining the details will often get your customer base on your side from the outset, rather than becoming increasingly antagonistic. Own the project, and communicate the downs as well as the ups – enjoy!
You may also like: 9 Team Roles to Maximise Your Projects' Success
About the Author
Martin Keenan is the Technical Director at Avnet Abacus. Avnet Abacus assists and informs design engineers in the latest technological advances and provides guidance through the challenges of bringing new products to life. This includes navigating evolving market conditions, such as the current MLCC shortage, and avoiding manufacturing pitfalls before they occur.