Click here to get this post in PDF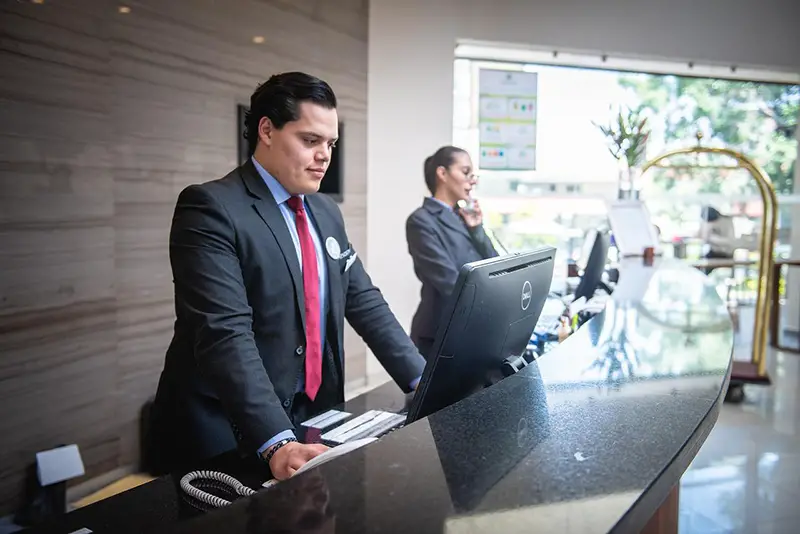 The post of receptionist is sometimes one that's looked down upon in business. In terms of rank, it's essentially the bottom of the pile, as the receptionist seems to report to absolutely everyone else in the office. While the rank may be low, the importance of a good receptionist simply cannot be overstated. You can invest all the money you want finding the best reception desks for sale, the fanciest decoration, the comfiest waiting sofas and whatnot, but if you don't have a competent professional manning that desk, your company is in trouble.
So, when you're looking for a new person to occupy that key square on the office chess board, what qualities should you favour? Let's take a closer look:
1. Punctual
Your receptionist is essentially the "gatekeeper" of your organisation. For that reason, they really need to be someone who is there when others arrive and is still there as everyone leaves. Obviously, there is some flexibility in that, but the principle remains true when you're in office hours, the receptionist must be there. Tardiness is not acceptable.
Therefore, when looking for a new receptionist, place great favour on those candidates who clearly value your time as much as their own by being either on time or early to their interview or trial period in the office (and every day after that).
2. Good Communicator
The receptionist is not just a gatekeeper for visitors at the door, but also for both internal and external communications. They need to be strong listeners, receiving instructions, demands, requests and inquiries, as well as strong responders, answering questions, explaining procedures and reasons, and directing information where it needs to be.
Receptionists deal with many types of people, including brand-new customers who have no idea where to start, existing customers with complaints, old and new staff members with different needs and requests…the list goes on. To speak a common language that satisfies all these stakeholders is no mean feat.
3. Good Smile and Posture
These might sound superficial at first, but they're not. Nobody would have a good impression of a company if the first thing they saw upon entering the office space is a slouched, glum-looking receptionist staring at their smartphone, or looking dead-eyed into a computer screen leaning their head against one hand.
Proper posture is critical for receptionists, be they standing or sitting. They need a warm smile, too, and to stay as a vision of welcoming positivity as people come in.
4. Organised
As we mentioned in our second point, a receptionist is bombarded with all kinds of new information on a daily basis, hour by hour, minute by minute. All of this information has to be correctly directed to the right parties, while also being stored, scheduled and filed away for later reference. Therefore, organisational skills are very important to their job.
In the information age, it's not just about organisation of their desk and managing their own time properly, but also keeping their reception computer in good order, with all files, schedules and emails organised and ordered in a structured manner. If you see a receptionist candidate whose own laptop is a higgledy-piggledy mess, perhaps steer clear?
5. Knows Their Way Around a Computer and Phone System
The majority of receptionist candidates are fairly young and so you can have confidence that they know how to operate a Windows or iOS computer system. Receptionists, however, need to have particular knowledge of programs like Outlook, Calendar and similar apps. They'll also have to be very au fait with your office's chosen internal communication system.
If your reception still works a bit like a switchboard where most incoming calls don't have an extension number to dial, then your receptionist will have to also be adept with the phone.
6. Discretion and Patience
Finally, and perhaps most important of all, your new receptionist will have patience and discretion in spades. They may be privy to all kinds of special information, and will often have to put up with difficult people and difficult times, all of which are helped by discretion and patience.
You may also like: 7 Reasons to Hire a Virtual Receptionist for Your Business