Click here to get this post in PDF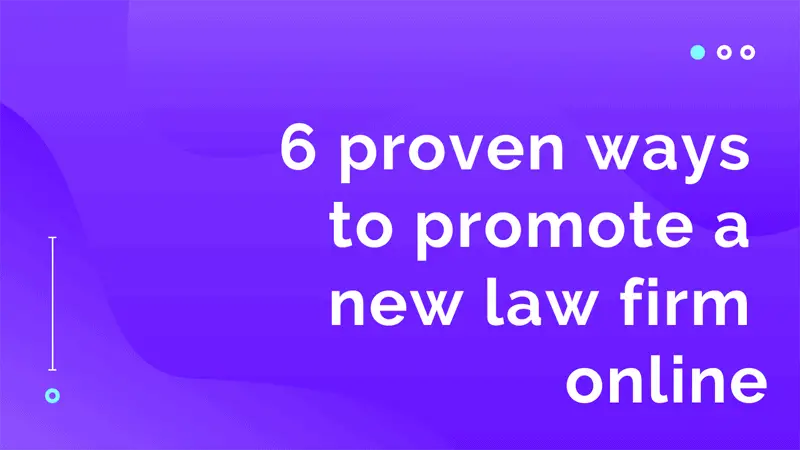 With so much competition among law firms, it is important to constantly promote your firm to acquire new clients. For a new firm, it might be difficult to navigate this area.
But you don't have to worry. We have put together a list of some of the best-proven ways for you to promote your new law firm online:
1. Focus Your Promotion Locally
Since your firm is still new, it is important to first build a local presence before focusing on clients outside. For the first few months, your SEO efforts should be focused in a small region. Try to gauge the interests and reviews of potential clients in a local region.
This will help your firm develop a strong local online presence which will eventually provide your firm a boost because of more promotion.
2. Create High-Quality Content
Just having an online presence won't act as an effective promotion of your firm. You need to create some good content to get the attention of potential clients. There is basically no limit to what kind of content you can put up on your website or social media profiles. Just make sure that it is related to law, is unique, and provides people with some knowledge.
However, it shouldn't look like pandering. Creating the right content will be a major boost to your promotion efforts as many people will share the content with other like-minded people and in turn, more people will become aware of your brand.
3. Go Through Your Reviews
Following an online promotion strategy is good. But simply following it without looking at the response that you are getting from people would be of no use as you would not realize what you are doing wrong and on what aspects you need to improve upon.
Go through the comment sections on your social media posts to gauge the response of your followers. Look at the data to analyze what kind of your posts have been the most liked and shared by your viewers.
Besides that, make sure to encourage clients you've worked with to leave positive reviews on sites like Yelp and Google. These comments will act as testimonies for someone who is interested in hiring your firm and you will be getting more clients.
4. Paid Online Advertising
About 64.6% of people tend to click on Google ads when they are looking online to buy some product or service. The number is too big for you to ignore it.
If you promote your law firm with this method, there will be a high percentage of people who end up visiting your website to learn more about you and your chances of acquiring new clients will increase significantly.
And you don't have to limit your paid ads to Google. Do some research to find out which apps are used by a large part of your target customers. This will help you in buying ads on those particular platforms and thus, getting more clients.
5. Create Digital Business Cards
Business cards are a very important promotion tool. But for a new firm, it can be difficult to pay so much for printing and storing these cards. That is why you should create a digital business card for your firm. It will save you money while also being more effective than the paper ones.
You can easily share the digital card with anyone across the world with access to the internet. You can add the links of your social media profiles and your website to increase the chances of the receiver visiting these and learning more about your firm.
You will be able to promote your law firm in a much better way by doing this.
6. Develop Personal Brands
Building the personal brand of each of your lawyers and partner is equally as important as the brand of the firm. Their personal brand must complement the firm's brand. It is common for people who visit your website or social media profile to want to know about the lawyers that are working for you.
After all, they are the ones that they need to work with. Make sure that all of your top lawyers have a strong online presence and accounts on several social media profiles.
---
5 Creative Business Development Ideas for Law Firms
---
Over to you…
Before you start following these tips, it is important that you set some goals and come up with a strategy to use these tips in order to achieve them. A combination of this strategy and all of the above tips will help your promotion efforts greatly.