Click here to get this post in PDF
Pinterest users are still unclear about how the platform measures their followers. This is particularly true for users who buy Pinterest board followers. But if you know why your Pinterest boards have more followers than your account, you will understand the platform better.
First, your audience sees your board pins. So, a user can follow all your boards, but generally, this amounts to one follower. It's even possible to create a board, and in the next couple of minutes, you already have 35 followers. 
This figure usually doesn't correlate with the one on your Pinterest profile. Instead, it all boils down to the platform's way of measuring followers. Find out more about this as you read on.
Pinterest Boards Having More Followers Than Your Account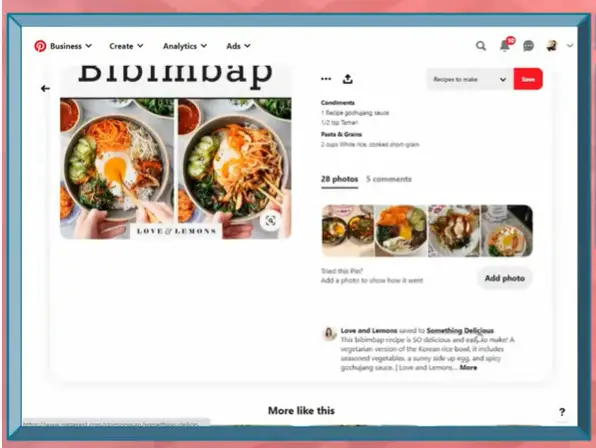 If you have a Pinterest account, you can easily relate to the unbalanced follower count on the platform. This could make you wonder why your Pinterest boards have more followers than your account.
There are two major reasons backing up this issue on the platform. They include how your board pins are viewed on the platform and specific pins on your different boards. But it specifically has to do with how the platform counts your followers.
Let's address these reasons in detail to understand better how the platform works.
How Pinterest Counts Your Followers
On Pinterest, follower count and engagement measurement are two different things. Your engagement count or measurement is connected to your audience impression. By impression, we mean the level of insights your posts or pins provide your audience.
The formula for audience impression is clicks + comments + closeups + saves / impressions = engagement.
This metric deduces the extent to which your posts are seen and the number of users who see, collect and assess them.
On the other hand, the follower count is simply the number of Pinterest users currently following you. They increase as they click on the Follow button at the base of your boards. But how does the Pinterest platform measure your follower count?
Pinterest counts your followers by accounts that click on your boards, not the number of clicks. Your followers are not equal to the followers you see on your Pinterest boards, as opposed to certain users' viewpoints.
If an account or user clicks the Follow button on three of your boards, you have just one follower. This is primarily how Pinterest counts your followers.
Pinterest Board Pins View
Most Pinterest users view posts or pins from the homepage of the platform. These posts are usually found on boards. Users who see your pins usually simply scroll down to find the Follow button next to your name and bio.
The follow clicks you get through your post do not equal the number of followers on your account. In a nutshell, the followers on your board increase by the number of clicks you get on it.
Before we proceed, here are some simple steps to locate and follow boards on your Pinterest home feed.
Select a pin from the home feed of your Pinterest
On the next page, select the board title, which is the board title username.
On the next window, select the Follow button.
To follow a board from the search page, use these steps:
On the main page of Pinterest, input the search intent in the search bar and select the enter button.
On the right side of the search bar, you'll find a menu. Click on Boards from this menu.
You can either select the Follow button beneath the board or open it to find all its pin content.
The steps above may not be so easy to comprehend. So, here's a YouTube video that visually explains the procedure.
Specific Pins on Different Boards
Another way your boards' followers increase, leaving your account followers behind, is by having specific pins on different boards. The more boards you create, the more followers you get on your boards.
For instance, you have a board dedicated to food recipes alone and another for just fashion and so on. Your visitors will keep flooding into these boards based on their interests, thereby increasing the board followers, not your account followers. This usually happens when you use a particular board cover for all your boards.
To grow your account followers, let each of your boards follow its specific line. In addition, let everyone contain its theme and image that explains its caption.
Followers' Fluctuations on Pinterest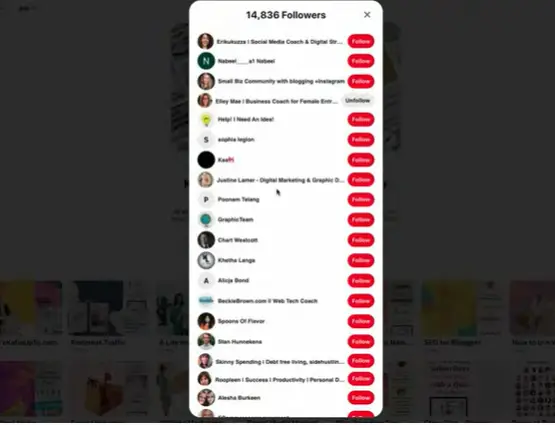 The reason for the fluctuations of Pinterest followers is no longer a secret. If you're having follower fluctuations on your account, it's simply because of the platform's changes. These changes became more effective on January 21, 2021, precisely last year.
The company stated that users' data might appear different before the above date. Your views on Pinterest will no longer count if your content is a derivative of someone else's content. These include the source's YouTube channel, website, or Instagram page.
The only views that count, in this case, are those gotten from your created content. As a result, your followers will be affected, resulting in the fluctuations you're noticing. The change here is huge, considering that users were already acquainted with the former system. 
However, there is a bright side: the confidence you get knowing that your viewers and followers come from your unique content.
Aside from this, other factors also affect your follower count. 
Here are a few of them.
Pinterest is not like the other social media platforms that sustain followers regardless of what's trending. On Pinterest, you'll likely lose followers when your pins go obsolete. The major reason is that your pins are no longer in line with what people search for online.
So, how can you tackle such an issue? You can visit your boards to see the ones losing traffic. You might have to create new boards or pins to keep your posts up. Just visit the Pinterest trend website to get the latest topics to share on your boards.
The Nature of the Platform
The Pinterest platform is seasonal. Users cannot always see a rise in traffic on their accounts. What does this mean for your posting effort? It simply means that your continuous posting is not directly proportional to the increase of your audience, as opposed to the old system of operation.
This is another reason you'll notice fluctuations in your account followers and viewers.
Followers May Not See Your Pins on Their Home Feeds
Similar to the Instagram app, your followers are the testers of your content on the Pinterest platform. How? Only a small percentage of your followers on Pinterest see your posts initially. Your posts can go wider, but that depends on the engagement level of the followers.
If these pins on your different boards are similar in content, you might lose your followers and viewers. This is mainly because the platform notices when your viewers are tired of seeing similar pins on all your boards. This, also, is a factor that contributes to the fluctuation of your followers.
Viewers Don't see your Pins as "Fresh Pins."
Before we go further, let's throw some light on the term "fresh pins." Fresh pins are posts on the Pinterest platform that no one has seen. Due to the changes in the Pinterest algorithm in June 2020, there were modifications in the area of fresh pins.
Two things are involved here. Your pins remain fresh when attached to a similar blog post as other pins on the platform. Secondly, you have fresh pins when they're just posted on the platform.
Presently, the platform doesn't mark the same pins on your different boards as fresh pins each time you post them. This is because the platform modified this aspect of its operation. 
As a result, you'll need to post new pins that are different to increase your follower count. You could notice changes in your follower and viewer count if this is not done.
So, you must learn how to create pins on the Pinterest platform. Here is a YouTube video that explains the easy steps to create pins on Pinterest.
Fixing Follower Count on Pinterest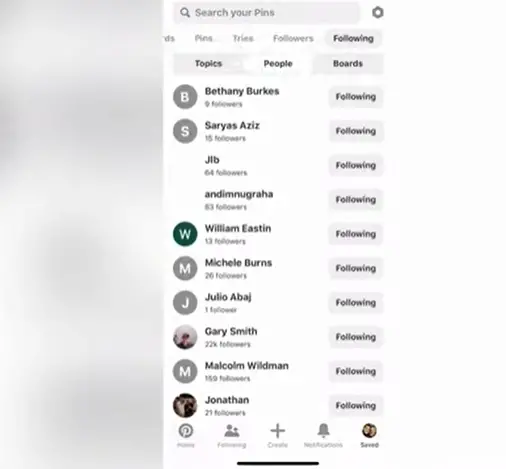 Fixing the follower count issue on the Pinterest platform has become a necessity seeing the rise in complaints. One thing to note is that the problem is a function of the algorithm changes. 
Let's highlight some possible steps you can take to tackle the follower count fluctuations on the platform.
If you had bots as your followers, you might notice some fluctuations in your follower count. So, make sure all your followers are users with real accounts.
If the pins on your boards are not significant to the interest of your audience, it could affect your overall follower count. Ensure you're pinning posts relevant to your audience.
Your follower count on your boards might differ from your profile if you keep posting similar content. What you can do is make sure your pins have dissimilar content.
Finally, content from other sources like YouTube channels, blogs, or other social media platforms may affect your follower count. For your follow count to grow, your content needs to be self-created.
Final Words
Pinterest has modified its algorithm, changing some functions on its platform. A notable aspect that was affected is the follower count. So, if you're wondering why your Pinterest boards have more followers than your account, the modification could be the reason.
A few things you can try to fix this issue are using original content, avoiding repeating pins on your different boards, etc. Also, ensure your pins are relevant to your viewers and confirm that they're still trending.
You may also like: 14 Powerful Pinterest Marketing Tips to Grow Your Business