Click here to get this post in PDF
The COVID-19 pandemic has stirred up the whole world. Although it caused considerable hardship to both employees and entrepreneurs, it taught businesses to work in a new way. Companies operating offline have had the most challenging time of all. One of these industries is education. Business schools, self-development centers, and experts began to look for new ways to develop their projects without compromising the quality of education. IT industry quickly found a solution to this problem and introduced learning management systems (LMS).
LMS is software that helps digitize the learning process. It allows teachers to download all materials, structure the presentation of information, use different content formats, track students' progress and assess their knowledge, create reports and automate communication with learners from a centralized hub. It's a convenient learning platform that lets schools and experts monetize their experience and skills and lets people update their knowledge and master the skills anytime they want.
The most popular learning management system providers include Udemy, Teachable, SkyPrep, Canvas, SendPulse. We'll prove that creating an online course can be quite manageable even for non-tech-savvy marketers if they choose SendPulse.
What is SendPulse?
SendPulse is a universal marketing platform that provides a wide range of tools for businesses to grow fast. With SendPulse, you can promote your brand offers via email campaigns, SMS, web push notifications, and WhatsApp messages. The platform provides an intuitive chatbot builder with the help of which you can answer clients' FAQs, handle orders, and provide support via Facebook Messenger, Instagram, WhatsApp (official WhatsApp Business Solution Provider), and Telegram. Besides, you can create a professional landing page or link page for your social media bio in 15 minutes. Store your leads' data and monitor how they convert into clients with the SendPulse CRM system. In addition, the service lets you send automated triggered and transactional emails in response to customers' actions such as registration, adding an item to the shopping cart, purchase, etc. The platform provides a free plan, so you can use most of the features at no cost if you have a small business.
Online Course Creator
SendPulse's online course creator is a fantastic choice for everyone interested in teaching. You don't need technical skills or any experience to create a professional course.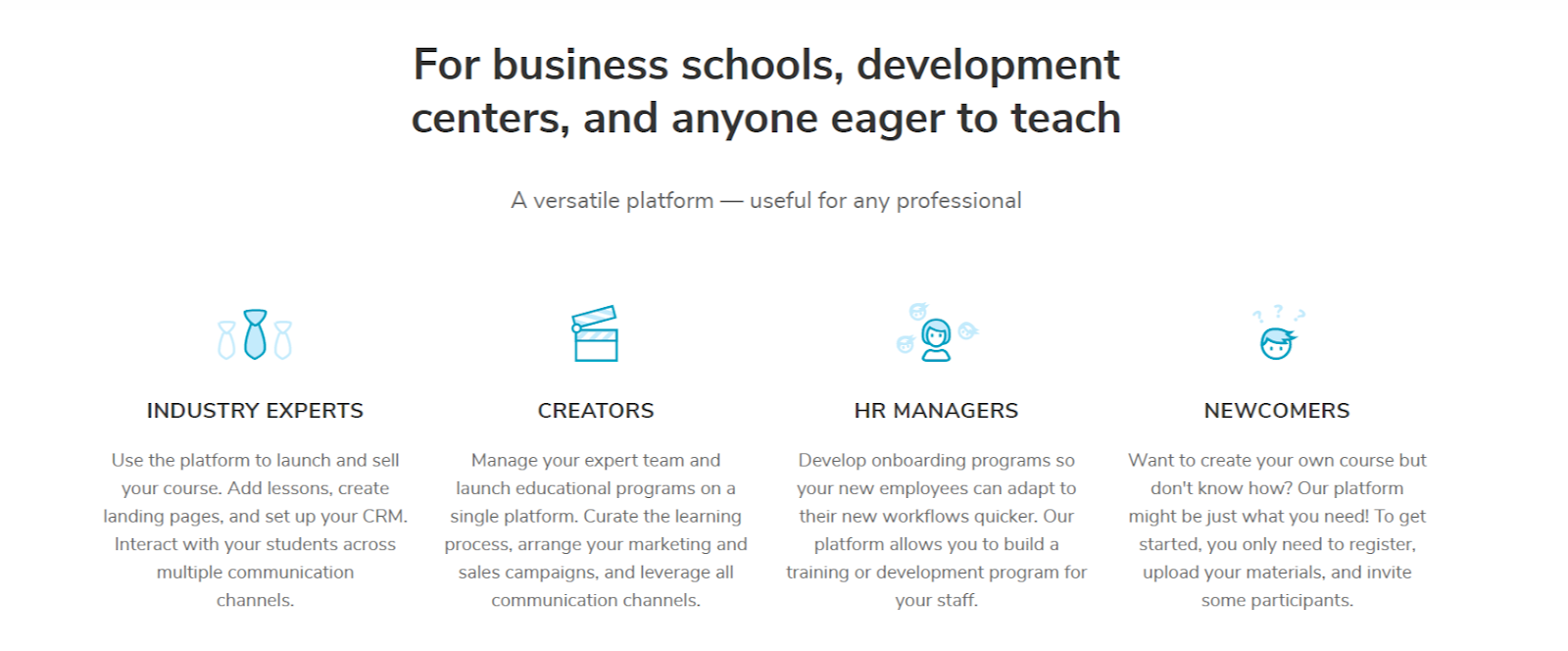 There's no need to study the platform for hours both for teachers and students before using it. The service provides a visual builder which lets you drag and drop the necessary elements to your course. Let's have a look at the process of creating a course with SendPulse.
After you've created the course title and URL, you'll need to make some general configurations like writing the description of the course and adding the image to the landing page. Set the course format, and decide whether it will be free or paid. Mind that creating a paid course is available on a paid plan only. Choose whether the learners will get access to all the lessons at once or a new lesson becomes available after completing the previous one. Tick your course completion criteria and design a certificate if needed.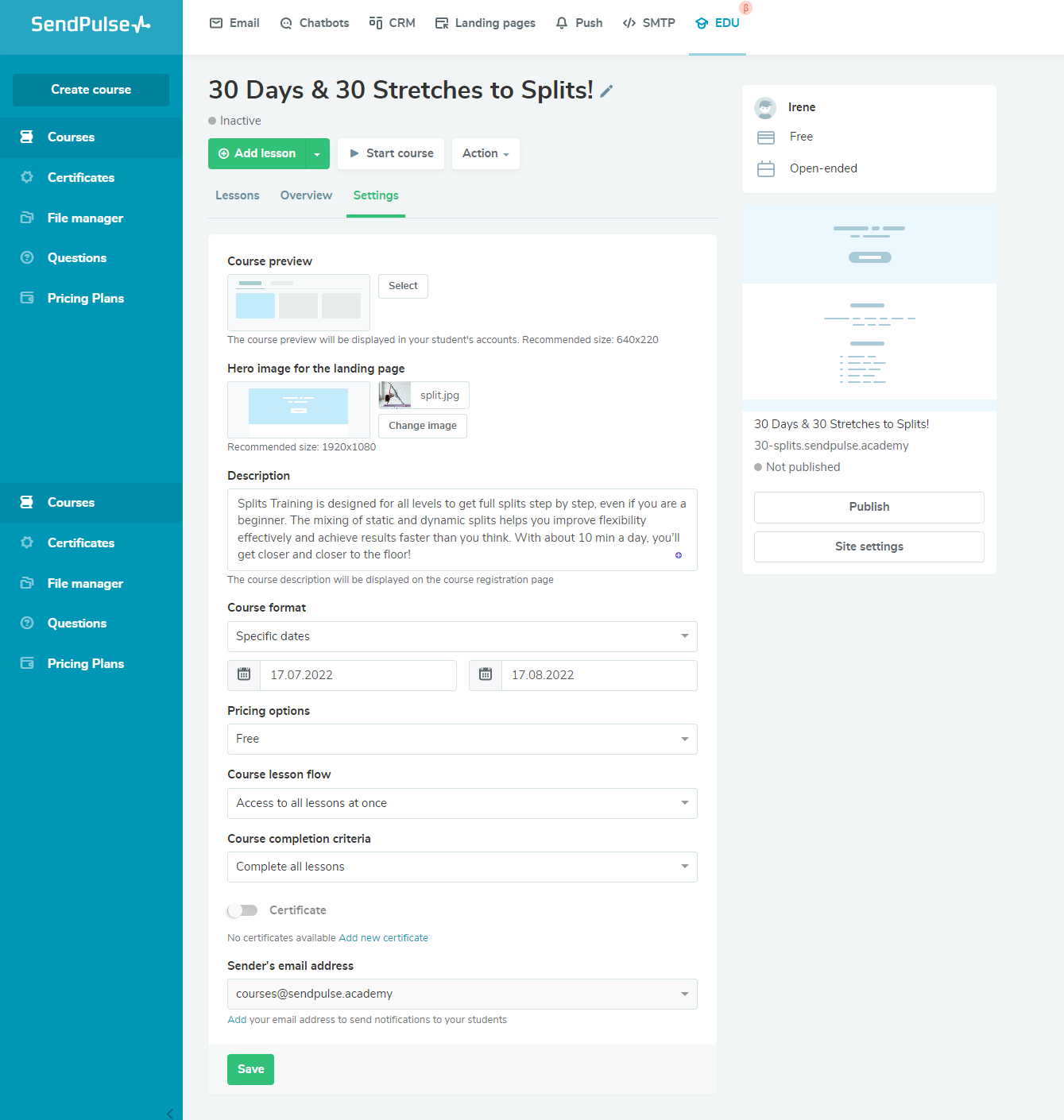 After you click "Save", you can start designing your course. Divide it into sections and lessons to structure the information better. Below you can see the SendPulse visual builder. You can add text, a gallery of images, files, audio, and other elements like e-learning infographics. Design them on the right panel.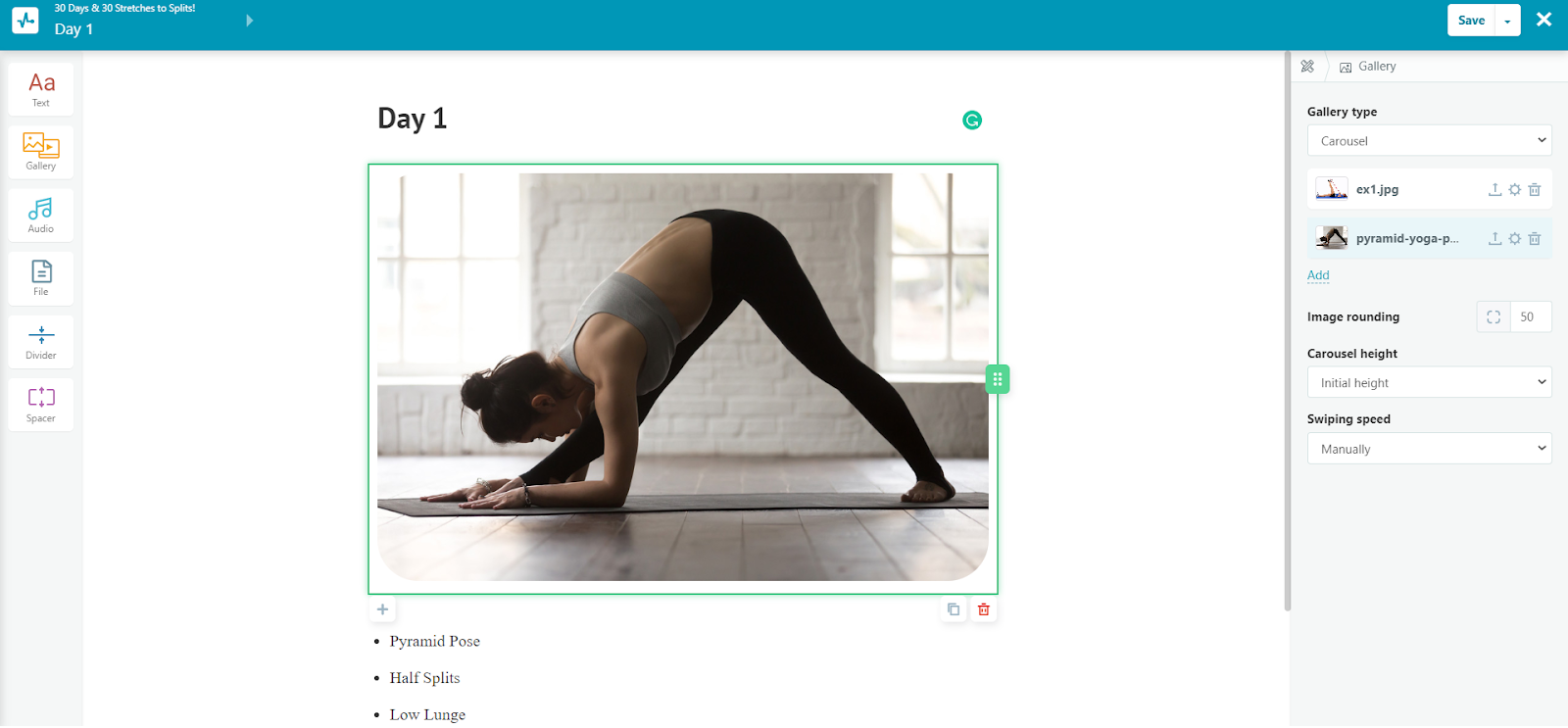 If you need to access the knowledge of your students, you can create a test.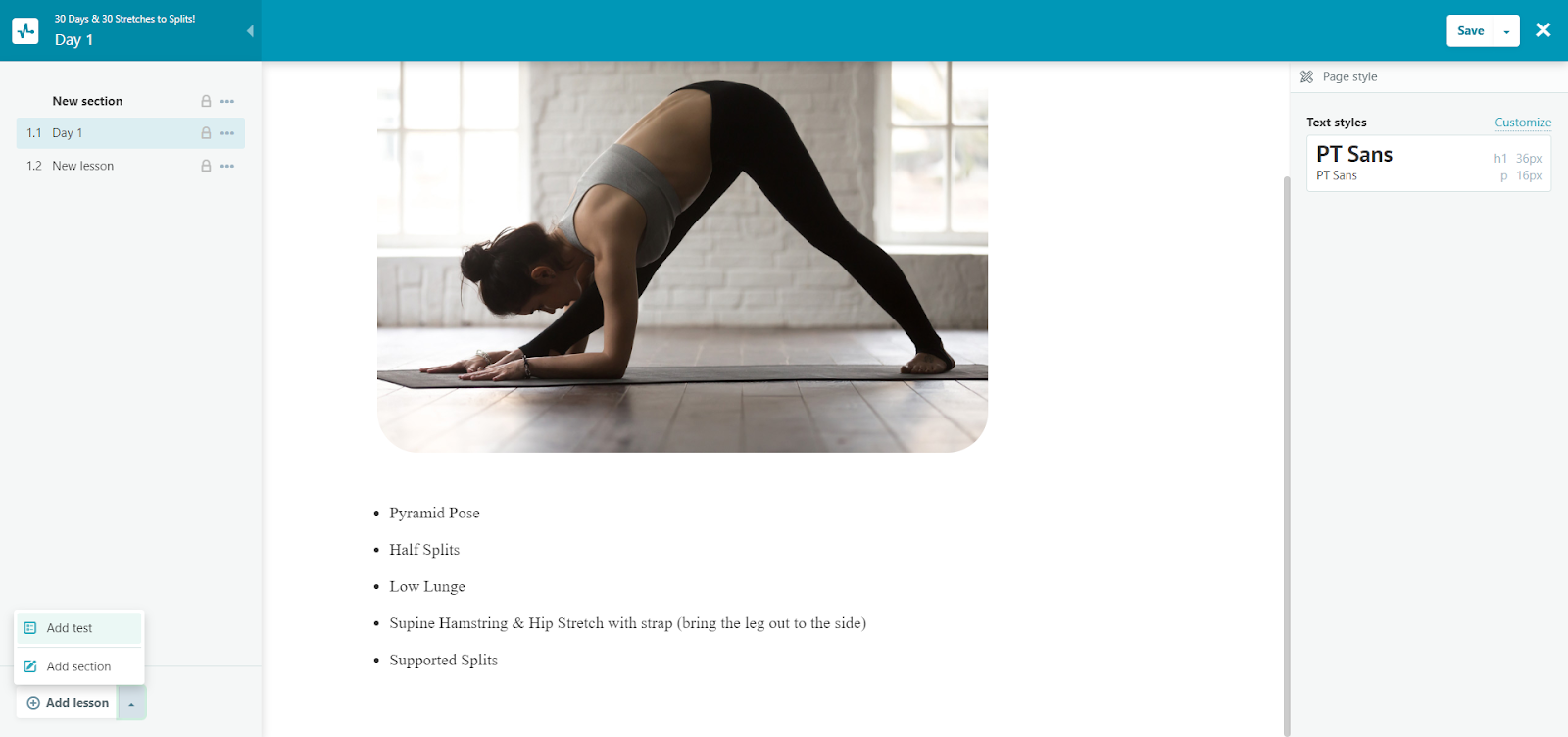 It can contain either one correct answer or multiple answers. You can customize the text page and the order of questions. Set the pass attempt number and the score for the correct answer. Add the hint to help your students.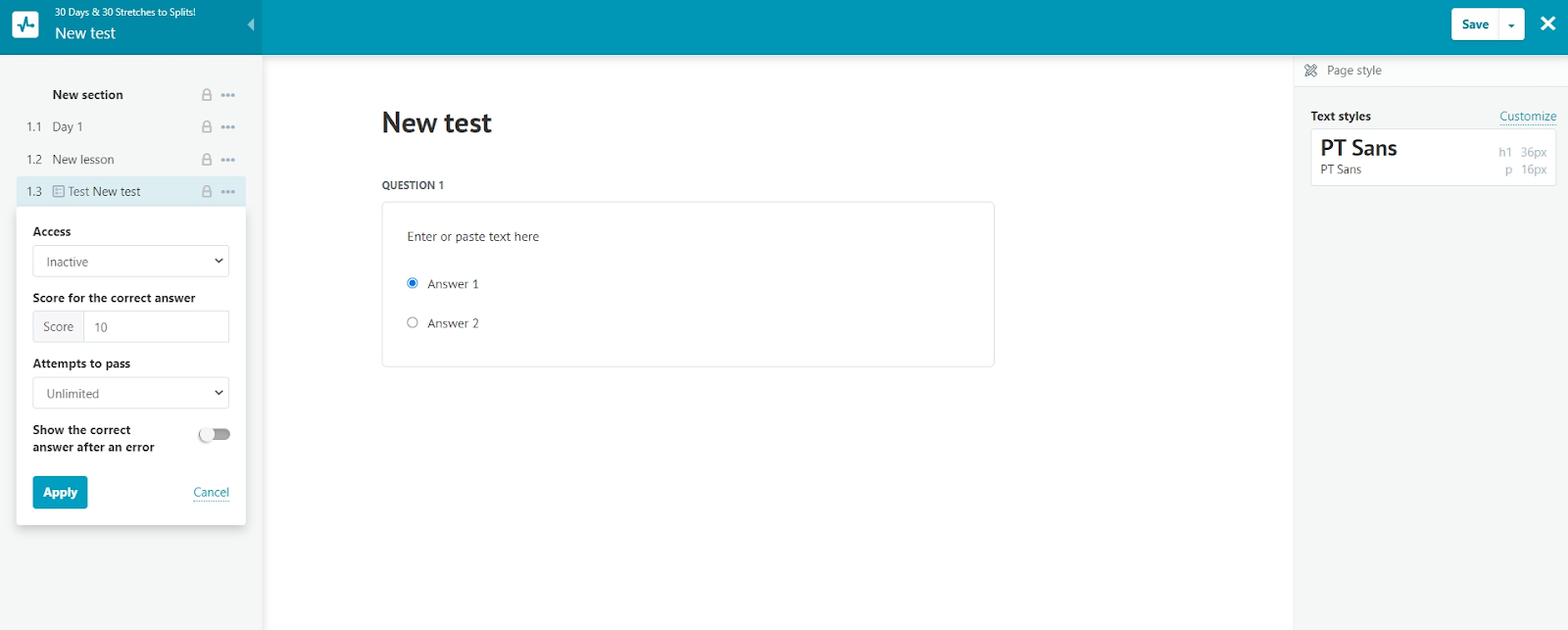 You can issue a certificate after students complete your course successfully. Customize it to follow your course design.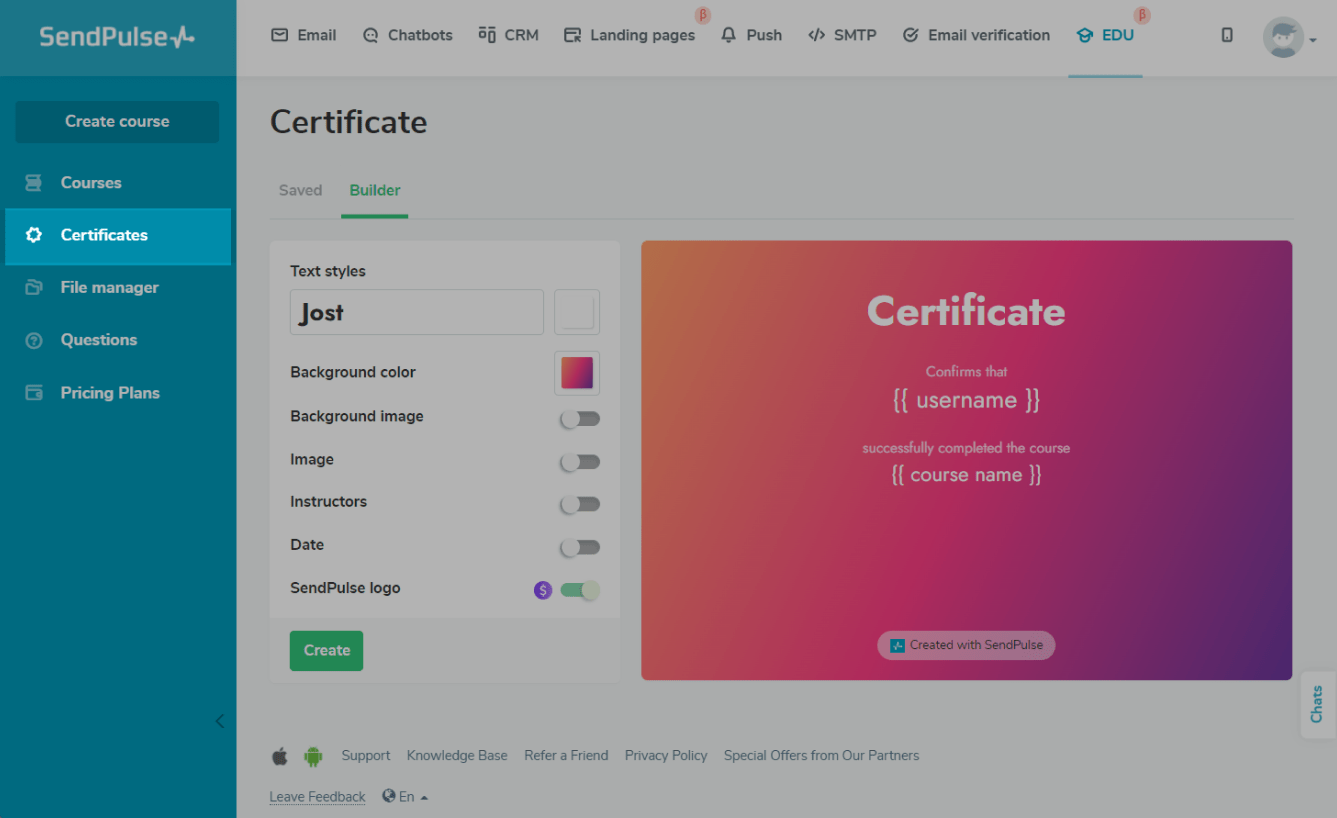 To enroll students in a course, you can add their email addresses manually, use a mailing list from the email service or let users enroll by themselves using a search engine. You can share a link to the registration page on social media or invite people via private messages. A course registration page is created automatically after you create the course. So, you can customize its elements to your liking.
Go to "Site Settings" and customize your registration page. Set up a course program and add instructors to answer students' questions, monitor their progress, create tests and certificates, etc.
After students are enrolled in your course, they will be added to the "EDU" section of the course. Additionally, you can communicate with them using the pipeline in a CRM system where they are added automatically as well.
Go to the course "Overview" and you will see the students' information in the corresponding section. The column "Progress" shows your students' success in completing your course. You can check their test score and assign tags to quickly find the necessary contacts in the CRM system later.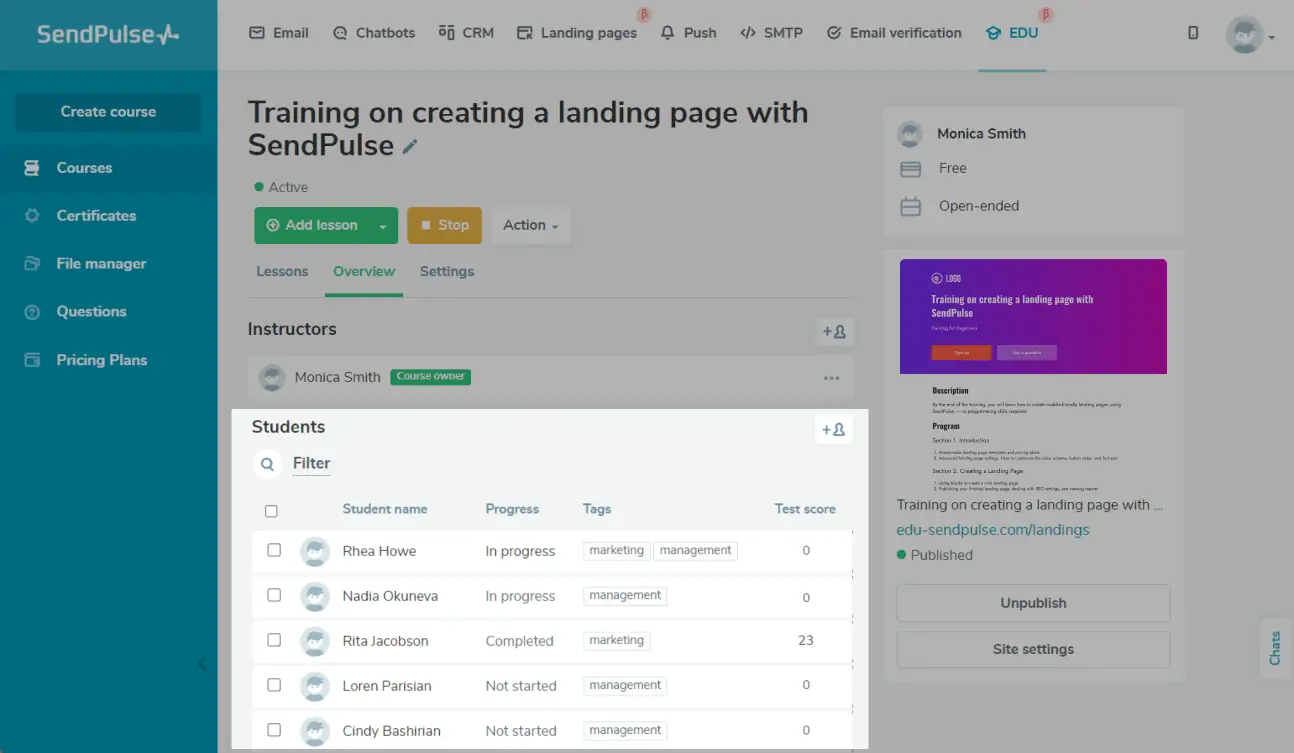 Via CRM, you can look through the students' information, check out the list of completed lessons, and send emails to them. Navigate to the "CRM" section in the "Contacts" tab and set "Courses" as the source.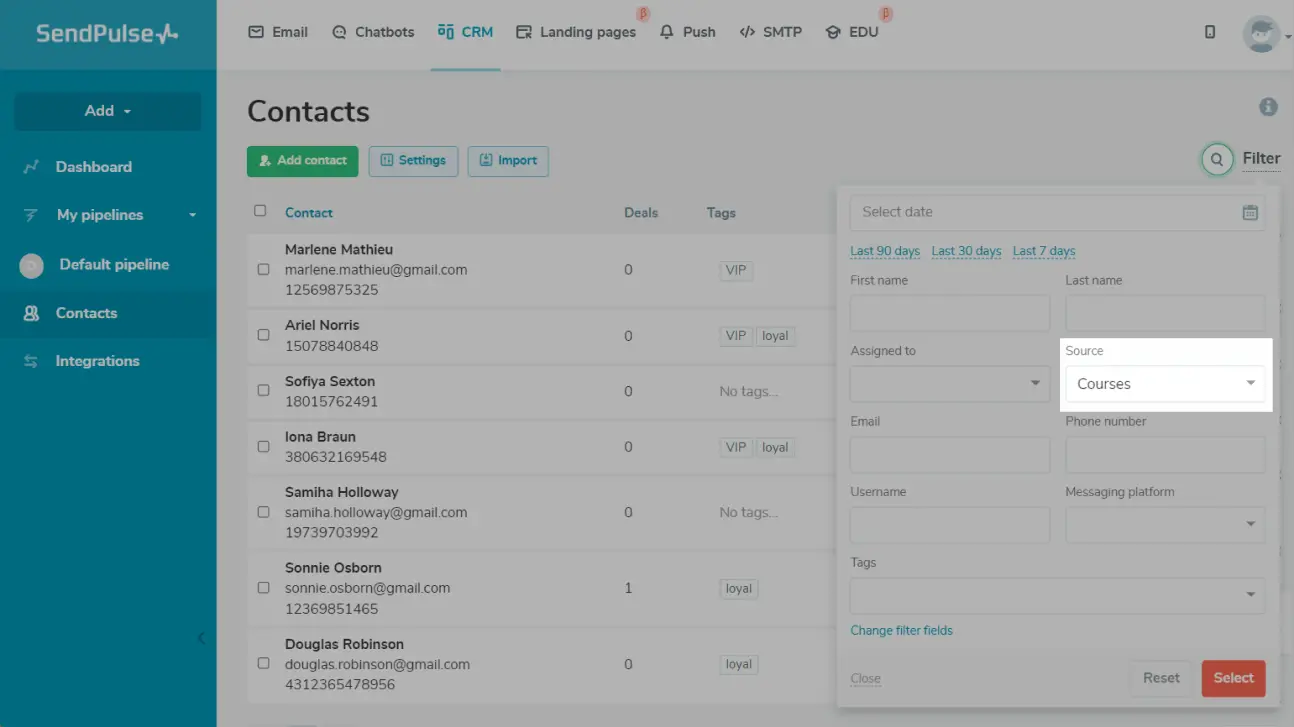 Then click the necessary contact and view their card.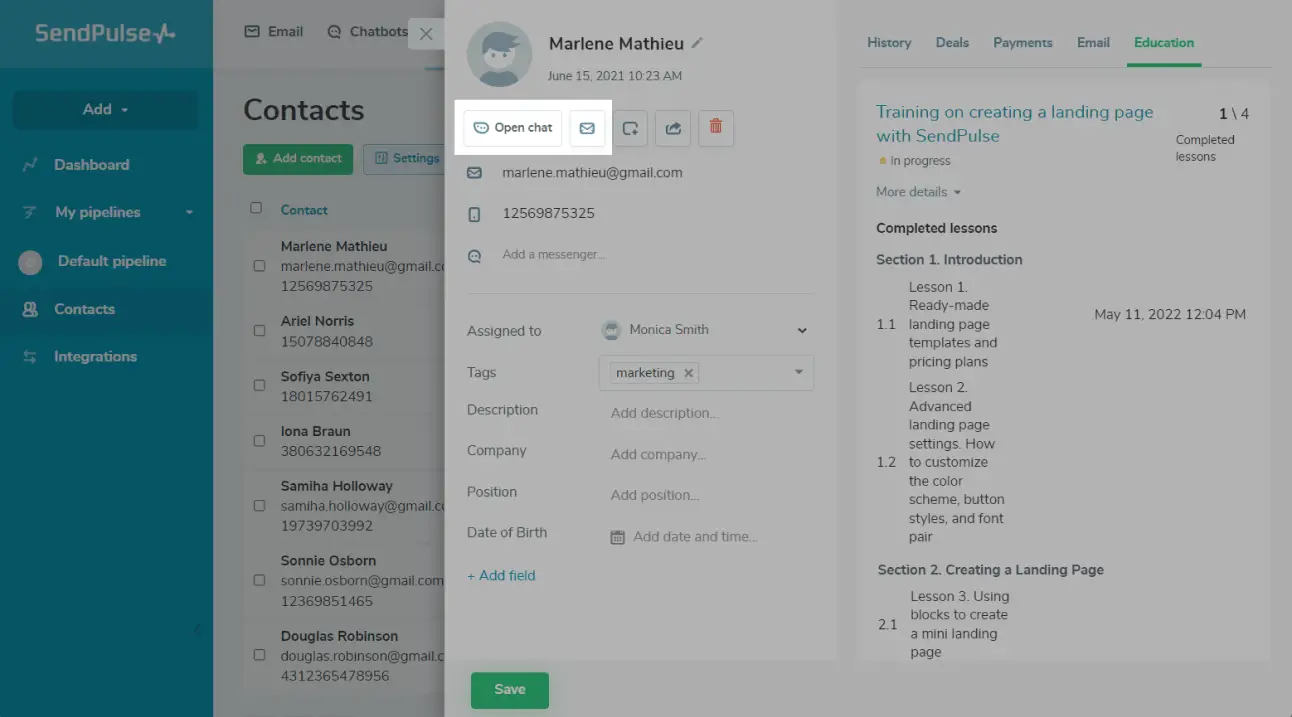 Pricing
SendPulse provides a free plan that covers 200 students, 3 courses, 1 instructor, 1 Gb file storage space. The price depends on the number of students. For example, 1000 students will cost you $42 per month. You'll be able to create unlimited courses, add 10 instructors, have 15 Gb file storage space, get a personalized course link, remove SendPulse branding, and create paid courses.
One of the best things about SendPulse platform is the fact that you can not only create your course for free. You can also use free tools to market your online courses to attract more students and sell your product to make a profit. It seems like a no-brainer and is definitely worth the try as you can start your own small business by investing your time and expertise. 
In the era of information and technological advancement, starting your own business by creating an online course is easier than ever. Let others learn from you if you are a good masseuse, experienced marketer, skilled carpenter, or a professional makeup artist. If you are an expert in something, it's a good reason to monetize your knowledge and let other people gain valuable skills that can improve their lives. 
You may also like: Becoming an Online Tutor: What To Look For In Teaching Software
Author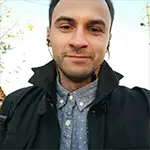 Oleksandr Botvynko  is a digital marketer who specializes in content marketing, and SEO. He helps companies create quality content. In his free time he works on his marketing blog https://obyrai.in.ua