Click here to get this post in PDF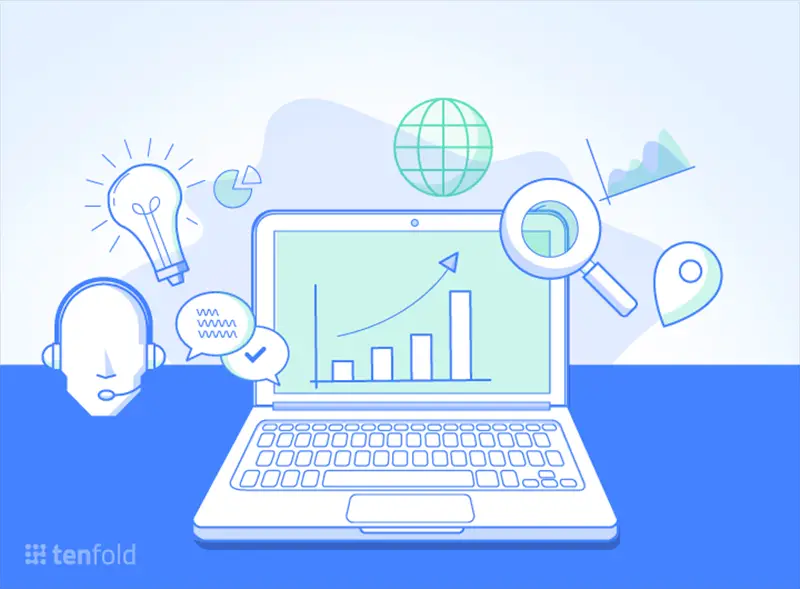 The growing size of today's consumer market sets the stage for entrepreneurs and companies of varying capacities to take part. The US consumer market alone was at $1.5 trillion in 2016. And this number is continuously increasing. According to an article from AdAge, US Gen Y or millennials are also swiftly increasing their slice of the pie, spending more than $200 billion annually.
With businesses vying for the attention of a growing but still finite market, channeling focus and spending resources toward staying ahead of the pack is crucial.
Top of mind for customers is swift and consistent support–hence the rise of omnichannel customer service. Today's customers no longer simply rely on calling customer support for assistance. They now make use of whichever channel they can get the best and swiftest help, be it through knowledge bases, live chat, website, social media, SMS, and email.
Businesses providing omnichannel customer service has made the lives of consumers easier while improving profits for themselves. A study conducted by the Aberdeen Group revealed that companies with sustained omnichannel customer engagement keep an average of 89% of their existing customers while those with poor omnichannel customer engagement retain an average of 33%. The impact is significant.
That said, the push toward omnichannel strategy across different areas of business is not entirely new, but it has now become imperative for businesses to form and execute a plan to give customers a seamless experience. Here are the best practices.
Understand your customer's most preferred channels
An effective omnichannel customer service strategy begins with a solid foundation—a blueprint. First, understand where your customers are. This is done by using relevant data to know which platforms your customers often use.
Do most of them have an active online presence? Do they use review sites to find answers to their questions and base their buying decisions based on telling reviews from other customers? Do they have pre-sales questions? It's essential to answer these questions and arrive at the most useful channels to deliver exceptional customer experience. In fact, 90% of customers look forward to consistent interactions across channels.
Price Waterhouse Cooper predicts that the demand for omnichannel customer experience will constantly improve and will be perfected by 2020. Effective omnichannel customer support not only limits the company and its customers to one or two channels; but, allows multiple channels to work together to provide impactful customer experiences throughout the customer's journey.
For example, a customer tries to book a room in a 5-star hotel in Budapest. He wants to know exactly what the cost per night includes. He decides to speak with an agent through the live chat widget on the website. An agent answers his query as well as provides info on the room's availability. The customer wanted to book the room but will be stuck in an event until 5 pm.
As a follow-up, the agent sends a link to the same exact room via email, and notifies the customer with an SMS; the customer then books the room successfully. After his stay at the hotel, the company sends him an SMS and an email asking him to rate his stay. The customer provided a 3.5 out of 5 internal ratings.
A customer support rep then follows up with him regarding his review and offers compensation via a phone call. In return for the swift resolution, the customer did not have time to post a negative review on social media or online review sites.
Once you figure out which channels work best and for what purpose, the process becomes more efficient.
Improve your response time across all channels
Today's consumers are empowered consumers. For your business to thrive, you must figure out what makes the modern consumer tick. They're after high-quality products and experiences; nothing less. They trust strangers that position themselves as experts and influencers, more than they trust close friends and family. They want everything now rather than later.
Make your customers feel important by faster responses. The modern-day consumers expect (and demand) speedy replies and resolutions. According to Edison Research, 39% of individuals expect a 1-hour response time via social media; however, businesses respond after 5 hours, on average.
Another study from Call Centre Helper shares that only 12% of customer service managers focus on responding quickly to customer concerns. One of Forrester's 2016 surveys shows that 41% of customers expect a response via email within a 6-hour time frame. Most businesses, however, respond at least 24 hours from the time the email has been received.
These are evidently too slow for today's customers and may lead to bad reviews that have the potential to damage a company's reputation. Not only that, but slow response time can also increase customer churn rates.
Make your customers happy and cement your company's reputation in providing excellent customer support by improving your response time across all channels.
The use of autoresponders can help your customer support team to keep up with customer inquiries via email, social media, and SMS. Autoresponders help make your customers feel valued. It's also a perfect opportunity to let them know that you have received their inquiry while setting their expectations. You can also set up alerts that notify your team whenever an email comes in or has not been replied to in x amount of hours. Another great way to help agents efficiently make use of their time is to create macros or templates for common issues or concerns, which your team can send out immediately rather than manually typing out responses.
Categorizing tickets based on priority (high to low) informs your reps which ticket they need to focus on to help improve the team's response time. It's also imperative to send customers a link to give their rating on the support they had received.
For customers who prefer to get in touch with customer service over the phone, a clear and straightforward IVR (Interactive Voice Response) system can direct customers to the right department, reducing hold times and unnecessary transfers. You can also provide customers with the option to leave a voicemail and give a callback afterwards, or respond to them via SMS or email whenever preferred.
Integrate customer support channels with your systems of record
Implementing a potent contact center software that integrates all channels, which are part of your omnichannel efforts makes it easier for agents to keep track of customer concerns and issues, whether they called, emailed, texted, or left a comment on social media and review sites.
It streamlines the customer service handling process through automatically assigning unique reference codes or numbers; allowing agents to quickly run a search of previous communications and interactions from the same individual.
For example, a customer calls to follow-up on the email she sent 48 hours ago that had been left unanswered. Normally, an agent would need the customer's email address or first and last name to find the email. According to Huffington Post, 84% of consumers are frustrated when the agent does not have the information that they need. With the help of a contact center software, a pop up with all the customer's details and contact history is displayed once the agent answers the call. This means less time wasted on retrieving customer details and placing the customer on hold.
Also, transferring an agent to another department where he needs to explain his concern once more is quite frustrating. Operating with a contact center software assists in getting the right person or department to handle the correct issue during the first point of contact.
A contact center software not only consolidates reports relevant to which channels you get the most traffic from, but it also provides a business with insightful reports related to the team's KPIs and overall performance. Additionally, it assists in the forecasting and scheduling process. It's a solution that's indispensable for both small business and enterprises.
Provide self-service options to empower your customers
Aside from employing contact center software, your business needs to take advantage of self-service.
Gone are the days when it's still considered normal for customers to call about minor issues and the most trivial things. Today's consumers love scouring for answers on their own. The least a company or business can do is to make the information available to them in the most accessible way.
According to Answer Dash, 40% of 3,000 consumers prefer self-service options over speaking with a live customer support associate. And remarkably, 70% of these consumers expect a company to offer a self-service portal within their website.
A business can put up a website FAQs section, a knowledge base, or even going as far as opening an online discussion board to help customers immediately answer questions and figure out solutions minus the added cost. Based on a study by Oracle and Forrester online self-service can decrease the cost by 11 dollars per call. Another study from Accenture found that adding self-service into a company's customer support channel strategies can lead to a company saving $1 to 3 million dollars on an annual basis. Plus, self-service takes off a huge amount of workload off your customer support team's backs, which may lead to happier employees; thus, better customer performance.
Do remember that self-service is only as good as how useful and trustworthy your customers consider them to be. Ensure that the information listed on your self-service portal is correct, easy-to-understand, and updated. It also helps to make the interface user-friendly and easy to navigate. It won't hurt to include how-to guides and video tutorials for complicated issues that require walkthroughs (i.e., installing/uninstalling software, updating drivers, changing admin settings, etc.). Also, provide information that is transparent and accessible (i.e., not requiring customers to log in to access the info). This way, customers get the details and processes right the first time.
Lastly, make your self-service portal mobile-friendly. As stated by eReach, Yelp, among other companies, has reported that 55% of searches are made from mobile devices. Also, Software Advice found that 90% of survey respondents had poor experiences requesting customer service on mobile.
While a responsive website design (RWD) provides ease-of-access to your company's list of products and services that help increase sales, it can also be used for the benefit of educating your consumers.
Hire employees that understand and embody your company culture
The company should be willing to embrace change, from the CEO down to the entry-level employees. A fully functional team requires teamwork and cooperation from different individuals that are passionate for the same goal. This is the reason why the hiring and recruitment process is crucial to a solid omnichannel customer service strategy.
More than the technology is the people behind it.  Before hiring a member of your customer support team—or any employee for that matter—it's important to clearly define your company goals, culture, and values. This way, you attract the right candidates, if not, decrease the likelihood of applicants that don't align with what your company stands for.
Most applicants look good on paper–however, that does not mean they are the person you should hire. What matters more than experience is talent and attitude. Effectively evaluate applicants by holding interviews that test their character and find out whether their attitude alight with your company's values. It's important to look for drive, humility, coachability, skills, and transparency.
Give office tours to potential candidates and allow them to engage your employees in conversations that help them get a feel of what it would be like to work with your team. The right fit will definitely stand out.
Moving from a multi-channel strategy to an omnichannel strategy benefits the organization, but it's also important to note that the change is mainly due to putting customers first. Unlike a multi-channel strategy, it goes beyond a business' firmament but leans toward the high-quality experience of each customer at any point of the customer lifecycle.
Providing efficient and reliable customer service across all channels has numerous benefits including increased profitability, solidified brand reputation, and business growth. The way consumers think and decide constantly changes but based on the results obtained through omnichannel customer service strategies, it isn't merely a hype. Applying the above mentioned best practices that combine technology with a talented workforce can help your team meet your customer service goals, if not exceed them.
You may also like: Who Owns Customer Experience (CX)?
Originally published on Tenfold.com