Click here to get this post in PDF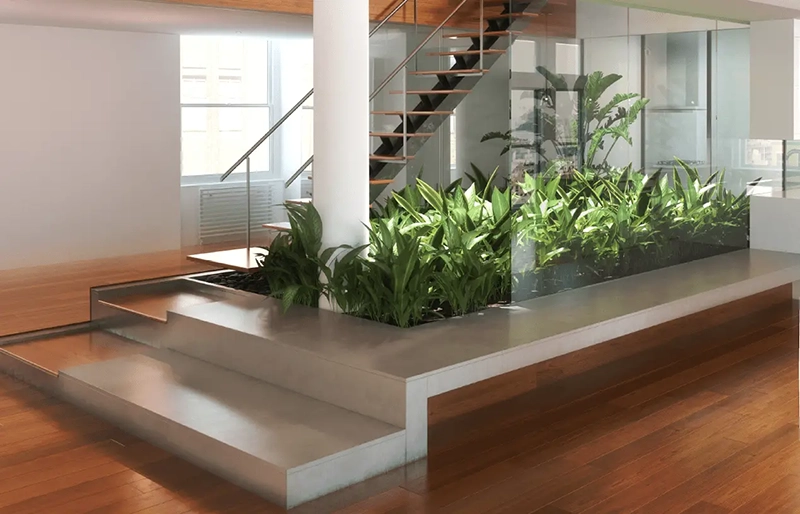 With the end of the year looming, it's inevitable that businesses globally are considering freshening up their workspaces to ensure maximum employee satisfaction. Simon Clark, office interior specialist at business supplies firm Irongate Group, speaks to the experts to see what could be on the cards when it comes to the workplace design trends of 2018.
Continued trends
Office design trends are frequently changing in relation to the growing demand for dynamic business models. A number of trends we saw last year will continue to change the workplaces, according to Peter Grant, a member of British Council for Offices:
"The office has seen many changes over the last 15 years with main drivers being technology, the need to attract and retain quality staff, real estate costs and sustainability.
"The continuing trend for open spaces will continue into 2018: the overall feel and look of the office will be a softer almost residential in appearance with the trend to create many types of spaces to suit different working groups, personalities and needs."
New year, new trends…
A home from home
Employers are becoming ever more focused on employee satisfaction and realise that by creating an enjoyable working environment, with designated lounge areas, relaxed lighting and comfortable furniture – such as sofas and bean bags – they're likely to see higher retention levels as a result.
Long community tables in the workplace can also encourage better integration and interaction among different teams, whilst also effectively utilising the office space.
John Ravenhall, managing director of Nomique Seating, says:
"Unconventional offices are becoming more commonplace with space given to collaborative working utilising soft seating and privacy areas away from the desk. Whilst many businesses won't go as far as putting a slide in their office, there are a number of benefits in
making your office furniture more interesting and attractive bringing it into the modern, changing world. 
Creating an environment that combines the necessary desk and chair with soft upholstery colour, natural light and plant life will significantly help to attract the right talent and retain them."
Being at one with nature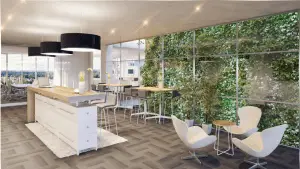 Creating a more collaborative and flexible working environment has taken off over the past couple of years and now biophilic design and plant life is expected to be on the rise commercially. This interior design trend uses nature and natural lighting as an architectural framework to boost productivity and improve mental wellbeing in the workplace.
Peter Grant adds:
"The use of more natural materials from responsible sources will continue, strong accent colours will not be so prominent and will be replaced by more natural pastel colours and materials."
Research has shown that different colours and intensities have different effects on our mood and productivity levels. Green, for example, creates a calming, cheerful and rejuvenating atmosphere. When stepping into the workplace every day and being surrounded by an abundance of nature and pastel colours, this is likely to impact employees in a positive manner.
A smarter office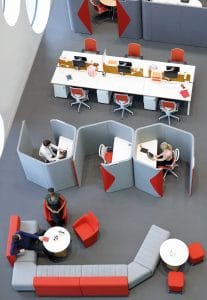 It's no secret that rapid advancements in technology over the past 15 years have completely changed the way we work, arguably for the better. The importance of high-quality technology in a business environment is becoming vital for a more efficient workplace. We predict that there will certainly be a growth of wireless charging surfaces, where all technologies are integrated to create the ultimate 'smart office'.
Alex Tebbs, founder of VIA, a unified communications company, says:
"Technology is changing the way we work, and that's set to continue as cloud adoption increases. Smart offices of the future will take an integrated approach to things like their communications platforms, meaning it will be much easier for businesses to facilitate remote working and cross-location collaboration. We expect to see technology playing a more prominent role in offices of the future."
The introduction of collaborating furniture and technology to increase efficiency through office booths and work pods with technological features such as a built-in power and audiovisuals.
You may also like: Finding the Ideal Storage Solution for Your Office
About the Author
Simon Clark is an office interior specialist at business supplies firm Irongate Group who specialise in a variety of business supplies across various industries.