Click here to get this post in PDF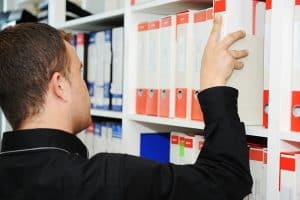 As any budding home designer will tell you, you can never have too much storage space. This is true in an office too – yet the requirements are very different. With large areas often being subdivided into cubicles and workstations, storage either needs to be discreet enough to accompany every desk, or accessible enough for the whole office to come and use it.
As office design has become a more pressing concern for efficiency-saving businesses, so storage solutions have expanded to match. A range of options now exists to complement every office space, from small and elegant to grand and utilitarian. Here are just a few choices you might want to consider for your next office redesign.
Compact Storage
Offices are increasingly being seen as aesthetic spaces as well as purely functional ones. Whether it's part of the image you want to project – a business in the design and creative industries will often want to look sleek and modern – or a way to impact on employee happiness, having an office that's attractive, organised and minimalist is becoming more and more desirable.
For storage, however, this can present a problem. Your typical office might include cabinets, filing trays, document holders, folders, binders and more. All of these items are designed to keep people organised and loose papers filed away, but they can have the inverse effect, and end up making desks and spaces look even less tidy. What the modern office needs are discreet storage options that meld into the environment around them.
Compact storage is a simple but practical way to achieve this. By working with a storage specialist, desks and other fixtures can be designed with built-in storage such as cabinets and drawers which are custom built for your requirements. These units are able to blend seamlessly with the decor while also offering storage space that's optimised for the items your business uses on a daily basis, making storage more efficient and making it quicker to find and retrieve items.
Rotary Storage
For documents, files and other items that need to be retrieved on a regular basis by multiple people, the typical solution is a filing cabinet. Yet these grey monoliths tend to be an unattractive presence in offices, and also require a fair amount of clearance, with the doors tending to open outwards. This limits the areas where you can put the cabinets and often leads to wasted space in offices that could otherwise have been taken up by desks or other equipment.
Rotary storage offers an ideal compromise, with high-density storage that's also compact and versatile enough to fit in a variety of spaces. True to its name, rotary storage involves a shelving system that rotates on its axis within the shelving system to provide access to files. Once the file has been retrieved, the shelving unit is simply rotated back into place.
This method of retrieval is more enjoyable, but it's also more practical. As the back of the shelving can be locked in place to prevent access to the unit, rotary storage does not require a door, and so can be deployed in narrower spaces such as corridors. The smooth frontage of the unit also makes it a far more attractive alternative, while the storage options inside can be customised to fit different sized files and other objects.
Mobile Shelving
For areas of high-density storage, such as stockrooms and archive rooms, a different type of storage is required. The most common option in today's offices is static shelving, featuring rows of uniform shelves with aisles in between. These are utilitarian but are rarely adapted to suit the different types of objects they often support and require a larger amount of space than is necessary.
Mobile shelving offers an elegant solution to this long-standing issue. These shelving units sit on floor-mounted rails, with a hand crank or electronic system to move them apart. The operator can create an aisle between only the shelves they need to access, while the others remain compacted together. When finished, the shelving units are locked together again to prevent unauthorised access.
This storage option saves a significant amount of space by removing the majority of aisles needed for static shelving. A mobile shelving solution can fit the same amount of items in 70% of the space required by traditional shelving while remaining accessible to anyone who needs it. It also offers greater security than static shelving, and looks more attractive, with only the exterior of the units on show.
Slide-a-side Shelving
Sometimes space is at a particular premium. Your storage may be limited or non-existent, with no obvious areas in your office or facility to add more storage space. This could be a narrow corridor, cupboard-like utility room, walkway, or simply a cluttered and crowded office. You may be considering a move to give yourself more breathing space – but all may not be lost.
Slide-a-side shelving is a great way to make more storage space where you think none could exist. This elegant solution essentially stacks shelves two deep against a wall, such as in a corridor. When the operator wants to access the layer of shelves at the back, they simply slide the first layer of shelves slides to one side, revealing the shelf behind it.
This front-facing option is often used by schools and libraries as well as offices and is an ideal way to display books and other reference materials. But customisable slide-a-side shelving can also add security options, as well as a range of storage options for other kinds of objects. Whatever you're looking to store, and whatever the size of your facility, there are more ways to keep it secure than you'd ever think.
You may also like: What Style of Office Furniture Is Best for Your Small Business?
About the Author
This post was written by Invicta Mobile Shelving – with more than 30 years of experience designing and installing mobile shelving and mobile storage systems, we've worked with the world's most prestigious institutions, including The Bank of England, University of Oxford, Manchester Museum and the NHS.