Click here to get this post in PDF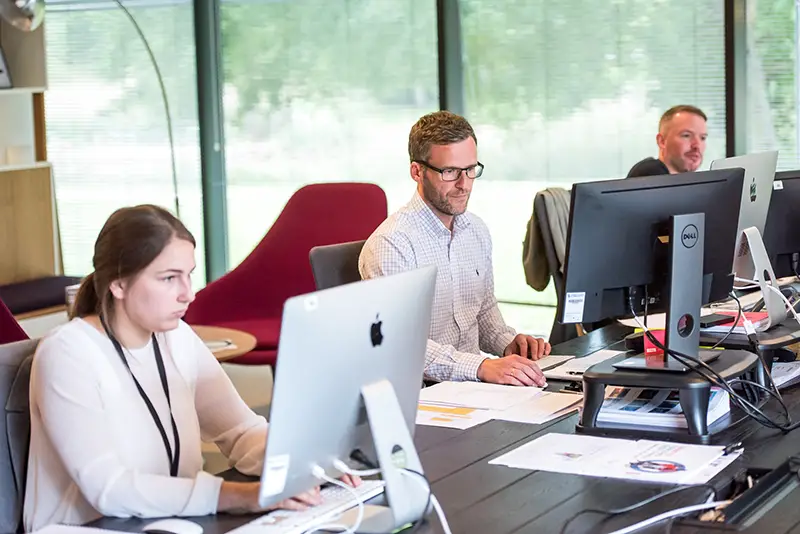 Any data visualization designer will tell you that information presented the right way can dramatically change how you think about things. Whether you're trying to solve a specific problem, change the layout of your website, or make a persuasive pitch, data plays an increasingly large role in communication.
Employee productivity is no exception to the power of data. When executed well, lightly monitoring employee performance can help you increase production and efficiency and recognize the outstanding work that your employees do.
But what's the best way to track the work your employees are doing? There's software out there that allows you to keep tabs on employees on a near-constant basis, alerting you when they take breaks longer than 15 minutes, showing you screenshots of their browser activity and mouse movement, and tracking their physical locations from their phones — but these rather extreme tracking methods erode trust and promote anxiety for workers and managers.
Thankfully, there are other ways to gather data about employee productivity and easily figure out where improvements can be made — here are a few options.
1. Get Intel Straight from the Source
It may seem too obvious or simple — simply ask employees what their workload is, and how much of it they can realistically do every day? You may feel skeptical because self-reporting makes it easy for employees to exaggerate how much they're actually getting done or find ways to convince you not to put any more work on their plate.
However, this type of straightforward, honest communication shows your employees that you respect them, and is a chance for you to give feedback that they'll value and implement. If you're willing to initiate trust-building communication, chances are they'll reciprocate by giving truthful self-evaluations, and feel better overall about their workplace.
2. Cross Completed Tasks Off the List
You can also keep track of how many tasks your team gets done on a daily, weekly, and monthly basis. There are a few benefits to this fairly easy trick: 
Monitor individuals, teams, or both, depending on how many people are responsible for a given project.
Keep track of who has a lot on their plate and who's available to take on more projects; delegate tasks accordingly
Observe who works together most productively and build high-functioning teams
Task tracking can increase employee accountability and promote teamwork, and it's unlikely to make employees feel like you're breathing down their neck. And, at the end of an especially productive week or month, you'll all have the chance to celebrate your accomplishments.
Bonus: Build Trust; Build a Productive Team
Enhancing feelings of trust in your workplace (whether it's remote or in-person) doesn't involve data gathering or analysis, but it's an equally important factor. One smart move is to communicate with employees before you implement systems that will track their performance.
Overall, it's worth keeping in mind that people generally want to do well at their jobs. From there, you can create a real sense of trust.
The above tips are easy options for implementing employee monitoring, and they're only the beginning. There are other ways you can keep track of how your team works, and as you do so, improve your relationships with the people you work with.
You may also like: 3 Benefits of Real-Time Agent Monitoring in the Call Center
Image source: unsplash.com