Click here to get this post in PDF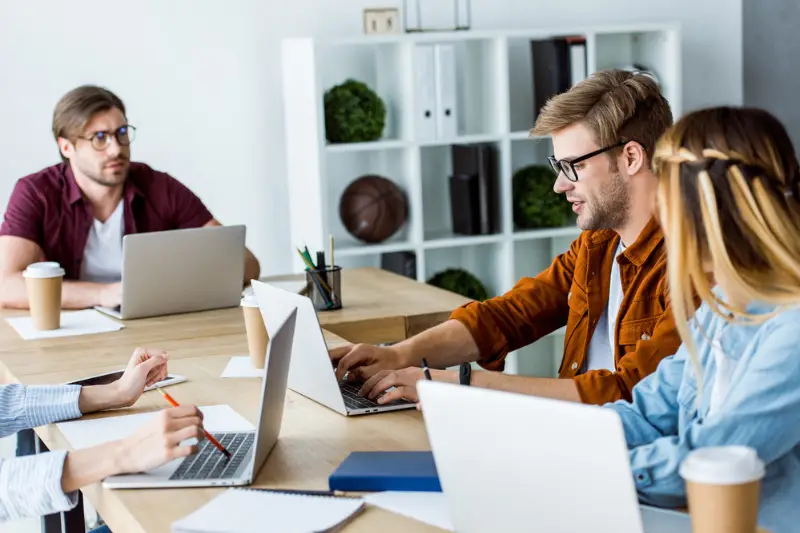 In today's fast-paced digital landscape, effective marketing strategies can make or break a small business. With the vast array of online platforms and marketing techniques available, it can be overwhelming for small business owners to know where to start. Digital marketing consists of various elements like Search Engine Optimization (SEO) and Pay-Per-Click (PPC) advertising, which play a crucial role in reaching and engaging potential customers. If you're curious about how to navigate these different digital channels effectively, read on to learn more!
Should you outsource digital marketing talent? – Agency vs. Internal Hiring
Hiring an SEO Agency in 2023
Outsourcing your digital marketing efforts to an experienced SEO agency can offer several advantages. These agencies are often well-versed in the latest SEO trends, algorithm updates, and best practices, which can save your small business valuable time and resources. Here are some key benefits of hiring an SEO agency:
SEO agencies employ professionals with specialised skills and expertise in various aspects of digital marketing. They can strategise, execute, and analyse campaigns more effectively, driving better results. The ongoing training within the agency will allow your dedicated SEO professional to have the highest skills that align with the industry's trends.
SEO agencies have access to a wide range of tools and resources that may be expensive for a small business to invest in independently. If your organisation has a limited budget available to spend on marketing, outsourcing talent may be the best route for your business o help it scale.
One of the more obvious benefits is the time-saving element. Outsourcing allows you to focus on your core business activities, leaving the complexities of digital marketing to the experts. With regular updates and communications, it will soon feel like your dedicated professional from an agency is a long-life employee. As your business grows, a reliable digital marketing agency can adjust strategies to accommodate your evolving needs, too, giving you the peace of mind that your opportunities are maximised. 
Hiring a Digital Marketing Professional
Building an internal marketing team also has its merits, especially for businesses that plan to invest heavily in ongoing marketing efforts and businesses that are looking to upscale dramatically. Here are some points you'd need to consider if you were to go down the route of hiring a professional internally:
Starting with control, with an in-house team, you have more direct control over the strategies and campaigns being executed. These teams may also have a more thorough and intimate understanding of the company's values, mission, and brand, which can lead to more authentic messaging.
Looking at some internal teams, communication could also be faster and more direct when working with an internal team, and if this is something you value within your business, it might be worth building out your internal digital marketing team.
The choice between hiring an SEO agency or building an internal team ultimately depends on your business's needs, budget, and long-term marketing goals. Some businesses may opt for a hybrid approach, outsourcing specific tasks like SEO while handling other marketing aspects internally.
What are the Core Pillars of a Successful Digital Marketing Strategy Incorporating SEO and PPC?
Let's consider a hypothetical small business, an online fashion boutique specialising in sustainable clothing. This business aims to increase brand visibility, attract quality website traffic, and boost sales.
Step 1: Research and Planning
Conduct keyword research to identify relevant search terms related to sustainable fashion, eco-friendly clothing, and the target audience's interests, then analyse competitors' strategies and identify gaps and opportunities in the market.
Step 2: SEO Implementation
Optimise the website's structure and content to align with the identified keywords, and create a blog section to regularly publish engaging, informative, and shareable content related to sustainable fashion.
Step 3: PPC Campaign
Set up Google Ads campaigns with carefully selected keywords to target potential customers actively searching for sustainable clothing. Make sure you create eye-catching ad copy and visuals that highlight the brand's eco-friendly products and unique selling points. Lastly, implement conversion tracking to measure the success of PPC campaigns in terms of sales and lead generation.
Step 4: Performance Monitoring and Analysis
Regularly analyse website traffic, keyword rankings, PPC campaign metrics, and social media engagement to identify areas of improvement, and use data-driven insights to refine strategies and optimise marketing efforts continually.
By incorporating both SEO and PPC into their digital marketing strategy and combining it with a strong social media and email marketing presence, our hypothetical sustainable fashion boutique can effectively reach its target audience, improve online visibility, and achieve sustainable business growth.
Small businesses can successfully navigate the complex world of digital marketing by considering outsourcing options such as hiring an SEO agency or building an internal team. Combining SEO and PPC within a well-rounded digital marketing strategy can yield significant benefits, driving brand awareness, website traffic, and ultimately, business success. However, it's essential to continually monitor and adapt strategies to stay ahead in the ever-evolving digital landscape.
You may also like: What Does Digital Marketing Do?
Image source: Depositphotos.com