Click here to get this post in PDF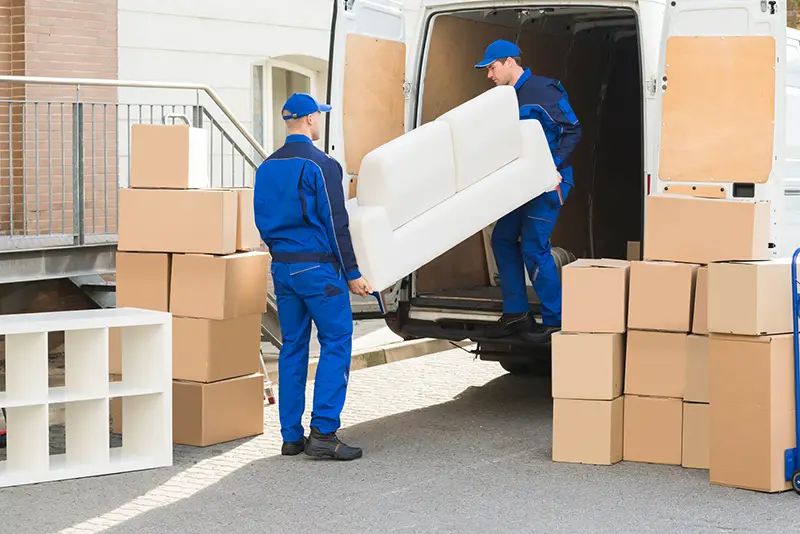 Moving your business to a new location is an exciting but stressful time. Consider many things, from packing and transporting equipment to setting up a new office. But in addition to these logistical challenges, there is also the issue of waste.
Moving can generate a lot of trash, from packing materials to old office furniture. Fortunately, there are many ways to proceed with minimal waste and reduce environmental impact. 
This article will explore some tips for a sustainable commercial move.
Why Sustainable Moving Matters:
The Environmental Impact of Commercial Moving
Moving can have a significant impact on the environment. Here are some ways in which moving can contribute to waste and pollution:
Packing materials: Cardboard boxes, bubble wrap, and packing peanuts are commonly used to protect items during a move. Unfortunately, these materials are only sometimes recyclable and can end up in landfills.
Old equipment and furniture: When moving to a new office, you may need to remove old equipment and furniture that no longer fits your needs. These items can also end up in landfills if disposed of improperly.
Transportation: Moving requires much energy, whether using a moving truck or multiple vehicles. This energy consumption can contribute to air pollution and greenhouse gas emissions.
The Benefits of Sustainable Moving
Moving with minimal waste can benefit both the environment and your bottom line. Here are some of the benefits of sustainable moving:
Reduced waste: By using eco-friendly packing materials and disposing of old items responsibly, you can reduce the amount of waste generated during your move.
Lower costs: Sustainable moving can also save you money. For example, using reusable containers instead of cardboard boxes can be more cost-effective in the long run.
Improved brand image: Consumers are increasingly concerned about the environmental impact of businesses. By showing your commitment to sustainability during your move, you can enhance your brand image and attract environmentally conscious customers.
Tips for a Sustainable Commercial Move
Plan Ahead:
Planning is critical to any successful move, and this is especially true for sustainable moving. Here are some things to consider when planning your move:
Make an inventory of all your equipment and furniture to determine what can be reused and what needs to be disposed of.
Research eco-friendly packaging materials, such as biodegradable peanuts, reusable plastic containers, or recycled cardboard boxes.
Look for sustainable Commercial Moving companies that prioritize eco-friendliness in their operations.
Reduce, Reuse, and Recycle
The three R's of sustainability apply to moving, too. Here are some ways to reduce waste during your move:
Use reusable containers instead of cardboard boxes. Plastic bins or metal crates can be reused multiple times, saving money and reducing waste.
Donate or sell old furniture and equipment that is still in good condition. This will prevent these items from ending up in a landfill and give them a new life with someone else.
Recycle as much as possible. This includes cardboard boxes, paper, and plastic packaging.
Go Digital
Moving is an excellent opportunity to go paperless and reduce your environmental footprint. Here are some ways to digitize your office before your move:
Scan important documents and store them in the cloud.
Switch to electronic billing and invoicing.
Encourage employees to work from home or use virtual meeting software to reduce travel.
Work with Sustainable Partners
Partnering with sustainable companies can make your commercial move more eco-friendly. Here are some things to look for when choosing your partners:
Sustainable moving companies: Look for moving companies that prioritize eco-friendliness in their operations. They may use fuel-efficient trucks, recycle packing materials, or donate old items to charity.
Green suppliers: Choose suppliers that offer eco-friendly products and packaging. For example, you can order office supplies made from recycled materials or choose products with minimal packaging.
Sustainable disposal companies: If you need to dispose of hazardous waste, such as old electronics, work with a company that follows environmentally responsible practices.
Communicate Your Sustainability Goals
Finally, communicate your sustainability goals to everyone involved in your move. This includes employees, moving companies, and suppliers. Here are some ways to share your goals effectively:
Host a meeting or email all employees, explaining the importance of sustainable moving and outlining your goals.
Provide training or guidelines to employees on how to pack and dispose of items responsibly.
Please work with your partners to ensure they understand your sustainability goals and are committed to helping you achieve them.
FAQs:
Q: Can sustainable moving save me money?
A: Sustainable moving can save you money in the long run. For example, using reusable containers instead of cardboard boxes can be more cost-effective over time. Additionally, reducing waste can help you avoid disposal fees and other costs associated with traditional moving methods.
Q: What are some examples of eco-friendly packing materials?
A: Eco-friendly packing materials include biodegradable peanuts, reusable plastic containers, and cardboard boxes. You can also use old blankets, towels, or clothing to protect items during the move.
Q: What should I do with old electronics or hazardous waste?
A: Work with a company that follows environmentally responsible practices when disposing of hazardous waste. You can also consider donating old electronics to charities or recycling programs specializing in electronics recycling.
Conclusion:
Moving with minimal waste is good for the environment, saving money and improving your brand image. Planning, reducing, reusing, recycling, going digital, working with sustainable partners, and communicating your goals are all keys to a successful and sustainable move. So the next time you plan to move your business, remember to prioritize sustainability and positively impact the planet.
Following these tips for a sustainable commercial move can reduce environmental impact and set an example for others.
You may also like: Things to Do When Moving Your Office in Australia
Image source: Depositphotos.com