Click here to get this post in PDF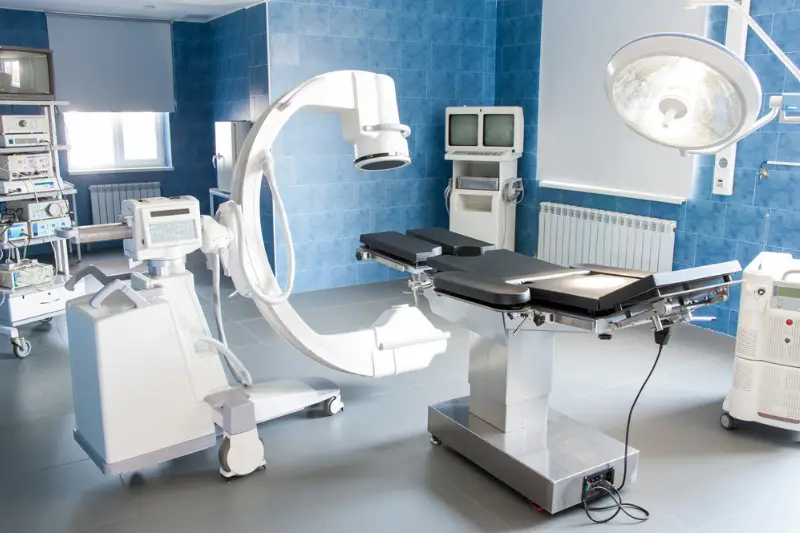 The mini C-arm allows clinicians to perform real-time imaging in their offices, reducing patient wait times. This results in better medical outcomes and higher patient satisfaction. Unlike traditional full-size units, a mini C-arm has a flat panel detector instead of an image intensifier. It eliminates the need for a separate monitor cart and saves space.
Minimizing Risk of Infection
The X-rays produced by C-arms can penetrate tissues, so keeping patients and personnel as far away as possible from the equipment is important. Using drapes, which block the radiation scattering effects of the X-ray beam, and positioning extremities away from the C-arm's image intensifier help reduce exposure risks. C-arm manufacturers such as GE Medical Systems' OEC and Hologic Inc (Bedford, MA) make mobile X-ray C-arms, which can be used in smaller operating rooms or a clinic. This mobility allows for greater maneuverability and easier positioning in the surgical setting than a conventional fixed system would be able to achieve. Clinicians should choose a tiny C-arm with adaptable positioning features and a table, especially for the device. Additionally, they ought to see a demonstration or test run of the C-arm to obtain a sense of its ergonomics. You could get assistance in choosing your options from websites like https://www.minicarm.com/.
Minimizing the Risk of Error
Using the mini C-arm reduces radiation exposure to patients more than standard X-rays. It also allows clinicians to perform manipulations or injections, resulting in a shorter outpatient visit for the patient and less time spent between hospital departments. Look for a portable fluoroscopic system with a flat panel detector rather than an image intensifier. Not only will this save OR floor space, but it will also deliver superior imaging with distortion-free clarity. Determine if the mini C-arm is network-compatible and can send images directly to PACS wirelessly or via a hard-wired connection. It is a critical factor as it will allow the system to be easily integrated into your outpatient care workflows. Also, check the power requirements to ensure your facility can accommodate it.
Minimizing Risk of Injury
Choosing a mobile C-arm that is easy to maneuver and operate can minimize the risk of injury for surgeons, technicians and patients. It is important because it can significantly reduce surgical time and patient discomfort. In addition to ensuring that the mobile C-arm is properly positioned, it's also essential to use drapes that protect the operator and their staff from radiation scattering. Keeping the area clear of clutter and avoiding folding or otherwise damaging the protective drapes can further reduce the potential for radiation exposure.
There are mini C-arm with isocentric fluoroscopy, an image intensifier, and a flat-panel detector. It also incorporates a touchscreen high-definition monitor and pulsed fluoroscopy, which helps lower the radiation dosage for patients and C-arm users.
Minimizing the Risk of Trauma
When selecting a mini C-arm, be sure it can perform the necessary imaging for the procedures you'll use it for. Look at specifications and ask if the system can move horizontally, vertically, and swivel to image difficult-to-reach areas. Also, consider the capabilities of the control panel. Does it allow direct operator control of advanced features such as pulsed fluoroscopy? If so, this can reduce your radiation dose. Lastly, check whether or not the system has sufficient cooling capabilities to keep the detector and operator from overheating during prolonged cases. It can increase surgeon and patient safety by avoiding a potential burn.
Minimizing Risk of Damage
C-arms can be expensive and should always be treated with care. To protect the investment, ensure the OR's electrical system can handle a c-arm's power needs. Drops and spikes in voltage can damage the unit and affect its performance. Mini C-arms use flat-panel detector technology, which produces images without the delay of converting X-rays to electrons. It enables surgeons to see real-time footage that is clear and sharp, unlike traditional image intensifier machines that can cause distortion. Compact c-arms are similar to full-size units but eliminate the monitor cart. They are ideal for small to medium patient volumes, light surgical use, and ambulatory surgery. They have a smaller arc and generator power but still allow imaging of the hips, knees, femurs, shoulders, and torso.
You may also like: What is leak testing in medical devices?
Image source: Depositphotos.com