Click here to get this post in PDF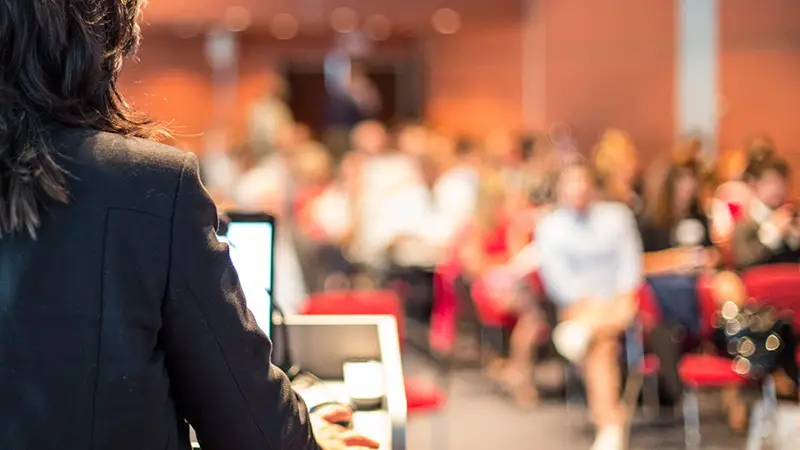 One of the biggest topics affecting businesses at the moment is mental health and wellbeing, particularly as workforces recover after the Covid pandemic and adjust to the challenges of an ever-changing and uncertain world. As a result, smart businesses are investing in their people like never before and looking for ways to support mental health and work-life balance.
The use of mental health speakers is one example of how businesses are investing in the wellbeing of their employees. When a business commissions a speaker on workplace mental health to come and lead a talk or session, it can stimulate a range of positive and profound benefits that boost individuals and businesses alike.
Only a few years ago, the prospect of a speaker on mental health was pretty much unheard of. But today, workplace wellbeing speakers are becoming more common as businesses recognise their role in supporting and encouraging employees at work. For many employees, mental health can be a challenge – particularly after the difficulties of Covid, the cost of living crisis and ongoing global uncertainty, and they may be uncertain of the best ways to feel better again. Employers know that happy employees are productive, engaged, and loyal employees who deliver value for the organisation – so it makes sense to invest in their support.
If you're a decision-maker considering whether to commission a health and wellness motivational speaker to visit your business you can find organisations that offer public speaking London and many locations nationwide. Here are some things to consider.
What Does it Mean to Suffer from Mental Health Problems?
A mental health motivational speaker will know that mental health issues can take various forms. For example, some people will suffer from anxiety, others from depression, and others from more cyclical conditions with signs of mania followed by lows. These mental health challenges may be mild and fleeting for some people, but for others, they will be serious and persistent. Read on to find out how public speakers can benefit your employees:
Discussing Mental Health Can Reduce the Stigma
One of the biggest ways to overcome the stigma of poor mental health is to talk about it. Only a few years ago, it would have been unthinkable to have an open conversation about mental health at work. Now, mental health speakers are being used to facilitate and open up these conversations in an open, engaging, supportive and empowering way – with the full encouragement and buy-in of employers.
Mental Health Speakers Can Motivate Employees to Openly Communicate
A health and wellness motivational speaker can encourage employees to speak openly and honestly about their mental health and educate them about the different signs and symptoms. These conversations make employees realise they are not alone and that their colleagues and managers often experience similar challenges.
Mental Health Awareness Can Encourage Individuals to Seek Help
A speaker on mental health will also be highly skilled in the processes and routes available to anyone struggling with mental health. This means they will encourage individuals to seek appropriate help, including necessary medical interventions. Employers may support this process by having workplace support in place, such as telephone counselling, mental health and wellbeing resources, 'duvet days', corporate sponsorship of activities such as gyms and outdoor exercise, and other schemes to help their people feel their best.
Employees With Improved Mental Health Will Be More Productive
One key and underlying benefit of using a workplace wellbeing speaker are that he or she can stimulate a culture of mental health awareness and empowerment. By stimulating open conversations, encouraging the sharing of mental health information, raising awareness and removing any stigma, the workplace can become more productive and creative.
When employees know that they are experiencing a mental health challenge, they will leave their session with the tools and knowledge that they need to talk about it with their line manager and seek the appropriate help and support – from online resources to medical help and interventions when necessary and where mental health issues are more serious. But employers can show that the support will be available in any necessary form and that they are wholly committed to supporting good mental health by using a mental health speaker to facilitate and initiate the necessary conversations and engagement across the business.
These types of sessions can help build a supportive, trusting and diverse culture where all employees feel that they can be themselves and work without fear or stigma of mental health challenges.
You may also like: How To Handle Employee Mental Health Issues in Your Workplace
Image source: https://www.waldenu.edu/-/media/walden/images/seo-article/seo-413-bs-female-public-speaker-giving-t-257114743-1200×675.jpg?rev=ea08cfc965d34d028756feb4ff7c93d1&hash=0BDAA4CEE0CE652D4A359FE7CD0D7830