Click here to get this post in PDF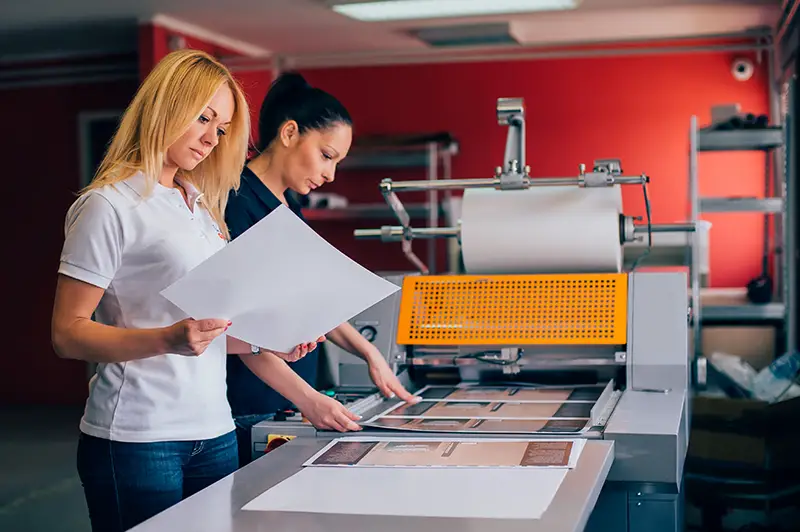 The year 2020 brought a huge difference to everyone in the world. It may have made every corner into a silent place, but it initiated a new move that most people didn't expect. And that is to build their own business.
So, now that you've decided to join the circle, knowing what type of business to bring to the plate is the next thing for you to discover. Thus, among all kinds of business that you can find today, choosing what's best and suitable for your skills and profession might be a challenge.
In case you have not considered it, why not build and start your own Printing Business? Although it is not a typical kind of venture for most people, there are many success stories that this kind of business has brought to those who have tried it. Despite the increasing popularity of online media, many businesses still have printing needs. They still utilize banners, business cards, brochures, and other printed items for their offline marketing efforts. This makes printing a lucrative business to embark on these days. 
If you're interested in knowing what the printing business can provide you, then, hop on to our post down here for more information.
Kickstarting your Printing Business
Starting a business may be overwhelming at first, but once you hit the target, everything will fall into place. For instance, there are a few points that you should take when it comes to starting up your printing shop. Take a look at all the details below.
Focusing on your niche
The usual issue where people fail in their business is all about "niche." Building a business is technically not just "a business." At some point, it is also about finding something that you like and are passionate about. If the printing business is one of your options, printing for sellers that cater to various products, services and events could be one of your niches.
On the other hand, printing services could also point out T-shirt printing services. This part is where you accept styling and designing shirts for certain companies and people. Niche is one of the essential factors above all. This matter will drive your business towards success and support with all your customers. Never underestimate what your gut tells you, and what you would like to achieve as it can help you a lot in the future.
Finding your niche in the printing industry might not be a challenge at all. Right now, almost every business need print media for labeling their products. There are various companies out there who cater services like this. They do not only offer labels, but they also manage giving out the best label software, hardware, and color label printers for printing.
Sometimes, you only need to look around and identify what's missing and what the people need. From there, you can tell how you can move to the next step.
Researching About Your Business
Next on the list is all about studying your business. If you think that finding the right niche is enough, you're certainly wrong. Starting up your business doesn't end in finding the best venture that can fit your skills, needs, and want. It also means knowing something deeper about the business.
When it comes to printing, considering the machines, software, and materials you are using is essential. Do note that in a printing industry business, the demand comes in the quality produced. So, you want to make sure that everything you present to your customer is top-graded and long-lasting to use. In addition, knowing about the printing accessories can help you to manage your business. However, if you're planning to start up small, working with reliable printing partners may be an excellent idea. These people have the necessary resources to help you with your printing needs until you slowly get on your feet, acquire the equipment and materials you need, and fully establish your printing business over time.
On the other hand, researching with your business also means knowing your competitors and the main market overall. Some chances studying about these matters can make you jump from zero to a hundred. Determining the best location for your printing business will also contribute a lot to your growth and sales.
Whether it's digital or not, traffic is the most important factor in driving your business to succeed.
Thus, with the right target audience, location, and product, you can surely hit your goal in no time. So generally, it's only about "building a business" but "knowing about the business"  to attain a more positive result. 
A Positive Mindset
Having a positive mindset is the key to having a successful and prosperous business. It may be "too cheesy" for some, but it eventually works!
Before heading out in the market and establishing your printing business worldwide, ensure that you have a good mindset. This kind of positivity will bring you far from your goals!
While it is true that constructing a printing business is a hard process, the value and worth that it may give you over time will be prices. What's more, the world may have become digital but, it doesn't mean that people won't need any "prints" in their lives. For instance, labels have become a huge part of every company for branding and marketing.
Moreover, if you prefer promoting your business digitally, you can make a website where your potential clients can visit and obtain essential information about your company. You can also create a social media account to expand your business's reach and market your printing services online. 
On the other hand, if you're looking to promote your printing business using offline marketing strategies, then you may need to make your own brochures, business cards, and other printed marketing materials for your business. Doing so can be a win-win situation for you. That's because aside from letting the market know about your company, you can also have an opportunity to show your clients the kind of quality your products have.
News companies may have relied upon social media platforms but then having newspapers and print ads is still valuable for sending out information. There are a lot more things that the printing media can offer in the future.
Eventually, it's not only labels, t-shirt prints, billboards, market ads, calling and business cards, or more. The Printing Business might be challenging to test at first, but it will surely be a good kind of investment in the future. With a proper business plan coupled with determination, starting and running a printing business can become a seamless undertaking. 
Start Printing Now!
Now that you've got mostly an idea of how everything runs, why not print now? If you have the means, look for the best company that offers great machines, labels, papers, and software to kick start your printing business! What else can we say? Start printing now!
You may also like: What will happen in the industrial world thanks to the use of 3D printing tools
Image Source: Shutterstock.com