Click here to get this post in PDF
Have you ever used a website and thought to yourself – wow, this feels really intuitive and equally – wow, this website is awful to use? 
Websites have moved on quickly from the clunky and difficult to navigate websites we started with, and most often, they are designed with the user in mind. 
But if you started a website before you had clients and users, you will be looking to make sure that it meets their needs – as you learn what they are. 
No matter what the size is, most businesses will start with a smaller website, often self-built, and then move on to website designers. The reason for the switch is that website designers are able to understand the user experience on a deeper and more meaningful level. 
But there are some things that you should also know about because the more you understand about the features that your website should have, the more you will understand about features you don't need – and why often less is better when it comes to websites.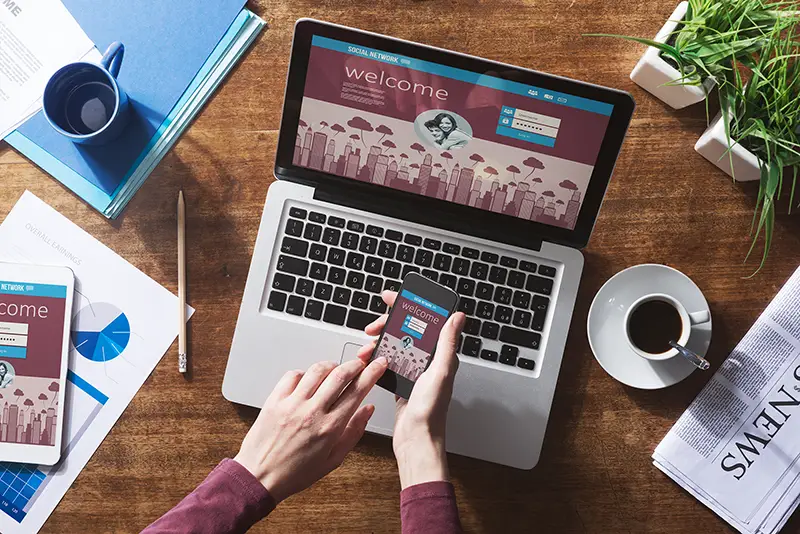 Must-have features for your website
There is a wide range of must-have features for your website, but some are more vital than others. 
There are five that are non-negotiable items that every website – no matter how small, should have.
Home page
One of the first things that you need to have is a well-designed home page. Your home page is the first impression, and it should be a good one. 
Your home page should immediately tell people what you do and, where applicable, how they can hire you to do it. In general, you should have the following: 
Logo and business name – who are you
Search bar – make it easy to find things
Navigation – a menu with a few options, easy to find
Description – what do you do? What are your products 
Images or videos – they add interest but can also be a break from text
CTA – these can be in a few different places on the homepage
Internal links to other content 
Contact / live chat – whatever suits your brand personality
A note on CTAs, a good call to action should be short and sweet. A low effort way for visitors to get more information and for you to get their details. 
About page
This one is dozy because a good about page is a work of art, and they are easy to get wrong. You need a balance between who you are, what you do, your backstory, your future and why people should buy from you. 
Your about page can be where you tell the most authentic brand story, and that is important. 
Here are some of the features you should have on your about page. 
Biography / About the company
Opening times 
Contact form
A map or an address
More contact options
Use your about page to showcase your accolades, but always remember that you are speaking TO your audience, not at them. So, use the right language to keep the reader engaged. 
You should look to add a detail that sets you apart. For example, why did you start the company? What do you do for the community? What are the future goals? What good do you do for the world?
Team
If you have a team, it is good to showcase them. Not just to show off that you have more than one or two people behind the work, but because clients and customers like to see the faces behind the brand. 
Stock photos and the copy can give a big hint about the personality, but it can be smiling faces and a short bio about each team member that actually sells the work. 
Usually, you will find headshots, team photos and other cool things like awards here. 
Blog
Company news, tips, advice, information, and guides are all useful and have a place in any good SEO plan. Keep in mind that if you have a blog, it should be updated as often as possible – focusing on quality over quantity. 
Your blog is also one of the best ways to increase visibility and gives you constant content for your social channels. 
Don't forget that you really need a search bar here if you have decided not to have it on any other page – this is a must. 
You can decide whether to allow comments or not, but comments can be a great way to encourage conversations with your customers and clients. 
All of these features will help create a website that people WANT to use, which is important. If you need inspiration about what your website might look like, check out: Modern Web Design Trends to Inspire Traffic Growth – Business Partner Magazine. 
You may also like: Web Design Tips You Need to Know About in 2022
Image source: Shutterstock.com