Click here to get this post in PDF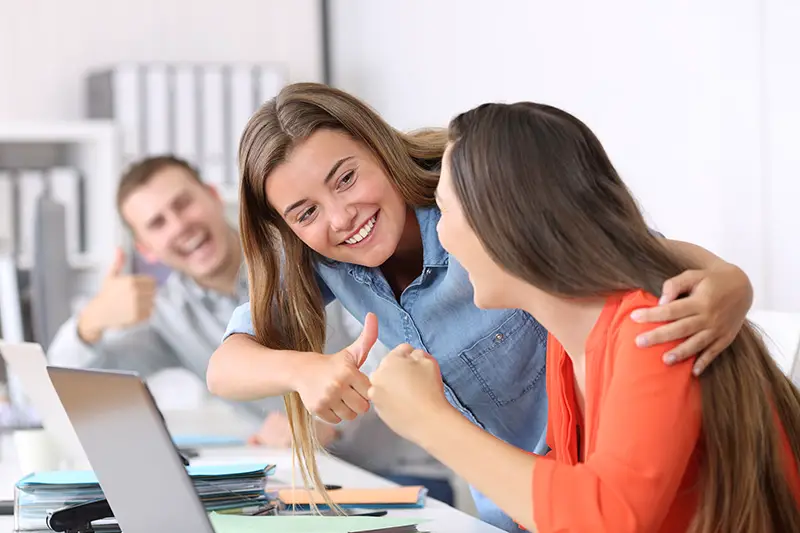 Your employees are the backbone of your business. Without them, your company cannot function, so taking care of your employees is essential. This is part of any manager's job or anyone with someone working in their team. 
Taking care of members of staff involves several responsibilities. First, you need to create a safe and productive work environment. If the workplace is unsafe or unfit for purpose, then your employees can't reasonably be expected to work at the top of their game. You may even open yourself up to legal complaints and putting employees at risk.
Second, you need to keep employee morale high. Unhappy employees are inefficient and unproductive employees, and it's up to management to foster good morale. If your employees get unhappy enough, they may leave for greener pastures, which means the company has to take on the costs of hiring and training new employees. Therefore, it's always better to retain your employees.
Third, you need to ensure that your employees are fully trained and qualified for the task at hand and encourage further training. Some industries, such as healthcare, require employees to keep on top of their training constantly. Even if this isn't necessary, it's still recommended that your employees have constant opportunities to learn and improve.
The Importance of Training
Employee training is vital for both the company and the employees themselves. Regular training is the best way to ensure consistently high performance from your staff. If they're well trained, then they know exactly what they're doing and can be confident in the results. 
Training also helps your employees to feel valued and allows them to progress in your company. A better-trained employee has more opportunities to advance. This can lead to improved employee loyalty, especially if the company is loyal too. 
By training your employees and allowing them to progress in their careers within your company, you can keep valuable and trustworthy workers without worrying about hiring outside the company. Not only this, but other employees will be more likely to stay loyal to your company if they can recognise how such loyalty is rewarded.
Training employees doesn't just improve the quality of their work and reduce mistakes; it also boosts morale and encourages a positive work environment. 
Individual Training
One of the major mistakes when it comes to employee training is mass training. Sometimes it's beneficial to train a team all at the same time. It can save time and money, but more often than not, the downsides outweigh the benefits of this technique.
Your employees are individuals with individual strengths, weaknesses, needs, and interests. Therefore, a one size fits all approach to training rarely works for anyone, let alone the whole team. Rather, a good training regime should be tailored to each individual employee.
A tailored, individual training approach can address specific problems and help employees to thrive in their specific roles. You can also train different skills, especially if an employee shows an aptitude for management or another role within the company, helping them to move towards a niche that suits their skillset the most. 
Feedback
Training allows a company to provide feedback to its employees, but feedback must be a two-way street. Performance reviews and feedback should always be individualised so that you can work with your employees in a dignified way to help them to improve.
In turn, employees should feel free to provide feedback about the company and about other concerns that they may have. True, not all of the feedback or suggestions might be implemented, but it's important that they feel as though they have a voice. Also, this feedback is often valuable and can lead to improvements within the company.
Learning Techniques
People learn in different ways, which is why it's important to train employees individually. Depending on the subject, employees may be able to learn via training courses, where they read information and learn how to apply it. However, there are other ways to ensure well-rounded and effective training.
While one person might be able to take information from reading, someone else might learn better through images or listening to a teacher. One teaching technique that often works very well is videos.
Instructional videos can show someone how something is done. Not only that but they can be paired with audio, which further drives the point home. An animated video may work best for teaching certain concepts, as it can use different imagery to help people to understand the point. If you work with an animation studio, you can create a professional, high-quality animated video.
As well as being informative, the training should be interesting and enjoyable as well. The most important thing is that the training is interactive. While text, images, video, and audio are good teaching tools, actually putting training into practice is the gold standard of teaching techniques. 
Learning by doing allows people to find practical applications for what they learn. However, this means the trainee has to take responsibility for their own learning and training. 
Teaching Software
Human instructors are a vital part of the training process, but the usefulness of teaching software shouldn't be overlooked. Teaching software allows instructors and trainees alike to track their progress and keep on top of their training.
For example, you can use software to see when employees were last trained and when they're due for a top-up of their training. You can also see what they have been trained in so that they can fill in any gaps in their skillset.
Other teaching software directly impacts their training. For example, many online courses use software to teach trainees, including different training techniques and testing methods. Even virtual reality can be used as a training tool, depending on the training the employee needs.
In short, employee training is the best way to ensure your employees can perform at the top of their game. Moreover, it's beneficial to the employees and the companies alike, making it a vital part of management.
You may also like: Covering the Bases: 5 Training Programs All Employees Should Take
Image source: Shutterstock.com