Click here to get this post in PDF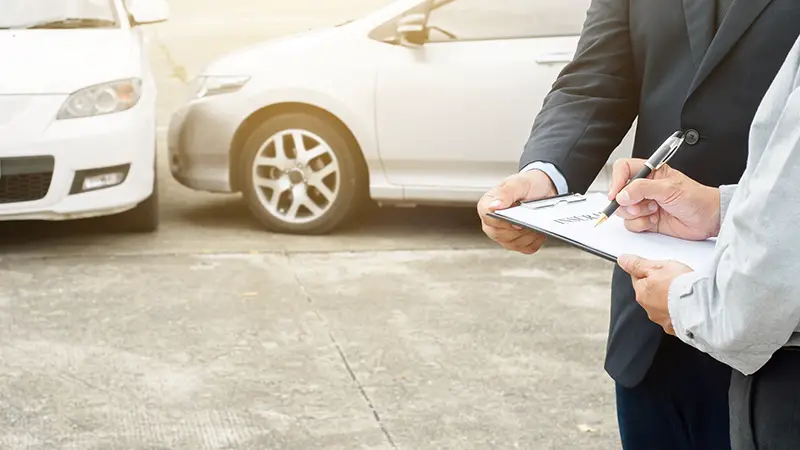 Car insurance is one thing you can't avoid if you drive, and many factors determine how high (or low) your insurance premiums will be. Some of these factors, like your driving record, are familiar to most everyone — but did you know your job can actually have a significant effect on your insurance rate? In this article, we'll look at why this is the case and dig into some of the jobs that come with the highest and lowest car insurance rates.
How Insurance Companies Determine Rates
On the most basic level, insurance companies assign premiums based on the likelihood of a claim. An insurance company is hoping you won't get in an accident or incur a situation that results in a payout — and they set your premiums to offset that risk. As mentioned before, your driving record is probably the most familiar of the factors that will influence your insurance rates. Other factors that will affect your premiums include:
Age. As you may already know, younger drivers — especially teenage drivers — tend to pay much more for car insurance. Younger drivers are considered more of a risk because they are more likely to engage in reckless behavior due to peer pressure and inexperience. As a driver gets older, rates will come down to a more reasonable level — your premiums will begin to drop in your 20s and will continue to go down until you get much older (and may eventually become a risk again).
Location. One factor that's pretty much out of your control is where you live. Car insurance isn't just about collisions — it insures you in case of things like theft, vandalism, or natural disaster, and so where you live can make a huge difference. Areas prone to floods, earthquakes, winter storms, and other extreme weather events are going to cost more in premiums, because the chance of a claim is much higher for every driver in that area.
Gender. Statistically speaking, men are historically more likely to engage in risky driving behavior, succumb to road rage, and have accidents, and so many insurance companies charge higher premiums to male drivers. Although this practice has started to change — it's been banned in several states and will probably be banned in more states as time goes on — it's still a factor for a great many drivers.
Education. Studies have shown more well-educated people tend to get in fewer accidents, which means people with higher education degrees may end up paying less for their auto insurance. The use of education in determining car insurance rates is controversial and considered discriminatory by some: at one time, there was a practice called "redlining" in which underwriters would draw red lines around particular areas on a map — usually areas with a high minority population — and routinely charged drivers living in those areas more for their car insurance. The practice of redlining is now illegal, but in most cases, your education level will still play a part in determining how much you'll pay for your car insurance.
Age and model of your car. A number of things about your car can affect your insurance rates. Newer cars tend to cost more to insure, not only because the parts and labor are more expensive in case of an accident, but newer cars are also likely to attract car thieves. Unsurprisingly, certain models of cars are more attractive to thieves than others as well — which makes buying an older, more reliable model of car a great way to bring your insurance premiums down. Added technology, such as anti-theft devices and backup cameras can also help bring down your rates.
Marital status. Drivers with spouses and families tend to drive more carefully than single drivers, in no small part because they have more concern for the safety of others and so are considered less of a risk.
Credit rating. Because people with lower credit are often seen as less dependable when it comes to paying debts and thus more of a financial risk, they often end up paying higher auto insurance premiums. However, as with gender information, auto insurance companies are banned from using credit rating information in several states.
Previous insurance coverage. If you haven't had any insurance before, or if you ended up in a bad situation with a former insurer (such as being dropped for excessive or fraudulent claims), you're going to end up paying considerably more in premiums.
Why Your Job is a Factor
So how does your occupation impact your car insurance rates? For one thing, your occupation intersects with several of the criteria given above. For example, if your job requires you to be on the road a great deal, your risk of an accident will increase proportionately. Because education often goes hand-in-hand with occupation, drivers in positions requiring higher education will pose less risk of a claim than people in lower-paying professions. Some occupations that require driving in a professional capacity, or with large amounts of business equipment in the vehicle that must be covered, may call for business insurance rather than personal insurance.
Which Professions Attract Lower Rates
But it's not all bad news. Some occupations will get you a lower rate on your insurance regardless of how much you drive. Ava Lynch at The Zebra provides some examples:
Nurses, EMTs/ paramedics, doctors, and other medical professionals will often pay lower premiums, while others may get a discount by virtue of membership in specific healthcare organizations. This is also true of police officers and other law enforcement officials — who, after all, issue traffic tickets that bring up insurance premiums for reckless or unfortunate drivers. Military personnel are also frequently offered discounts, varying by branch, sometimes up to 12%. Teachers also tend to pay less for their auto insurance, mostly because they're better drivers, statistically speaking.
Some other professions that tend to pay less for their car insurance include mechanics, account executives, engineers, scientists, lawyers, farmers, and firefighters. It's probably not surprising to learn that being retired, unemployed, or (in some cases) self-employed can also bring your insurance premiums down. If you are self-employed and work primarily from home, your insurance rates are likely to be considerably less. On the other hand, if your self-employment requires you to be driving a lot in a professional capacity, then you may see higher rates.
Which Professions Increase Insurance Rates
As you might expect, any occupation which requires a great deal of driving will result in higher insurance premiums. This includes professions such as professional drivers, delivery drivers, truck drivers, and rideshare drivers can all expect to pay more for their car insurance.
Other professions deemed to be high-risk by insurance companies include professional athletes, actors, chefs, waiters, bartenders, hosts, and unemployed individuals. In the case of entertainer and service industry professions, these increased risks are likely due to driving to auditions or gigs or possibly being late to a high-pressure shift. People who work where alcohol is regularly served may also be at higher risk for insurance claims.
Ways You Can Further Lower Your Rates
One of the more common ways drivers can earn discounts is by membership in certain organizations. For example, being a Costco member allows members to get cheaper car insurance through the American Family group. Active duty military personnel can get discounted insurance through USAA. Being in a union, academic organization, alumni group, or other professional organization can also contribute to car insurance discounts.
If you use your personal vehicle for business purposes, you may want to consider taking out a commercial auto insurance policy. This is often the case for taxi or rideshare drivers, delivery drivers, food truck owners, or freight truck drivers. While your insurance rates might not necessarily be lower, it's far more likely to give you adequate coverage — if you're using your vehicle for business purposes and get in an accident, your personal car insurance may not cover you at all. Also, if you use your vehicle for business but don't drive very much, you may get a low mileage discount.
There are a few other time-tested ways of lowering your car insurance rates as well. Consider the following:
Keep a clean driving record. Driving record has the biggest impact on your insurance premiums of all the factors listed above, so it pays to drive safely and do your best to avoid accidents or traffic violations.
Have a good credit rating. Even though the practice of using credit rating info is being banned in some places, it's still a factor for most drivers.
Taking a defensive driving course, installing a dashcam, or equipping anti-theft technology on your vehicle can all lead to lower car insurance rates.
Talk to your insurance company about possible discounts. The average insurer has 50+ discounts for meeting various criteria, such as good student discounts, low mileage discounts, discounts for being a homeowner, or bundling your car and home insurance.
You may also like: What to Do if a Car Insurance Company Does Not Pay Claims?
Image source: Shutterstock.com