Click here to get this post in PDF
Instagram and Pinterest are the two most visually-focused social networking networks available. You must have stunning, high-quality images to gain the member's interest.
While that might seem like a significant similarity, the two platforms are actually very different.
This guide will compare Pinterest and Instagram to help you understand the differences between these two social media platforms. 
What Are the Differences Between Pinterest and Instagram?
Both networks are all about appearance. So how do they differ?
Despite their similarities at first glance, Instagram and Pinterest are pretty different platforms. 
Here are the key differences between these two websites.
1. Site Goals
Instagram and Pinterest serve pretty distinct functions.
Instagram is generally used to post a user's images, but Pinterest mainly organizes and preserves material that other users frequently post.
Instagram is more focused on sharing, whereas Pinterest focuses more on discovering.
This influences how users engage with the site's content. Instagram users may be inclined to buy instant Instagram views. 
Beautiful photographs will perform well on both platforms, but Pinterest users must also feel some sense of worth.
2. Audience Statistics
Instagram has a far more diverse following than Pinterest. It's also significantly larger than Pinterest's.
Hootsuite compiled a list of the top Instagram demographics, finding that Instagram's audience consists of:
More than 70% of Instagram users are under the age of 35.
Instagram's most active users' age range lies between 18 and 29. For users between the ages of 18 and 34, there are twenty million more male users.
Pinterest's viewership is also overwhelmingly female, even though male users are increasing.
Pinterest's popularity as of March 2017:
There are 200 million active users.
Features 17percent of men and 45% of women on the platform.
Pinterest is used by 36% of 18-29-year-olds.
34% of those aged 30-49
28% of people aged 50 to 64
More women use Pinterest, and Pinterest's audience is slightly older on average than Instagram's.
Desktop vs. Mobile Usage
Pinterest is functioning on both pc and mobile devices. Most conversions for e-commerce-based posts on Pinterest are generated from desktop devices.
On the other hand, Instagram is almost entirely intended to be a phone app. On a desktop, you can see information and respond to different posts, but you cannot upload new content.
Instagram is currently gradually introducing its Shopify in-app shopping option, which has the potential to enhance the platform's selling power significantly.
4. Capabilities for Link Sharing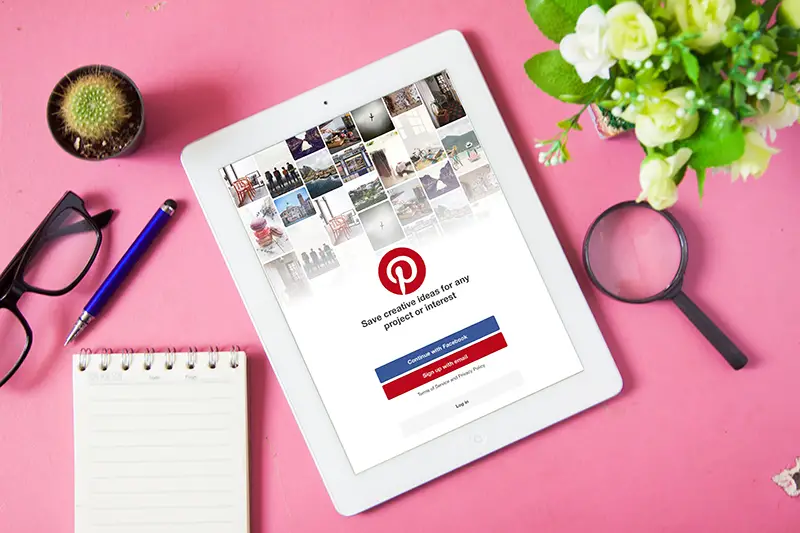 Pinterest places a premium on link share and saving. Instagram does not have this feature at all.
Instagram is now the only platform that does not permit the inclusion of links in posts. You can include an URL in your profile description and Instagram Ads, including Story Ads, but that's it.
When it comes to content distribution, Pinterest is the best option. However, promoting your material on Instagram could still be helpful, especially if you include the hashtag link in the bio.
5. Site's Hashtag Usage
Instagram relies heavily on hashtags. Users appreciate generating new, creative hashtags that have never existed before. Users can also utilize hashtags to help them connect with their target audience.
While hashtags are popular on Pinterest, they provide limited value. Users don't need hashtags to increase engagement because pins are readily available to increase your visibility in SERPs. 
6. Storytelling Features
When interacting with a brand, Instagram users are looking for a more tailored experience through storytelling. So,if you use Instagram, you should already be aware that the majority of users want to see great photos by brands that are:
Accessible
Informative
Engaging
Entertaining
When leveraging photographs or videos to develop a creative yet intimate connection with your intended audience, Instagram is an excellent medium. You can publish your content without jeopardizing your goal of communicating more information about your products/services.
Conclusion
If your company must select between the two social sites, the key is to consider your demographic and how they use these tools. Is it more likely they will generate photographs on Instagram or curate content on Pinterest? Are you aiming for a younger audience or an older, feminine audience? How will you present your images, use hashtags, and convey your story? Do you want people to visit your webpage or engage with your fans?
Once you have those questions answered, then you're well on your way to success!
You may also like: Saving Stories On Instagram As A Useful Tool For Your Account
Image source: Shutterstock.com