Click here to get this post in PDF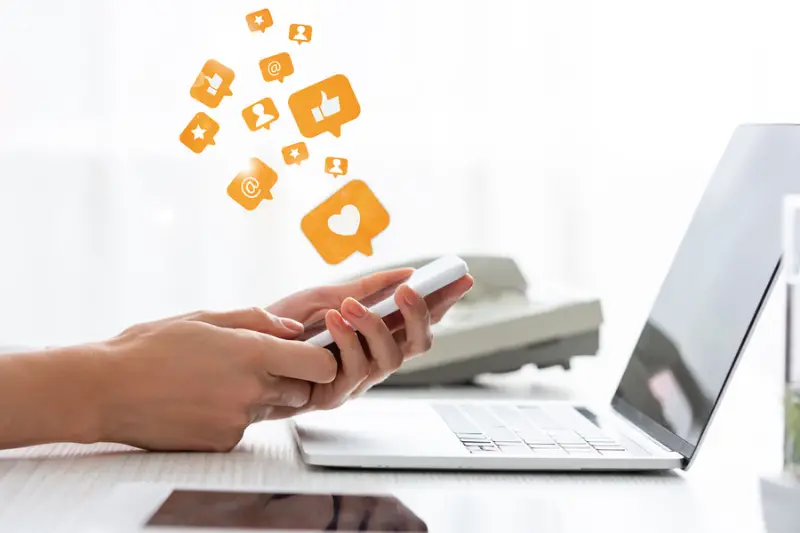 Community management is the art of nurturing and fostering meaningful interactions with your audience on social media platforms. In the fast-paced world of social media, building a loyal and engaged community is crucial for businesses and brands to thrive. The community management experts at our social media marketing agency are here to help you understand how you can do just that as well as how it can benefit your brand. 
Cultivating a Sense of Belonging
Community management fosters a sense of belonging among your followers. By actively engaging with your audience, responding to comments and messages, and creating a welcoming environment, you can make them feel valued and connected. 
For instance, imagine you run a fitness brand. If you regularly interact with your followers by responding to their fitness-related questions, sharing motivational content, and hosting virtual workout challenges, you can create a supportive community where members feel encouraged, motivated, and part of something bigger.
Similarly, if you run a travel agency, replying to comments on your Instagram posts, sharing travel tips, and encouraging followers to share their travel experiences can create a vibrant community where members feel like part of a close-knit group and even less lonely.
Building Trust and Credibility
Effective community management builds trust and credibility for your brand. When you consistently engage with your audience, provide valuable information, and address their concerns, you establish yourself as an authoritative figure in your industry. So, when they need information or products or services, you are the first brand they approach. 
For example, if you manage a skincare brand, regularly sharing skincare tips, addressing common skin concerns, and responding to product-related queries can position you as a trusted source of skincare knowledge. This can build audience confidence in your brand, making followers more likely to seek your advice and purchase your products when they are in the buying stage of their customer journey.
Driving Engagement and Brand Advocacy
Community management drives engagement by creating opportunities for meaningful interactions. When you actively listen to your audience, ask for their opinions, and encourage discussions, you create a space where they feel comfortable sharing their thoughts and experiences. 
When you consistently engage with them and provide valuable content, you gradually build trust and encourage them to become loyal brand advocates.
Active community management also boosts engagement and expands your reach on social media. By initiating conversations, asking questions, and encouraging discussions, you create opportunities for your followers to interact with your brand and with each other more than they would otherwise.
Suppose you own a food blog where you ask your followers for their favorite recipes. This kind of sharing of user-generated content featuring their culinary creations not only allows you to initiate conversations around food-related topics but also encourages them to actively participate and become brand advocates. This engagement can strengthen their connection to your brand and not just expand your reach as they share their positive experiences with others.
Similarly, if you manage a beauty brand, interact with your followers, share beauty tutorials, and feature user-generated content, you create a community of loyal fans who are more likely to recommend your products to their friends and family.
At the same time, a technology blog can post thought-provoking questions, host live Q&A sessions, and encourage their followers to share their tech experiences to create a thriving community where engagement levels soar, leading to increased visibility and reach.
Gathering Valuable Insights
Community management allows you to gather valuable insights about your audience's preferences, interests, and pain points. When you actively listen to their feedback, monitor conversations, and conduct polls or surveys, you gain a deeper understanding of their needs and tailor your offerings accordingly. 
For example, if you manage a fashion brand, regularly seeking feedback on new clothing collections, asking about their favorite trends, or hosting polls to understand their style preferences can help you make informed decisions about your product offerings. This insights-driven approach can enable you to provide a more personalized and tailored experience for your community.
Likewise, a fitness app can regularly engage with its community, seek feedback on new workout features, and conduct surveys to understand its users' fitness goals to ultimately enhance the app's functionality and tailor its offerings to meet their specific needs.
Remember that there has never been a successful product without user contribution. 
Enhancing Customer Support
Countless businesses have understood the importance of community management and are now using it to provide exceptional customer support directly on social media platforms. They do this by promptly responding to inquiries, addressing concerns, and resolving issues. And your brand can also showcase its commitment to customer satisfaction by doing the same.
For instance, if you operate an e-commerce store, you could promptly respond to customer inquiries via social media messaging platforms and resolve order-related issues in a timely manner, which can help demonstrate your dedication to customer support not only to existing users but to potential ones, as well.
Generating User-Generated Content
You have a great opportunity to encourage and generate user-generated content (UGC) through community management. UGC not only provides authentic content for your brand but also strengthens the bond between your community members.
So, if you run a restaurant, you could consider featuring customer food photos, organizing contests that encourage followers to share their dining experiences, and reposting their content on your social media profiles to foster a sense of pride, which can also encourage others to engage with your brand.
Staying Ahead of Trends
Community management allows you to stay ahead of trends by actively monitoring conversations, observing user behavior, and adapting your strategies accordingly. Just by understanding your community's interests and preferences, you can tailor your content to resonate with their evolving needs.
For instance, if you manage a fashion brand, closely following fashion influencers, monitoring hashtags, and engaging in discussions with your followers about emerging fashion trends can allow you to curate content that aligns with their current interests.
As you can tell, community management is a vital aspect of social media strategy for brands. It is not just about managing social media accounts; it is about cultivating engagement, fostering loyalty, and building meaningful connections with your audience. By embracing community management to build meaningful connections with your audience, you can unlock the full potential of social media for your brand's growth and success. This can significantly contribute to your long-term success in the online landscape.
You may also like: 8 Powerful Techniques To Build Strong Social Media Presence
Image source: Depositphotos.com