Click here to get this post in PDF
With the spread of COVID-19 refusing to slow down, salon owners need to take extra precautions to keep their businesses safe for guests and employees. Even when not in the midst of a global pandemic, floor-to-ceiling sanitation is necessary for keeping the most common viruses and bacterial illnesses out of your place of business. In this guide, we're going over how to sanitize your salon, from your reception area to your busiest salon stations, to help keep it free of dangerous intruders that could put your business at risk.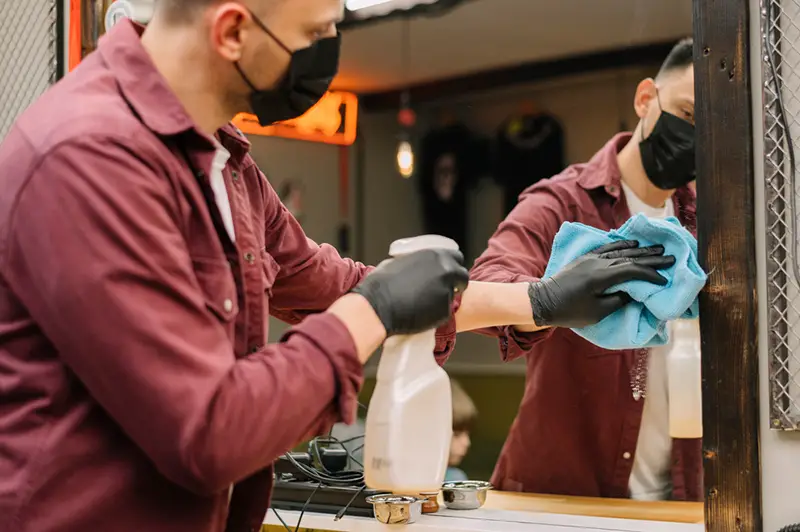 Image source: Shutterstock.com
Disinfecting vs. Sanitizing
Where possible, you should always sanitize your salon using disinfectant. The CDC defines disinfectant as a product that "destroys most recognized pathogenic microorganisms but not necessarily all microbial forms (e.g., bacterial spores)." While disinfectant kills both bacteria and viruses on hard, non-porous objects, sanitizing only reduces certain bacteria.  Since you can't use disinfectant in every situation but can use sanitizer in others — such as on laundry or furniture — you'll need to both sanitize and disinfect throughout your salon.
Why Sanitize and Disinfect?
As we all watched the COVID-19 pandemic unfold, it became immediately obvious that routinely sanitizing your home and business is no longer optional. Proper sanitation means regularly killing and washing away some of the peskiest pathogens — influenza, coronavirus, hepatitis C and B, tuberculosis, staphylococcus (MRSA), C. diff and others. Proper sanitation means safeguarding your workforce and protecting your clients, of course, but it also means protecting your business's reputation and staying compliant.
Stock Up on the Right Products
The first thing you need to do to prepare for your salon sanitation is to make sure you have the best cleaning products for the job. Note that — despite what their labels may say — not all cleaning products are powerful enough to kill the more stubborn viral strains.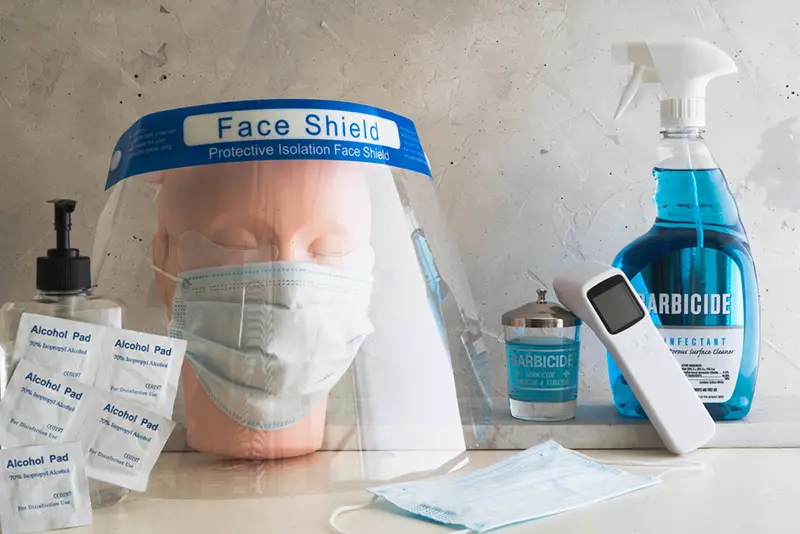 Source: Victoria_Hunter/Shutterstock.com
So which disinfectants are best for the salon? Look for a disinfectant that kills COVID-19 and use tried-and-true salon sanitizers on all non-porous surfaces. Use a product labeled to kill funguses, viruses, and bacteria, such as Barbicide, on your salon tools. If not available, you can also use a bleach solution on hard, non-porous objects. The CDC recommends mixing a third of a cup of bleach in one gallon of water.
Here's a complete list of what you'll need.
An EPA-registered broad spectrum disinfectant, such as Barbicide
A properly diluted bleach solution
Disinfectant jars for your tools
Microfiber cloths and cleaning towels
Disposable gloves
Disposable face masks
A Step-by-Step Guide to Sanitizing Your Salon
Having the right disinfectant products isn't the whole story. You also need to know how to use them so they're actually effective. Improper usage can render the disinfectant completely ineffective, so make sure you do things properly according to the instructions on the bottle.
Prep your space. The first step in sanitation is to give your entire salon a once-over and remove any items that do not belong and throw away all trash. Keeping your space neat and tidy eliminates germ hotspots, making cleaning easier and pathogens less likely to spread. 
Clean all surfaces with soap and water. Your disinfecting product won't be able to work if there are barriers in the way, which is why it's crucial to first clean surfaces with soap and water. You want to start by removing any dirt, debris, clippings or coloring from all surfaces, including your shampoo bowl area and stations. This will ensure that there's nothing in your way when you go to disinfect. Use soap and water first to clean any area or item that may be especially dirty, including:

Shampoo bowls
Chairs
Sinks and faucets
Countertops
Styling tools
Color bowls
Desks

Wipe down all surfaces with disinfectant. Once all the surface debris has been removed, you're ready to start disinfecting salon equipment with your chosen product. Pay special attention to frequently touched surfaces, including door knobs, keyboards and styling tools. Use a concentrated disinfectant and make sure to follow the instructions on the bottle exactly as stated. Many disinfectants need to sit for a while before being wiped off in order to thoroughly kill all germs. Wipe down the following items with disinfectant after each use:

Shampoo bowls
Chairs (be wary of affecting the finish of any vinyl)
Countertops
Styling tools
Color bowls
Desks
Keyboards
Computer mouses
Doorknobs
Drawer knobs and pulls
Sinks and faucets
Toilets
Soap dispensers
Source: Maridav/Shutterstock.com
Soak tools in salon disinfectant. Soaking your tools in a salon-grade disinfectant, such as Barbicide, will help ensure that funguses, bacteria and viruses don't transmit from you to your clients or vice versa. Make sure to closely follow all instructions on your disinfectant of choice, as many of them require a set soaking time. For example, you need to immerse your tools for 10+ minutes in Barbicide.

Shears
Combs
Brushes
Clippers
Razors
Nail tools

Clean all soft surfaces. Make sure to properly launder all towels, capes and other soft surface items after every use. Launder all towels in hot water after each use and make sure they're completely dried before re-introducing them to the salon. You might also consider using biodegradable disposable towels as a simple, worry-free alternative to constant laundering. Make sure to regularly vacuum all soft surfaces, especially carpeting, rugs, drapes and the upholstery on your furniture. You may want to consider covering all chairs and waiting area furniture with covers so you can easily toss them in the laundry.
Remain Committed to Sanitation
There's simply no getting around it. In order to run a successful, compliant salon, you need to know how to sanitize properly. Make sure you have a printout of guidelines set forth by your state cosmetology board easily accessible to you and your staff at all times. This, coupled with the above tips, will help ensure that your facility stays clean and healthy for everyone who enters. The result will be a comfortable, healthy environment for you and your team.
You may also like: What You Need To Know About the Differences Between Cleaning, Sanitizing and Disinfecting