Click here to get this post in PDF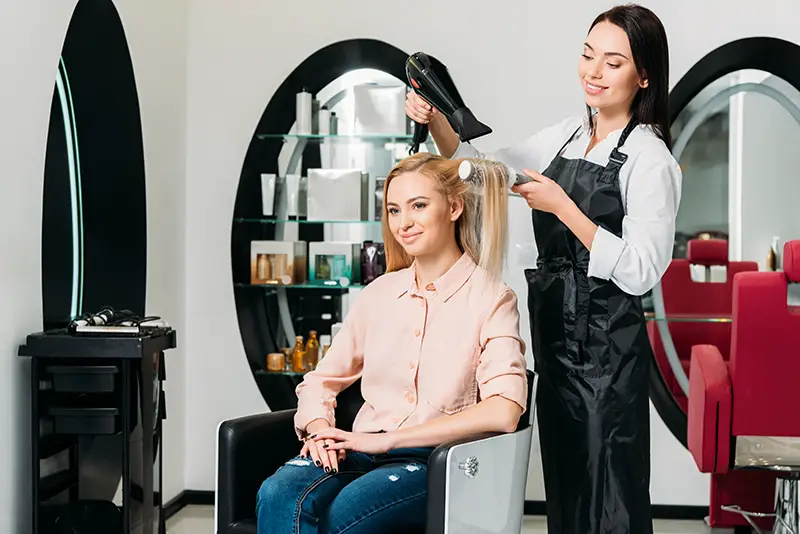 As millennials, we're always looking for ways to save time and money – and when it comes to beauty, it's no different. As a salon pro, there are many ways to cut corners and make your client's beauty treatments more efficient. In this blog post, we've got 10 beauty salon hacks that will help you do just that. From clever storage solutions to DIY treatments, read on to discover ways to keep your beauty treatments both fun and affordable and also advise your clients!
Use multi-purpose products
Save time and money by using products that serve multiple purposes. For instance, a tinted moisturiser that doubles as a sunscreen is a great way to simplify morning routines, while a lip and cheek tint can give a fresh, natural look with just one swipe.
Invest in good quality tools
You don't have to spend a fortune on beauty tools, but investing in good quality brushes and applicators can make a huge difference in your application, and a tool that's built to last will save you money in the long run.
DIY hair treatments
Show your clients how to look after their hair between salon visits by creating their hair treatments at home! A simple avocado and coconut oil mask can do wonders for hair and is much more affordable than salon treatments.
Clean your tools regularly
Dirty brushes and applicators can harbour bacteria, which leads to breakouts and infections. Make sure you clean your tools regularly with a gentle cleanser to minimise the risk of contamination.
Keep your bathroom organised
Depending on the layout of your salon, you could invest in a salon trolley to keep everything organised and clutter-free. A trolley with multiple drawers and shelves will keep all of your beauty tools within arm's reach, making it easier to stay on top of your beauty routine – there are plenty of decent salon trolleys for sale in Australia.
DIY nail treatments
Clients may want to save money by doing their own nails at home – with the right tools and a little practice they can create salon-worthy manicures and pedicures without the expense. Make money in the salon by selling them the products and kits and giving advice.
Buy in bulk
If you have a product that you use regularly, consider buying it in bulk. Not only will you save money, but you'll also save time by not having to restock as often.
Use natural products
Natural products are often cheaper than their synthetic counterparts, and they're also better for skin and hair. Plus, you can create your own natural beauty treatments using ingredients from your kitchen.
Teach clients to do their own makeup
With YouTube tutorials and online resources at everyone's fingertips, there's never been a better time to learn to do your own makeup. Raise awareness of your salon by providing tutorials and advice through videos. Show how easy it is to experiment with different looks!
Don't overdo it
When it comes to beauty, less is often more. Resist the urge to buy every new product on the market and instead focus on a few key items that work for you. Not only will you save money, but you'll also save time by not having to sift through a mountain of products.
There you have it – 10 beauty salon hacks to save time and money
From investing in good quality tools to buying in bulk, these tips are designed to make your beauty routine more enjoyable and affordable. And if you're looking to maximise your workspace and stay organised, be sure to check out some salon trolleys. By implementing these tips, you'll be well on your way to a more efficient and enjoyable beauty routine. Happy beautifying!
You may also like: 6 Mistakes to Avoid When Opening a Hair Salon Business
Image source: Depositphotos.com