Click here to get this post in PDF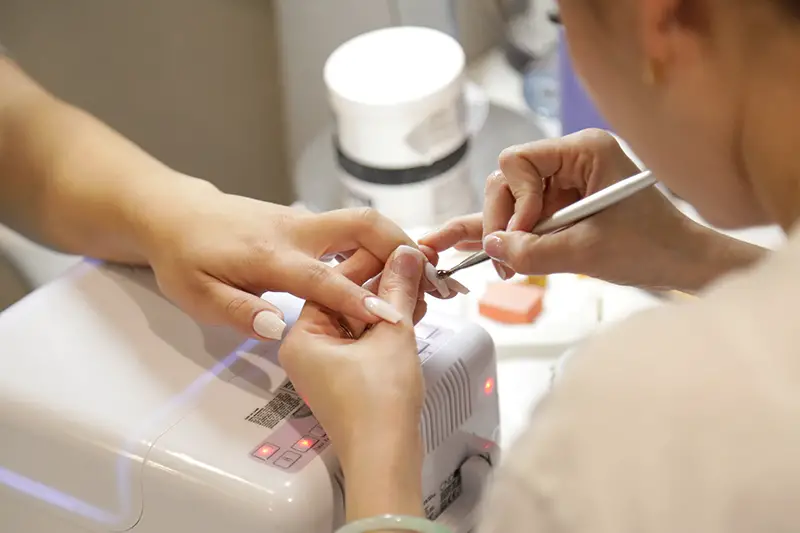 There's no doubt that the last couple of years have been challenging for most businesses – none more so than those in the beauty sector. The pandemic has been tough on hairdressers, nail technicians, and other businesses offering beauty treatments. 
However, as things slowly get back to a 'new normal' it looks like the beauty services sector is set to regain some of the growth it was seeing pre-pandemic – there were 8,677 beauty salons in the UK in 2019, a huge 73% increase in businesses since 2014. 
This is great news if you've been thinking about changing or starting your career and have always wanted to get into the beauty sector. There is a lot of potential as demand increases and more qualified providers are needed, and one particular service that looks set to be increasingly popular is that offered by Nail Technicians – in 2019, there were 3,517 nail salons in the United Kingdom, up 56% in five years. 
So, if you've been providing manicures, pedicures, and nail art to friends and family alongside your regular job, maybe now is the time to get some recognised training and look at turning your side hustle into a beauty career as a Nail Technician. 
Once qualified, you could look at working in a beauty salon to get more experience, or perhaps you want to jump straight into being your own boss and start your own business – with the right training and skills there will be plenty of opportunities, so here's what you need to know.
Choosing a Nail Technician Training Course
The good news is there is no shortage of training courses on offer for anyone wanting to become a Nail Technician. However, not all courses are the same, and it stands to reason that some are going to be better than others, depending on how you prefer to learn and the experience of those who will be doing the training.
In-Person Courses
There are a number of specialist providers who will offer training courses at locations around the UK, which you attend in person and are trained as part of a small group. These face-to-face courses are fairly intensive and typically take place over a couple of days, so you will get all the training and direction you need to develop the necessary skills to become a Nail Technician in a relatively short space of time.
Because these courses are in-person, the practical element of the training tends to be better, as you learn and test your skills with an experienced tutor right there with you. These face-to-face courses can be ideal for those looking to get started quickly, but they tend to be more expensive, and this intensive learning may not be right for everyone.
Online Courses
Even before the pandemic, it was possible to take online Nail Technician courses, but the various restrictions we've all been subject to over the last year or so have meant that online learning has become even more popular. This is likely to continue even as things get back to normal, as online training is a flexible learning option that a lot of people prefer.
If you'd rather learn at your own pace and have more time to go through the training, then having access to a whole online library of training videos and materials may be a better option for you – plus, you have the added benefit of being able to learn from the comfort of your own home, at a time that suits you and your life. 
Because this isn't in-person training, you won't have the benefit of a tutor being right there with you; but for a lot of people the fact that they are available online when you need them and can guide and assess your work via video and e-mail, means this is still an excellent way to train.
What to Look Out For
When you understand how you prefer to learn and which sort of training courses is likely to suit you best, the next thing you need to do is choose between the providers offering those types of courses. 
To make sure you get the training you need to become a qualified Nail Technician and receive the support that will help you make it in your new career, here are a few of the things you should look out for when choosing your course provider.
Qualifications – To find a job in a salon or start your own business you'll need a recognised qualification, so make sure that this is something that is offered once you have successfully completed your course.
Accreditations – There are organisations that recognise the best training providers, such as the CPD and ABT, so make sure that your provider is accredited by these organisations so you get the best possible training.
Experienced tutors – Your training will only be as good as the person training you, so make sure you understand the experience and qualifications of your trainers to ensure you'll get the training you need.
Practical experience – If you opt for an in-person course, find out how much practical experience is part of the training, as the more you can practice your skills with an expert to guide you, the better you are likely to learn.
Business advice – If you're looking to start your own Nail Technician business, does your training course offer any help and advice to get started; and if you want to start in a salon, do they offer any assistance or guidance on finding the right job. 
Equipment – To complete your training course and go on to earn a living as a professional Nail Technician you will need to have your own equipment, so does your course provider help you source everything you need, or even better, help you access professional nail kits at discounted rates.
Reviews – Finally, but probably most importantly, check out how good the courses you're considering are by seeing what those who've already completed them think of them. Check out the online reviews by former students to make sure the quality and methodology of the training is what you're looking for.
Your New Career is Waiting
If you're looking for a new career and have always had an interest in beauty and nail art, training to be a professional Nail Technician could be the perfect opportunity. 
With demand in this sector looking set to bounce back and continue to grow, with the right training to give you the skills and qualifications you need, your hobby or side-hustle could be the start of an exciting new career – so what are you waiting for?
You may also like: 7 Vital Things One Must Check When Taking Up Online Courses
Image source: Unsplash.com