Click here to get this post in PDF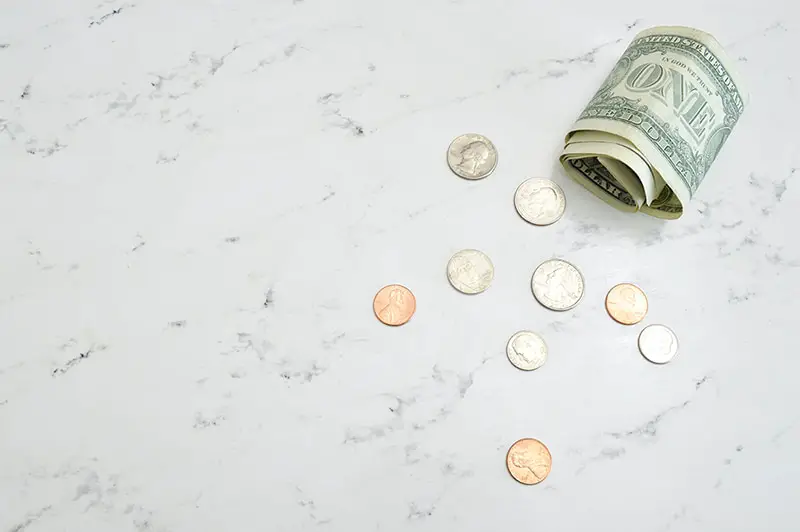 If you're like most chronic overspenders, chances are you start every month with great plans and intentions of spending wisely and cutting your debts. However, along the way, you find yourself making the same mindless purchases and money mistakes that leave you feeling guilty and upset.
Don't beat yourself up. Overspending is a habit most of us grapple with, at least sometimes. The good thing about it is that it's manageable and possible to overcome with the right strategies and behavior change.
Here, we show you four simple tactics and tips that will help you keep your spending in check.
Create a realistic budget
By a realistic budget, we mean having the right balance between your income and expenditure. Just seeing how much money goes towards unnecessary luxuries like clothing and electronics will open your eyes to possible areas of improvement.
To make it easier to track your money, here are five key aspects of your budget that you need to watch:
Income – this is the sum of every coin you earn through salary, wages, tips, and business profits.
Fixed expenses – for this, you need to tally bills that have to get paid every month, including mortgages, car loans, rent, credit cards, etc.
Variable expenses – these include money spent on clothing, gas, groceries, and other similar bills. They can change from one month to the other, meaning you'll need to use an average of the past several months for your estimates.
Savings – do you allocate money for savings, investing, or retirement? Note it down too.
Miscellaneous – give yourself a small room for human error and probably some indulgence. Life doesn't always have to be serious!
Set your financial goals
If you're serious about spending less and improving the quality of your life, you need to set realistic and easily attainable financial goals. Goals constantly remind you of what you're sacrificing for; whether that is to save for your next investment, buy a house, or clear your student loans.
Ensure that you're goals are specific and quantifiable. Instead of saying, 'cut down my spending on movies', try to be more specific and say 'cut down my spending on movies from $300 to $100 per month'.
Go for cheaper entertainment options
One of the biggest struggles for most overspenders is having to give up on their fun activities or friends. But that should not always be the case. A better approach would be to reduce money spent on entertainment. You can achieve this by choosing cheaper but equally fulfilling experiences. For example, instead of going out to expensive hotels and partying joints, you can invite your friends for food and drinks at your house. While you are at it, let your friends and family know about your decision to cut down your expenses. You will be amazed to find that a lot of them are ready to support and even emulate you.
Identify your spending triggers
What we spend on is largely influenced by our psychological and emotional state at that moment. By understanding what triggers you to buy, you'll be able to easily avoid common temptations that lead you to spend on things you don't need. A few triggers to keep in mind include:
Environment
Do you find yourself spending more when you're visiting certain places and not others? For example, you might have discovered that any time you go to a particular mall in town, there's that favorite store you cannot avoid shopping at. If you can restrain yourself from going there, chances are that you will significantly minimize impulse buying and ultimately save money.
Peer pressure
Nearly all of us suffer from this – spending more than usual when in the company of friends. If you've decided to cut on your expenses and lead a leaner life, then you might want to decline some of those invites even when they're coming from your well-intentioned friends.
Mood
As a general rule of thumb, buying while stressed or anxious can make you more prone to impulse shopping. Studies show that there exists retail therapy, whereby shoppers buy to feel better about themselves. If this sounds like you, avoid stepping out of that door when you're not in your right frame of mind.
We're all guilty of spending more than we'd like at some point. However, it is how we learn from those experiences and the actions we take toward curbing overspending that determine our success with money. What actions are you taking to improve your money management skills? We'd love to hear your feedback.
You may also like: Financial Advice For Small Business Owners