Click here to get this post in PDF
Help desk software is essential for any organization that wants to provide excellent customer service. Their primary purpose is to manage and track customer interactions and support requests in a centralized location – positively impacting communication and collaboration across teams and the time it takes to solve problems. 
This guide will explain what help desk software is, its benefits, how to choose it, and the difference between cloud help desk software and on-premise help desk software.
What is help desk software?
Essentially, help desk software is a platform that provides a centralized location for tracking and managing customer interactions and support requests. It allows businesses to manage their customer interactions in one place, improving communication and collaboration between team members.
It's the backbone of any IT service management (ITSM) system.
What's the difference between a help desk and a service desk?
You might have heard the term service desk used as a synonym for help desk. And the truth is that many times they're used interchangeably. However, when we oppose help desk vs. service desk, a few differences resurface.
As we mentioned above, a help desk allows the IT department to react to unexpected issues related both to the IT infrastructure and the services they provide. It's usually reactionary, which means that its main focus is to resolve problems once they arise.
On the other hand, a service desk is kind of its big brother. With it, you'll have all the help desk functionalities but with a strategic approach. With a service desk, you can plan, structure, and provide the delivery of a wide variety of IT services. Its main goal is to be a single point of contact for all IT (and sometimes non-IT as well) activities.
Types of help desk software
The two main types of help desk software are cloud-based and on-premise. Both types have their own advantages and disadvantages, but here's what you need to know about each one.
Cloud-based help desks are solutions hosted on the internet. Therefore, companies don't need to worry about hardware or maintenance – since everything is managed by the service provider. They tend to be more affordable than on-premise solutions and they're easy to scale up or down to keep up with your business changes.
On-premise help desk software needs to be installed on your own servers. This means you have more control over the data and security. Plus, it's more scalable than cloud-based solutions because you can just add more servers if you need to.
The benefits of using help desk software
Before we jump right into the features, let's take a moment to address a question you might be asking yourself: "What's in it for me?" We've dropped a few hints here and there, but there are at least seven benefits to consider:
It helps you to streamline your processes and workflows
It reduces the workload
It keeps the standards and ensures compliance
It improves the security of your IT network
It improves the employee and customer experience
It improves the service desk and the products and services offered by the company
It helps you ensure that  the service quality is as defined in the Service Level Agreement 
7 features to look for in a help desk software
Once you choose the type of help desk software that adjusts to your needs, it's time to look at the features it must have. 
1. A ticketing system
The foundations of a great help desk software are its ticket management and tracking functionalities. It must allow you to perfectly organize and monitor your active workload.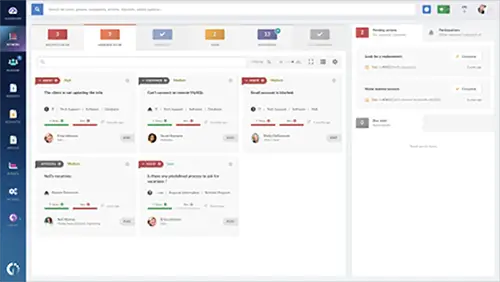 Some other valuable things to pay attention to are how tickets are ordered if the dashboard presents the right amount of information at first glance, and if it's easy to escalate tickets.
Let's take InvGate Service Desk as an example. If you take a look at its interface, you can see that it allows agents to perfectly organize and monitor their active workload and at the same time, follow their SLAs.
2. A knowledge base
This is a great way to reduce the workload. An integrated knowledge base will allow your agents to create articles answering the most common questions, so users can self-solve their problems.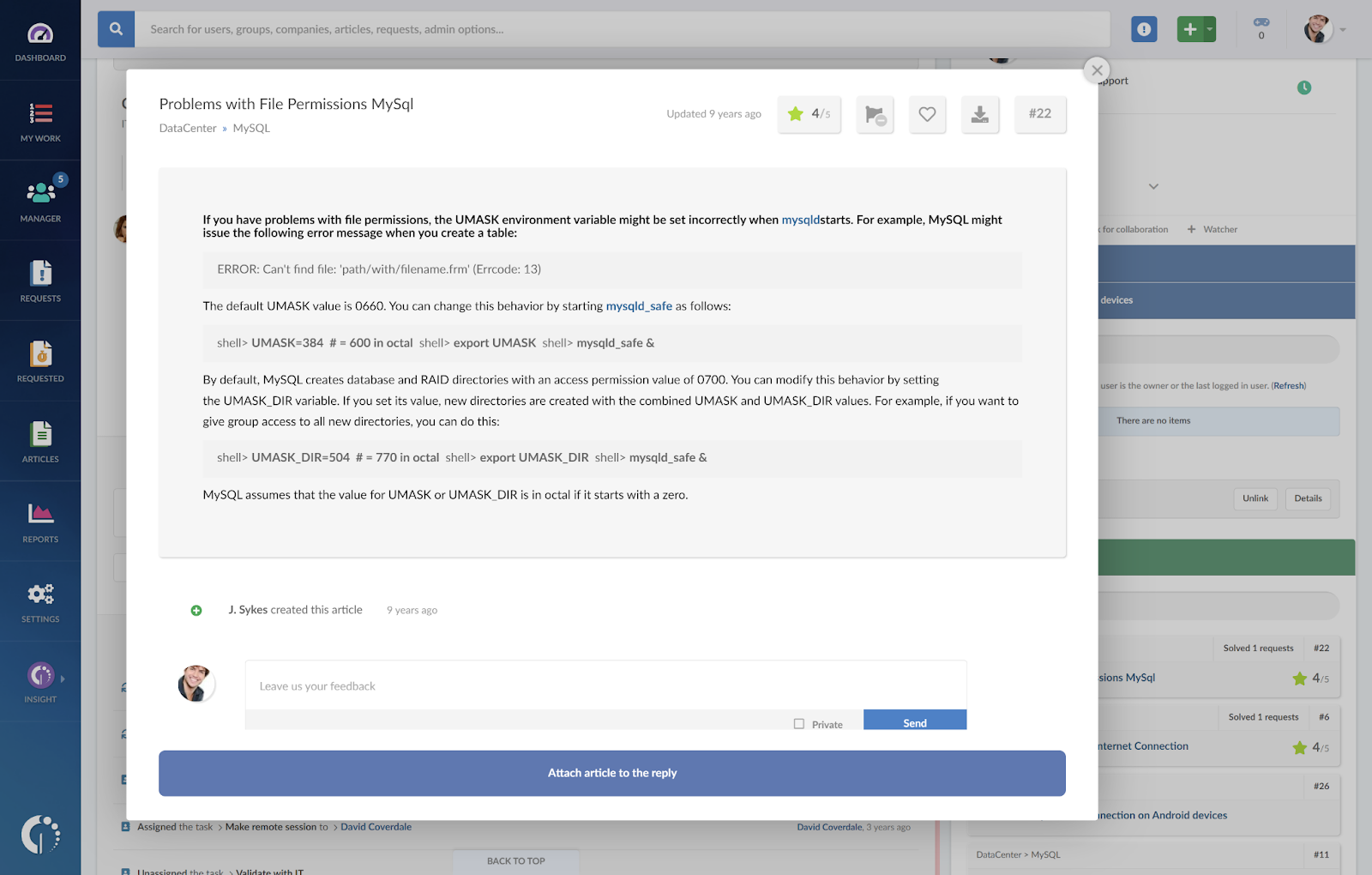 In this case, it'd be useful to check how easy it is to create and maintain articles and to search among them to find the right answer. The image above is a great example of how to build an easy-to-access knowledge base to deflect Level 1 tickets and help employees fix issues on their own.
3. Quick access to statistics and metrics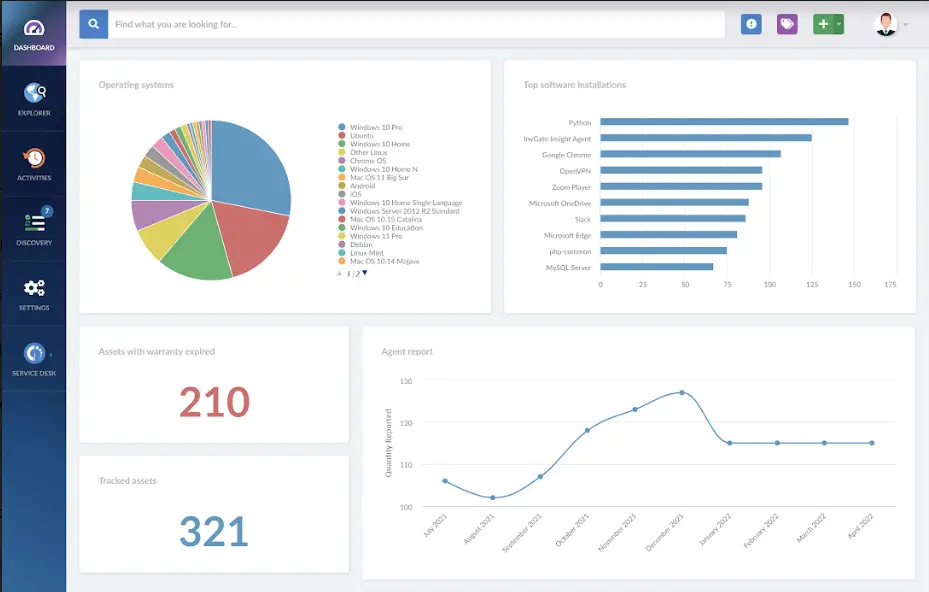 An integrated reporting tool is a huge plus when it comes to analyzing how the help desk is performing. It'll help both managers and agents to understand how efficient the tool is, and what areas need adjustments.
4. User-friendly interface
None of the above matters if the help desk software you choose has a poor interface. It has to be intuitive for users to adopt it seamlessly. The more user-friendly it is, the more efficient it gets.
5. Quick implementation and support
This is another must when searching for help desk software. Ideally, the tool of your choice should be easy to implement and should have a support team ready to help you if things go south.
For small and medium organizations, the whole process of implementation, testing, and training should not take more than 4 weeks. And to avoid downtime, make sure your provider has some level of telephone support.
6. Best practices compliance
In the beginning, we mentioned that help desk software is the backbone of an ITSM system. And this comes with a body of guidance and best practices to ensure certain service quality.
In order for you to forget about learning the framework on your own, we suggest you find a help desk software that's already compatible with the most popular best practices out there – ITIL. These standards will help you get the most out of your investment in the shortest time.
7. Integrations
Last but not least, integrations are key when optimizing time and efforts. Check out if the integrations offered by the help desk provider of your choice match your needs. This way, you'll be able to connect your tools and make everyone's work more efficient.
Key takeaways
Choosing the right help desk software for your business can be a daunting task. However, by considering its benefits, features, and price, you can narrow down your options and find the help desk software that is right for you.
And to do that, you first need to understand the needs and requirements of your business. Once that's clear, it'll be much easier to see what service desk software fulfills them in the best way.
You may also like: How to Choose Between Self-Hosted and Cloud Help Desk