Click here to get this post in PDF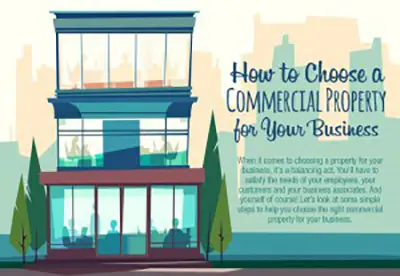 Determining the right commercial property for your business can be difficult – there are many factors to take into consideration. In any business, there are numerous stakeholders that you will have to appease with your final decision, from your suppliers to your customers. Whether you're starting out with your new business or merely moving location, there are numerous elements in choosing the perfect premises for your company and you!
When it comes to the location of your potential property, you have to ask yourself a number of questions – how important is foot traffic? Is there enough room for me to expand in the future? Is it an easy commute for my employees? What is the public transport like in the area? By answering these questions at the planning stage, both you and your business partners will be able to narrow down your search.
Picking an impeccable property that increases your profitability and reduces stress requires early and detailed assessment and planning. This useful infographic from Hones Lawyers is our guide to picking the right commercial property for your business, with everything from research tips to legal factors. Let's take a look at this step-by-step guide below!

Did you find this infographic helpful? Let us know in the comment section!
You may also like: Commercial Leases – Essential Questions for a Prospective Tenant