Click here to get this post in PDF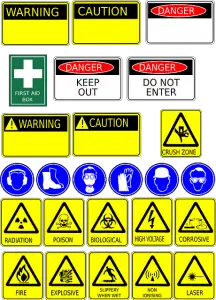 The EU referendum is rapidly approaching. Polls are split on which side will come out victorious. This means a large degree of uncertainty for business owners, who currently have to comply with a range of EU regulations. In particular, health and safety laws could be subject to a major shake-up.
A considerable proportion of the UK's health and safety regulation originates in Brussels. This has its foundation in Article 153 of the Lisbon Treaty. Under this arrangement, the EU provides a framework of legislation for all areas of working life such as workplace safety, labour relations, and working hours. These regulations are amended on a regular basis and are meant to be enforced throughout the 28 countries in the union.
How are EU health and safety laws perceived by the business community?
This has long been a controversial and divisive issue. There are many who see the system of regulation as necessary for trade within the common market. There is also an argument that EU health and safety laws help protect the wellbeing of workers.
However, some business interest groups have consistently complained about EU health and safety laws. They argue that the legislation produced in Brussels is bureaucratic, cumbersome and hinders commerce. Others simply feel that it should be down to the British government alone to shape its own health and safety framework.
Another source of contention is the inconsistent implementation of health and safety laws on the continent. According to Darren Smith, a consultant for Health and Safety consultants Arinite, Britain is amongst the strictest in following the rules. However, enforcement amongst some other European countries is laxer. This can be seen in the differences in interpretation of the Working Time Directive, employee consultation, fire and explosions, and working from height.
What legislation could be re-evaluated?
Given the criticism, a Brexit would see a clamour for reform. This could gain traction, given that the current government is generally inclined towards cutting 'red tape' and restructuring labour laws.
Firstly, Working Time Rights could be altered. Currently, EU workers are entitled to a minimum of 5.6 weeks of holiday per year and an allocation of paid sick leave. Changes to holiday entitlement would be unpopular amongst the public, so would be difficult to push through. A more likely scenario is a cut to paid sick leave.
The Agency Workers Regulations 2010 has been attacked on grounds of cost to businesses and could face the axe.
On top of this, a whole range of health and safety regulations which are considered burdensome could be reconsidered.
What is the outlook?
The first thing to remember is that any changes would not happen overnight. Even if the UK did vote to leave, there would be a two-year transitionary period in which all EU law would still be in place.
What happens after this transitionary period depends on what kind of relationship a post-exit UK forms with Europe. Some Leave campaigners are calling for a complete withdrawal from all participation with the EU. This would give the UK scope to enact wholesale changes to health and safety regulation.
Alternatively, a Brexit may see the UK leave the EU but remain a part of the European Economic Area. This is a position occupied by Iceland, Liechtenstein, Norway, and Switzerland under the European Free Trade Association (EFTA). However, it should be remembered that this is not a case of free trade without the strings attached. All the nations in the EFTA must still comply with most EU workplace health and safety laws.
Therefore, it is conceivable that health and safety laws would not completely transform after a Brexit.
There are also interesting implications if the UK chooses to stay in the EU. David Cameron has in the past pushed for a relaxation in EU labour laws. A Remain vote may just give him the political capital to convince the likes of Angela Merkel to force through changes.
Whether the UK leaves or remains, this is an interesting time for health and safety. The future depends very much on what happens in the corridors of power in London and Brussels.
You may also like: What Does Article 50 Mean for Small Businesses?
About the Author
Sathesh is a freelance writer based in London. His main interests include economics, business methods, and labour relations. He is a History graduate from the University of Southampton.