Click here to get this post in PDF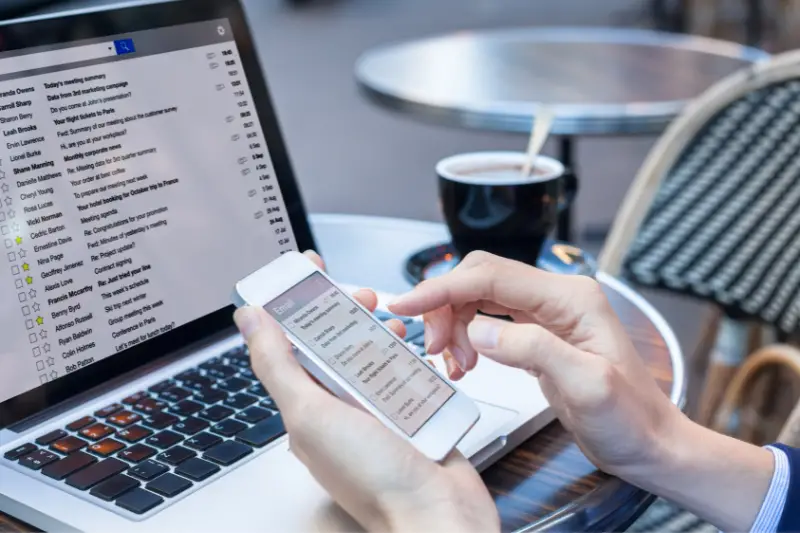 In a perfect world, as soon as you send across a business quote, you should ideally get a deal closure. But as often is the case, this is not true for most scenarios. And, if you are tired of waiting around for your customer to send across the confirmation email finally, a follow-up sales email might just be your answer (if drafted correctly). 
Most sales reps often get confused when it comes to sending a follow-up email. But while not getting a response is quite common (and frustrating), each lead lost is ultimately lost income. This is why these follow up emails make one quick way to get closer to your lead. 
So, how do you start drafting these follow up sales emails? Is there a 'said' sales follow up email template with higher open and lead closure rates than others? 
Let's first deep dive into why customers are not acknowledging your sales quotes?
Why are customers not responding to your sales quotes?
If you are a solopreneur, consultant, or even a freelancer, it is often easy to fall into tunnel vision. 
While you cannot expect every lead to answer or respond to your sales quote, you can follow up with an email that reminds them of your offerings and services. 
Here are some reasons as to why you should definitely send across that follow up sales email that you have been deliberating about: 
1. Radio silence does not mean 'no' – In this digital age, where everything is all about instant gratification, it's easy to misunderstand silence as a lack of interest in the sales quote. But that's not often the case; maybe they are just busy perusing through quotes received from other companies, which just translates into more waiting time for you. 
2. Communication is often restricted to a five-inch screen – What this simply means is that email and email notifications can be missed as easily in mobiles; and with everything becoming mobile-first, this might often be the case for your sales prospects. 
3. Customers like taking things slow – While you may be dependent on the project and the income, customers often like to take things slow, especially when they have to invest and process your payment. 
Now that you are convinced that sending across that follow-up email isn't that bad after all, here are some quick tips.
How to draft the perfect follow up sales email?
The best follow-up sales emails guarantee deal closure, but before you start penning, here are a few things that you should keep in mind. 
1. Do your homework – This may sound easy, especially if you had already sent across a sales quotation. But homework here means more research and trying to find the company's kingpins and opening up a direct line with them. Adjust your follow-up sales email message accordingly. Also, don't forget to include follow up questions. It will just help you be better. 
2. Refer to your previous communication – This may sound pretty obvious, but your email might just land up wedged between that Christmas holiday discount coupon and flight tickets to a vacation. This is why it is important to remind your lead about the previous correspondence. 
Here are a few opening lines that will you help you draft one of the best follow up sales emails:   
About my offer…
I had sent an email on [date], and I was wondering what you thought about it
As per our previous correspondence
3. Interesting subject lines seal the deal – Research states that the perfect subject line, somewhere between six to ten words, uses 'urgent' vocabulary and sometimes emojis.
Here are some interesting subject lines to draft the best follow up sales email:
Let's have a 10 mins call on this?
How can we improve your [business goals]?
[name], recommend we chat
Good news, I have that info that you requested. 
4. It's all in the length and tone – Any good sales rep will tell you that besides drafting your subject line, one of the most important things to get right is the tone and length in that follow up email. While you may have sent across a detailed sales quote, a follow-up email should be somewhere around 50-100 words, and yet cross the t's and dot the i's. It's important to express, but it's equally important to grasp the attention of your customer. In short, don't be pushy.
5. Playing by psychology – Trying to include all your trigger words like 'free,' 'limited,' 'premium,' 'discover,' 'inspire,' may sound alluring and maybe just right to get the attention of your lead; the whole point is to stay relevant and yet slip into the psychological radar of your lead – without well, doing much! 
6. Timing is all that matters – A follow-up email should ideally follow the given timeline (or something that works best according to your business and industry)– 
Day 1 – Follow up email 1 
Day 3 – Follow up email 2 
Day 7 – Follow up email 3 
Day 14 – Follow up email 4 
Day 28 – Follow up email 5 
Day 30 – A break-up email
 7. CTAs that matter – Begin this journey by asking a simple question – what is it that I am trying to achieve through this? With the sales quotation, you have already talked about your products and services, so how different should your follow up be. Summarize your CTA according to the (new) information that you will like to add to tip the scales in your favor. Some CTA examples that work the best – 
You need to see what we can do!
Book a free demo here!
Follow up much?
One of the most difficult challenges for any business is keeping the pipeline full, especially in their sales quotation process. But remember, the idea behind sending across the follow-up sales email is not to get a 'yes' from the lead. This also means that the sales follow up email template should be drafted in a way where you even consider the word 'no.' 
A word of advice, rather than putting everything on hold to get that response, make sure that your sales quotation process never pauses. Just make sure to adapt and learn from the reactions that you do get, and you'll be just fine! 
About the Author 
Aditi is a Product Consultant at Revv, a no code quoting software company that provides document templates that help run your business. All about chasing sunsets, her thoughts collide with everything SaaS and oscillates between the midnight musings of a poet and her fav authors. Can be mostly found near dogs or in a cafe with a book.
LinkedIn | Twitter | Instagram
Company profile – Revv is a no-code document manager that addresses the unique document requirements of any entrepreneur, builder, or creator. Revv provides vetted templates, analytics, intelligence, and optimization to empower these users to run their everyday business hassle-free.
Revv's advanced intelligence provides full visibility into the complexities of a document, pinpoints problems that deviate from the standard, optimize processes via activity tracker, and drive revenue growth. Its recent integration with Zapier lets users easily interface with any business application such as Zoho, Salesforce, Slack, and many more.
Since its establishment in 2018, now more than 3000+ businesses worldwide use Revv.
You may also like: How to Improve Your Sales Processes
Image source: stock.adobe.com