Click here to get this post in PDF
Launching a business can be a daunting task. Moreover, customers don't bundle it up automatically. At first sight, it may seem challenging to control everything and make it yield results. This article will look closely at techniques that can help you grow your business by hours rather than by days. 
What are leads and lead generation?
If you're new in this marketing world, the first question you might ponder is what leads are and where to find them. So let's have it clarified at once. 
Leads mean contacts of potential customers, which people leave by filling out various online and offline forms. Some companies count any personal contact as a prospect, whereas others consider only those who have an intention to make a purchase. Normally, leads are classified according to different parameters. However, the most common way is to differentiate them as 'cold', or those who are still unsure, 'warm', who have an idea about your brand, and 'hot', who are ready to buy.
The next essential thing is their generation. Lead generation is the whole process of awakening people's interest and awareness about your business to turn them into customers. It's one of the most integral parts of online commerce. 
How to gain leads? 
Having clarified the terms, let's jump straight into ways of lead generation. There can be a full list of them, depending on your business's specificity, but seven of the most common ones are listed below. 
Create valuable content regularly
One of the marketing strategies to leverage leads to your website is to create and publish useful content. Think about posts, infographics, videos, or even a blog tab that can outline the pros of your products and supply additional information relating to the topic. It's up to you whether you want your content to be widely accessible or to provide a fill-out form to get access. 
For example, Grammarly, an online writing assistant, has a blog of its own. It is filled with useful and practical articles about writing and versatile related topics in other sections. 
An example of a blog. Source: Grammarly
Draw traffic to your website 
At present, social media are the most used platforms on the web, so it's a sound idea to switch your attention in this direction. Besides boosting your website, think about placing some ads on such platforms as Facebook or Instagram and publishing some content there as well. Facebook ads prove to be highly effective. 
For example, you can set a goal to reach previous customers, as Joom did. The company used a dynamic ad format on Facebook aiming at those, who had previously interacted with them, but for some reason, became idle. Overall, the campaign achieved a noticeable increase in sales and decreased cost per acquisition in one fell swoop. Not bad, right?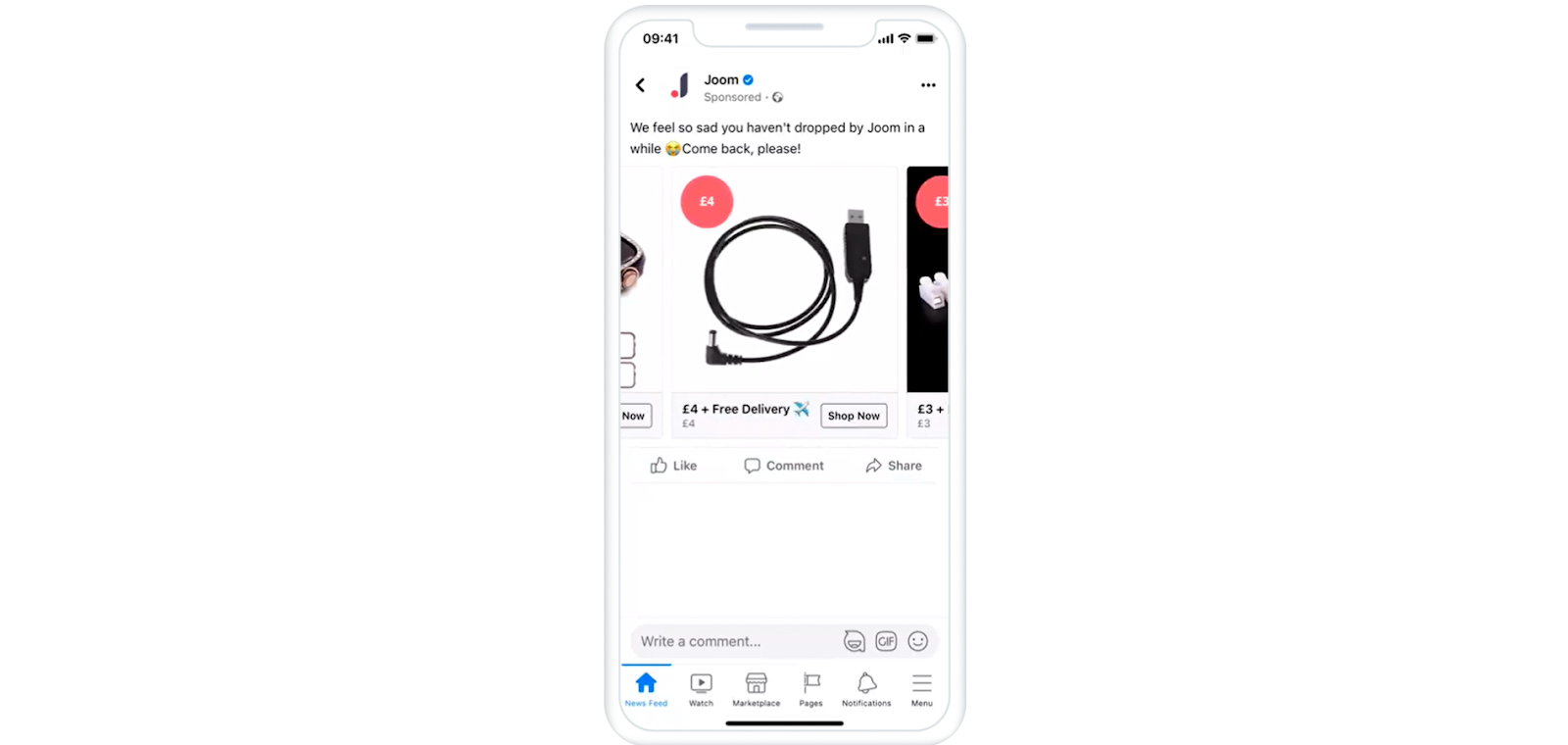 An example of Joom's sponsored ad on Facebook
Use video pop-ups to increase engagement 
Here is a fact: our brains process visuals three times faster than text. So the question is, why not use them extensively to engage with customers who land on a website page? Well, some features, like pop-ups, have been overused and now seem a bit controversial. But the good news is that they work. 
A video pop-up catches attention even better than its brethren. It's a great way to introduce your products, gain the audience's trust and highlight your expertise. Consider an automation platform to tailor a video pop-up that would suit your website's design, be mobile-friendly, and can be easily adjustable in terms of triggers, timing, etc.   
Offer downloadable content 
A freebie on a website is the right way towards customers' satisfaction. Compelling offers can entice users into leaving their contact information in return. It's highly individual what you're going to provide once the decision is made. Anyway, it's notable that not all the offers are perceived as equally valuable from the users' side. According to a HubSpot survey, the top three are a downloadable kit, a free trial, and an e-book.
Offer types by perceived value. Source: HubSpot
Test the effectiveness of your CTAs
Any brand needs a clear and compelling CTA to engage users. Of course, it all comes with analyzing and testing. But here are some important points to bear in mind right at the beginning. 
Use strong words, as your CTAs must spur your audience into action. 
Deliver an impression of urgency and scarcity by highlighting limited time or a limited number of options left. 
Make it highly visible and usable on all devices.
Let's have a look at the Netflix website. The streaming company uses two CTAs on their web page, providing users with the opportunity of a quick start as well as signing in. Both buttons stand out on the dark background and match the company's logo color. 
An example of CTAs on a website. Source: Netflix
Implement a live chat and/or a chatbot 
A live chat solution on your website is a tool that enables a real connection with your prospects. Forrester published a survey that shows a significant increase in conversions, namely 40%, after implementing a feature. So, if you're chewing over adding a smart widget to your website, here are a couple of tips:
Start with a welcome message if you trigger a live chat automatically. Alternatively, you might want to leave it snoozed and let a user start the ball rolling. 
Make sure that your live chat is available 24/7. You can substitute it with a chatbot outside your teams' working hours. 
Ask your prospects to give their contact details before the actual conversion starts. After a visitor leaves, you will be able to contact them easily in the future. 
Also, offer a discount or a free trial in a chat as an incentive for a user to take action.
Ask clients to review your business 
The truth is, customers' reviews are extremely important for the image of your brand. According to various studies, people read feedback from others, either occasionally or regularly, and tend to shape their opinion on their basis as well. To get those cherished stars or even a couple of lines, you firstly need to ask for them. 
It may seem a bit self-centered to ask for feedback at times, but generally, people love sharing their opinions. And there can be several channels you can use, for example, social media, email campaigns, phone calls, or just provide an option on your website. Ideally, display people's reviews somewhere on your site. You can create a separate tab or just run them on your homepage, as in the case of Steve & Kate's Camp. 
An example of customers' reviews on a website. Source: Steve & Kate's Camp
Wrapping up
To sum up, growing and nurturing leads doesn't happen on its own and require some additional steps from your party. Hopefully, you could find some inspiration in this article to help you enhance your business to its fullest, convert your traffic into leads, and create a loyal customer base.  
You may also like: Scalable Lead Generation Tactics No One Talks About