Click here to get this post in PDF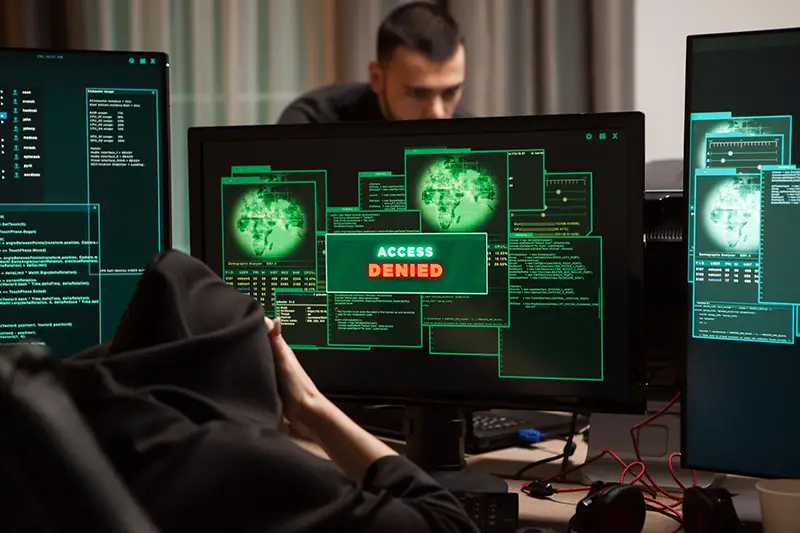 Cybercrime continues threatening businesses and their client's data in 2023. But most small businesses lack the time and resources to strengthen their cybersecurity system. As a result, the digital systems of these businesses become susceptible to cyber-attacks, often leading to devastating consequences.
What is a Cybercrime?
In layperson's terms, cybercrime is any criminal act involving networks, computers, and other digital devices or channels. For extortion purposes, cybercrime threatens to erase data, publish personally identifiable or private information on employees/customers, infect a business with a virus, and shut down computers.
Cybercrime continues to grow and adapt, affecting important public businesses, private sectors, and businesses alike. According to cybercrime experts, it costs businesses more than $25 billion, damaging organizations' reputations, supply chains, and infrastructure.
Understanding the Cybercrime Threat
One of the major ways for cybercriminals to infect computer systems and networks is through malware. Once this malware infects your system, it collects passwords for websites and software you and your workers visit. This is then sent to cyber-attackers who use that information to seal data and money or even gain more access to your systems.
The key reason cyber-attackers target businesses is to extort or steal money from them. Always protect your client and business financial information by using HKT Enterprise solutions to secure payment systems.
Cybercriminals can also use different methods to access your system, but it mostly involves malware or viruses. Most of these cyber-attacks are often sophisticated, making them challenging to prevent. Fortunately, there are tried-and-tested ways that can help to prevent attacks and strengthen your managed cybersecurity plan. Some of these ways include the following:
1. Be Familiar with the Evolving Risks and New Cybercrime Trends
Every day, cybercriminals are becoming smarter because they always look for new ways to target unsuspecting business organizations. In order to be one step ahead of these cybercriminals, prepare by understanding how cybercrimes may affect your business. Here are examples of cyber-attacks you need to watch out for:
Hacking
Phishing
Intellectual property theft
Identity theft
Malware attacks
2. Educate Workers
As cyber attackers become savvier, continuously educate your workers on the new protocols and methods of keeping your business safe. The more workers know about different forms of cyber-attacks and how to keep their data safe, the safer your organization will be.
The best way to achieve this is to send them regular reminders not to click on links or open attachments in emails from people they don't expect or know. Another way is to outline several procedures for encrypting sensitive or personal information.
3. Create a Solid System Security Plan
An SSP (system security plan) refers to a summary of your security practices that help to keep your business data secure. A solid SSP identifies all the features in your systems, like training methods, security measures, managed cybersecurity plans, software, and hardware.
This plan often includes information on how to ensure workers practice cybersecurity habits and respond well in the case of any security breach. It can also prevent everything from falling apart when you have a busy schedule.
4. Back up Your Data
Backing up your business data is a cost-effective way of ensuring you recover your data in the case of a computer breakdown or cyber incident. Use the right backup strategies to ensure the safety of your business data, including everyday backups to cloud storage or portable devices. You should also check your data regularly to see whether it works properly.
5. Replace Your Passwords with Passphrases
Rather than using passwords, cybercrime experts advise businesses to use passphrases, especially for all the accounts holding important information.
Secure passphrases must be more than 14 characters long and comprise a combination of lower and upper case letters, special characters, and numbers. It shouldn't be predictable – meaning words should be unique and unrelated.
6. Use KYC Verification
KYC (know your customer) verification is a procedure that involves verifying who your clients are when doing a large transaction online. It helps to prevent terrorism funding, identity fraud, corruption, money laundering, and other shady businesses.
The right KYC verification solutions often use the latest technology, including machine learning and biometrics, to verify customers effectively and quickly. This, in turn, streamlines the process and establishes trust with clients.
7. Get a VPN
A Virtual Private Network (VPN) is a powerful tool connecting private networks with public networks to enable users to receive and send data across public or shared networks. This often gives the impression that your computing devices are connected to your private network, but data is encrypted, making all your activities unknown and preventing cybercriminals from spying.
You can also access the internet from any location through a VPN, making it more helpful to check search results in any country.
8. Consider 2FA
Most business accounts today come with two-factor authentication (2FA), and some make it compulsory. According to experts, 2F refers to an additional layer of cybersecurity that allows apps or websites to determine whether the logs in the attempt are from the right person.
Most social media platforms, such as Facebook and Instagram, use 2FA. So, leverage this to ensure you don't start working on your online presence on these social sites from scratch.
9. Schedule Updates
When attacking your system, cybercriminals will attack vulnerable devices and software. And if their attacks fail, they will turn to your outdated operating system (OS).
Especially modern OS, including Linux, Android, Windows, and MacOS, should be updated regularly. Automating updates is important, but system administrators must ensure updates are applied properly.
You should also routinely check your software for upgrades and updates. Don't leave anything to chance; all the devices, including tablets and mobile phones with OS and software, must be updated too.

Infographic Provided By personal banking services company, Centier Bank
The Takeaway!
Cybercrimes affect everyone, from businesses and governments to individuals. Under-reporting and misreporting of cybercrimes make it more difficult to assess the impact of these attacks. So don't let it happen to you – take the necessary cybersecurity measures, like using a VPN and replacing passwords with passphrases, to protect your business and its data.
You may also like: Here Is What Your Employees Should Do to Stay Safe and Secure Online
Image source: Depositphotos.com