Click here to get this post in PDF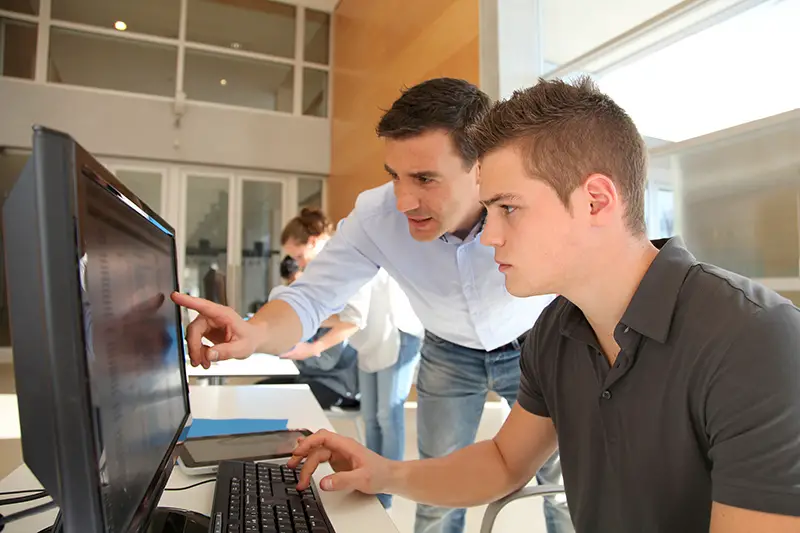 Internship can be a very crucial stepping stone for all grads as they look to get into the world of financial independence. Almost every successful employee or employer started as an intern. It's the most efficient way of gaining skills in your area of expertise. Even for those planning to start their own businesses in the future can benefit from this phase of learning because they get to understand how to deal with different types of customers and workers. 
Inasmuch as this program is expected to bring out skilled future employees, sometimes, it's not the case. One of the factors that might hinder the internship process from meeting the desired objectives is the company's policies. So, how can you adjust your rules to accommodate the new incomers and make sure that they come out well-oiled at the end of the program?  Here are some tips to keep in mind when you recruit a student or an intern for your program:
1. Make Sure They're Prepared
Perhaps, one of the most frustrating factors in many organizations is lack of prior planning to accommodate the new grads. As such, the interns come in and waste a lot of time during the initial stages as the company tries to find the right fit for them. Those enrolled in the internship program come in as temporary employees, and you must treat them as such. 
Therefore, some of the basic requirements, such as emails, work accounts, identification cards, and gate passes, should be prepared before the program kicks off. Such preparedness doesn't only help the organization to efficiently welcome the grads, but also acts as part of the interns' learning curve in terms of time management.
2. Let Them Rise Through The Ranks
Doing some seemingly unimportant tasks, such as arranging the tables, answering phones, and filing papers is not how most interns would like to spend their summer. However, these are actually the basics that everyone should learn, especially for an accounting intern looking to work in a similar environment in the future. This type of work can serve as a great training exercise. Once they've gotten the hang of it, you can promote them to more sophisticated tasks, such as editing files and recording data. 
It might not seem like anything significant, but it actually helps in exercising the patience of the interns. This training also gives them an idea of what to expect in a typical work environment, as well as on how to deal with various issues. In addition, one gets to understand that nothing comes easy, and they have to work their way through the basics for them to get to top positions.

3. Know Their Previous Experiences
Despite the fact that these people are fresh graduates, some of them might have little experience in the industry. Remember, all learning institutions demand that the students attend at least one attachment program before graduating. Therefore, consider this as you begin the training so that you don't sound redundant and force some of them to lose interest in the program. It also gives you an idea of how to handle each of the interns and what initial projects to assign to them.
4. Give Each Of Them A Helper
An internship is not all about passing exams, like in most schooling systems. On the contrary, the program is aimed at improving individual skills rather than developing all the attendants as a group.
One mistake that some companies make is giving one employee the responsibility of handling ten or so interns. Inasmuch as it will help save your business resources, the fresh graduates will not learn as much as they'd like. For one, those students with certain weaknesses may not have enough space to improve on such areas because the manager is focused on group performance rather than individual improvements.
Therefore, as a company, it's important that you take note of the number of interns you can handle at a time based on the available employees. Once this is sorted, make sure each of them is assigned a helper. If you can't afford to get a manager for each of them, then, ensure that no employee is given more than two interns to handle. This setup gives one the opportunity to improve on their weakness and even gain more knowledge by asking questions.
At the end of the program, each intern should write a report, which will not only help assess their experience there but also the skills and performance of the manager to whom they're assigned.
5. Weekly Projects
As earlier stated, you need to make plans early enough before allowing the interns to join the institution. In your plans, it would be prudent to include weekly projects that each of them is expected to complete. For instance, you could challenge them to fill a certain number of spreadsheets with correct data. On Friday, you can, then, check their progress and grade them accordingly. What this does is that it gives them the motivation to do more and learn to meet deadlines.  
6. Dedicated Projects
Giving the interns weekly projects is one thing, but you also need to have something to use for their overall grading. It's recommended that you set aside dedicated projects for each of these temporary employees. Keep in mind that they're still learning, which is why you shouldn't give them complicated tasks. That's not to say that they should engage in simple jobs throughout their internship program. 
Assigning them dedicated projects to handle throughout the six or so months provides your interns with some ownership of specific tasks. They'll be forced to give their best because, in their mind, they know that the company depends on them to complete these particular projects. It also makes it easier for you as the manager to grade the students at the end of the internship period. In addition, the graduates will be in a better position when they start hunting for jobs.
Conclusion
The internship is meant to provide one with a learning environment to develop their professional aptitude. Inasmuch as it depends on the interns' determination, the company also has a role to play. As the manager, one of the things you should do is ensure that each intern has a weekly or dedicated project through which you'll use to assess their potential. Throughout their period at your company, they also need a helper to guide them through all operations.
But, before you commence the internship program, make sure you have a plan in place so as to avoid time-wasting and confusion along the way.
You may also like: The True Value of Investing in Upskilling and Regularly Training your Outsourced Team