Click here to get this post in PDF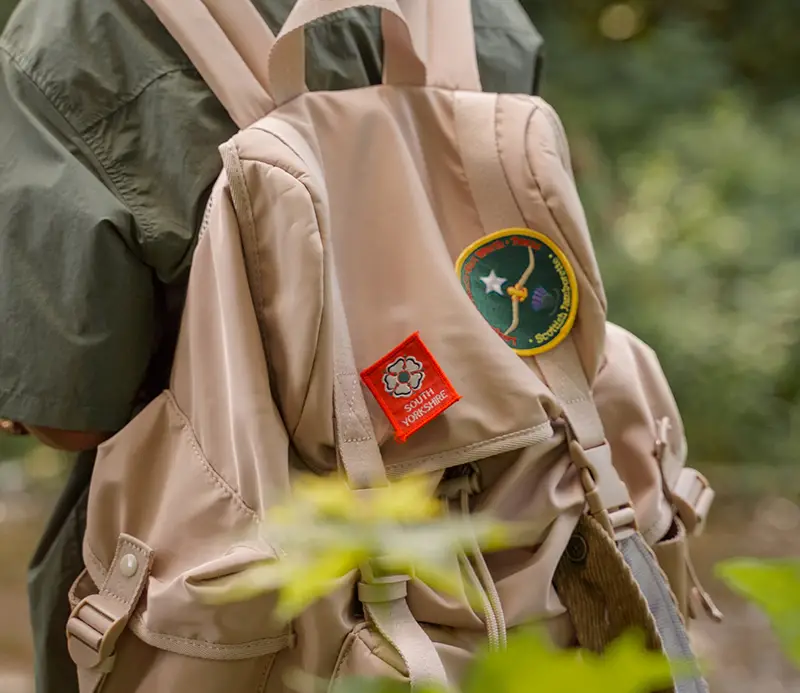 There's no such thing as too much promotion for a business. You want people to know about your products or services, and you want them to remember your brand when they need something. 
Yes, social media and online advertising float most businesses these days. But, there is something old-school and very cool about custom patches. You can use them to highlight your business in various innovative ways.
According to statistics, logos are the most recognized brand identifiers, with a rate of 75%. Customers are 50% more likely to buy from companies with well-known logos. 
Patches are incredibly versatile and can be used in several ways to promote your business.
Let's look at some effective and innovative ways to promote your business with custom patches.
Creating Brand Awareness with Patches:
You can put all your efforts (and money) into social media marketing, but the lasting effect of a physical product is unmatched. 
Custom embroidered patches are one such magical product. When these patches make a crowd-cheering appearance on laptop bags, jackets, hats, and more, they do an incredible job of promoting your brand.
Another winning point of custom embroidered patches is they require no subscription! It takes a mind-stirring design, a few bucks, and you're good to go. 
Logo patch makers like Ultrapatches.com offer their exhilarating services for various businesses, including small businesses, non-profit organizations, sports teams, and more.
All you have to ensure is that you choose the patch's material quality, colors, and theme keeping your business in mind. 
For example, if you want to give out patches at a tradeshow, choose a compact design and not too fussy.
Conversely, if you're looking to promote your business at a music festival, you can go all out with a patch design that's big, colorful, and creative (maybe even throw in some sequence).
Customers Love Freebies:
Who doesn't love freebies? We have all observed distributed pens, business cards, and notepads to promote a business. But, how about using something people will love more than these traditional promotional items? Patches!
Imagine the customers (and hearts) you will win by giving away beautifully designed cool embroidered patches from a renowned patch maker. 
You will effortlessly position your brand as unique, modern, and cool. These patches will also make a great addition to your customers' wardrobes and collections. 
The best part is getting these patches made without breaking the bank.
You can distribute your masterfully crafted custom patches at tradeshows, community gatherings, and sports tournaments. 
If you want to go the extra mile, attach them to your product packaging. Every time your customers use your product, they will see your patch and be reminded of your brand.
Have Your Employees Flaunt Them:
Uniforms are clichés for a reason. They work like a charm when it comes to promoting your business. Your employees are your biggest brand ambassadors, and their uniforms play a vital role in promoting your business.
However, sometimes customers find themselves in an embarrassing situation where they think another employee is an actual customer. 
That's sure to frustrate them, isn't it? But by adding custom patches to your employees' uniforms, you can help your customers identify them without any confusion and leave satisfied.
According to research, a satisfied customer is five times more likely to purchase from your brand and four times more likely to bring a friend along. 
You realize the power of referrals and word-of-mouth marketing as a small business, don't you?
Associate with a Cause:
Corporate social responsibility is a powerful marketing tool, and it is also the right thing to do. By aligning your brand with a cause, you can improve your brand image and make a difference. 
For example, you can design a special patch to support a local charity or promote breast cancer awareness. You can also distribute these patches at relevant events and rallies. 
This way, people will associate your brand with a good cause. And when they do, they are more likely to support your brand and become your loyal customers.
Several big brands like Microsoft, Uber, Bumble, etc., actively took part in the famous Black Lives Matter movement and promoted it using various marketing channels, including custom patches. 
Research shows that 64%of customers in 2018 were more likely to purchase from a brand that actively supported social or political issues.
Use Influencer Marketing:
If you're not already aware of it, influencer marketing is one of today's most popular and effective marketing trends. 
Influencers take social media by storm with creative content, impressive reach, and engaged audiences.
You can partner with influencers and send them custom-made patches to promote your brand. Whether it's an eye-catching travel tag patch for their next travel blog post or an embroidered patch with your brand's logo, they will love it.
You can ask them to take pictures wearing or using your product along with the patch and post them on their Instagram handles. 
This way, you can promote your brand to their vast audience and reach new customers.
Run a Contest:
Customer engagement is essential for any business, and what better way to engage your customers than by running a contest? 
You can request your customers to share pictures of themselves wearing or using your product with your custom patches.
The best part is that you can market your brand to a wider audience and reach new customers by requesting them to tag their friends and family.
Another effective way is to ask your social media followers to design a patch for your brand. It is a great way to get people involved and some fresh and creative ideas for your next patch design. 
The winner sees their design come to life and wins a prize. Everyone's a winner!
Factors to Consider Before You Order Custom Patches:
Now that you know all the different ways you can use custom patches to promote your business, it's time to order them. 
But before you do, there are certain factors you need to consider to ensure that you get the best patches made for your brand.
Design: The design of your patch should be unique and reflective of your brand identity. It should be simple yet eye-catching and memorable.
Size: The size of the patch also matters. It should be big enough to be noticed but not too big to look out of place.
Attachment: You also need to decide how to attach the patch to your product or uniform. The most common methods are sewing, ironing, and Velcro.
Budget: Last but not least, you need to consider your budget before placing an order. Don't forget to compare prices and get quotes from different suppliers before deciding.
Conclusion:
Custom patches are budget-friendly, easy to design, and versatile. Plus, they offer many benefits that can help take your business to the next level. 
However, before you invest in custom embroidered patches, you must be clear about your marketing goals. Otherwise, you might end up wasting your money.
You may also like: Business Tips for Marketing Your Skirting Boards
Image source: Pexels.com