Click here to get this post in PDF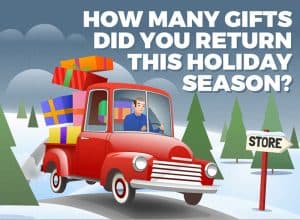 It's incredibly important for companies to understand the importance of a smooth return process. According to the reverse logistics platform Optoro, $380 billion worth of goods are returned by consumers each year. $90 billion of that is during the holiday season.
To better understand who is making these returns Red Stag Fulfillment surveyed over 1,000 people and analyzed their return habits. They found that 28% of gift receivers returned something this holiday season. That means that roughly 28% of your customer base will likely be utilizing your return process at some point.
Delving deeper into the data: 40% of people returned one gift and 21% returned two. That means that the vast majority of people were either satisfied with their gift or didn't want to go through the return process. Men returned more gifts than women and the most returned items were clothing and accessories.
Ensuring your return process is smooth and hassle-free can not only win you repeat business but can result in positive word of mouth attention as well. While it can be more costly upfront to streamline this process it can pay dividends in the long run.

Infographic by Red Stag Fulfillment