Click here to get this post in PDF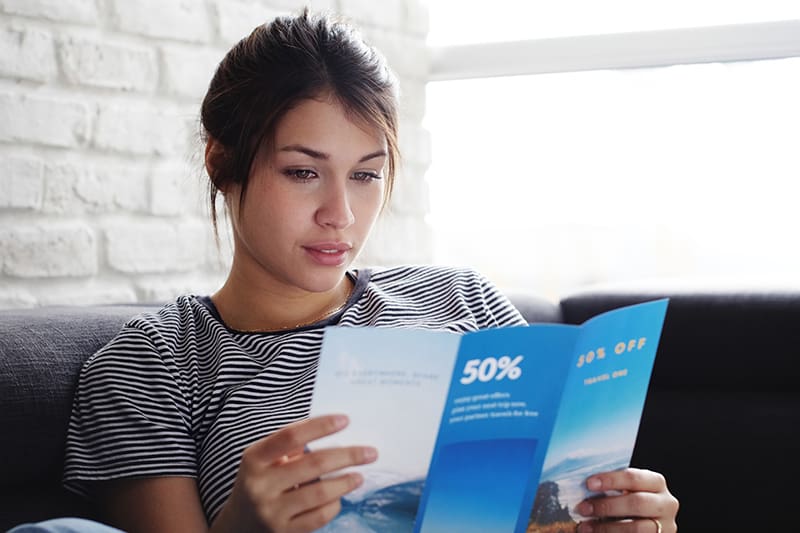 Well-designed flyers are like well-applied makeup.
They appear natural while bringing out the best side of you.
Flyers are a staple for your marketing and you want to make them as effective as possible the first time. Add these 11 tips to the checklist for your next flyer design.
1. First Things First 
Define Goals 
What action do you want people to take? Are you aiming for brand awareness or sales? Your end goal is the scaffold that your design should be built around, so establish this first.
Keep Your Design on Brand 
Before you start designing your flyer, touch base with the brand brief to make sure your design follows the business branding guidelines. If people immediately think of the business when they catch a glimpse of its flyer, much of the work has already been done.
For creative elements, think about what is industry-specific. If you're a cafe business you might go with natural tones and relaxed images. A graphic design company might opt for striking graphics and colors. 
Make sure you include the company logo. 
2. Go for Simple and Effective Over Fancy Detail
Making beautiful designs is fun which makes it easy to get carried away. By all means, make your flyer beautiful, just not at the cost of making it functional.
Go with a font that's easy to read over one that's beautiful, but requires some squinting. Always opt for what makes reading easier for your customers, because if they can't get past the crazy font they won't bother with your message.
Avoid using lots of smaller images or anything that will make your flyer appear cluttered. Whenever anything looks cluttered it immediately makes people feel like it's going to be too much work.
Instead, opt for good quality, clean images that provide context to your message.
Another great way to declutter a flyer is to create space. Section text and images into boxes, including boxes of contrasting colors. Create a designated place for each component of your flyer leaving space in-between.
Don't skimp on the images, make sure they are top quality!
3. Check Spelling and Grammar 
A single spelling error makes you look unprofessional, no matter how good your flyers look. Make sure any text in your flyer gets proofread by at last one other person before it's finalized.
4. Well Designed Flyers are Compelling
Start with a compelling opening statement, something bold and unusual.
What will intrigue people to pick up your flyer? How will you grab their attention? Think about the need your services can fill and put this front and center. 
What would you check out:
"computing services near you", or
"Never have another computer problem again"
See what I'm saying?
5. Include Reviews
Reviews are convincing, they act as a sort of proof of your business's value. Include a review from your highest-profile customer in your flyer.
This is a great way to validate your business and stand out from the competition. It also creates the idea that other people are using your service, which makes it easier for new customers to decide on you as well.
6. Use Dot Points
Dot points are a great way for people to quickly and easily see what benefit you are providing to them. Think about where people are going to be when they receive your flyer; maybe in a cafe, looking at a notice board or running an errand at the post office.
Basically, they are on the move and need your message to cut to the chase.
7. Hire a Professional Service
Let somebody else do the heavy lifting and fill in the blanks. This can be especially useful for making the most of the limited space you have. It's quite a skill to know the best information to include, and how to fit it all into a limited space without creating clutter.
Arsia software uses a great layout system to max out on the impact of your content and design.
It's also worthwhile hiring a copywriter to get the maximum conversion from your copy. The window is small for grabbing attention with your flyer and not a word can be wasted. It will pay off to spend a little on outside help.
8. Offer a Deal
Everybody likes a good deal.
Focusing on a deal you offer grabs attention and inspires action from new customers. A good deal encourages people to take a chance on new products or services they have never used before, helping you gain new customers.
9. Don't Forget Your Very Easy to Find Contact Details!
It might seem obvious but put this on your checklist. When we focus on things that aren't obvious in a project we sometimes end up forgetting the things that were obvious all along.
It's going to be a major inconvenience if you forget your own contact details. This is your call to action, so give it some clear and obvious real estate in your flyer.
10. Include a Keep Sake Element
You don't want your flyer to end up in the trash. 
Currently, I have a stash of business flyers on top of my fridge. This is because they have an element that makes my life easier by keeping them. Most of them are from my favorite restaurants that include the menu, so if I want to make a phone order I don't have to look up the menu online. 
This keepsake element usually comes in the form of actionable information. If you're promoting an event, include a schedule or outline of the run sheet.
Include a discount barcode or password for an online deal. The longer your flyer can remain useful the more it will be seen.
Try and think of a long term use that you can include in your flyer and it might end up being kept for longer than expected.
11. Do Not, I Repeat, Do Not Leave Them Under Car Windscreen Wipers!
The rain will make them stick to the windscreen and you will be inundated with angry phone calls! In most places, this is actually illegal as it is classed as littering.
I worked for a man who did this once and he had an angry customer demand that he pay for a new windscreen! Obviously, this is not the goal. Such a simple mistake could make your flyers a PR disaster, so don't risk it.
Well Designed Flyers
It's worth getting right the first time. Will you go the extra mile and design your flyer yourself or hire a professional service to work with?
Either way, knowing what to look for to get the best results takes the guesswork out of creating well-designed flyers.
You may also like: Why You Should Hire a Professional Printing Company?