Click here to get this post in PDF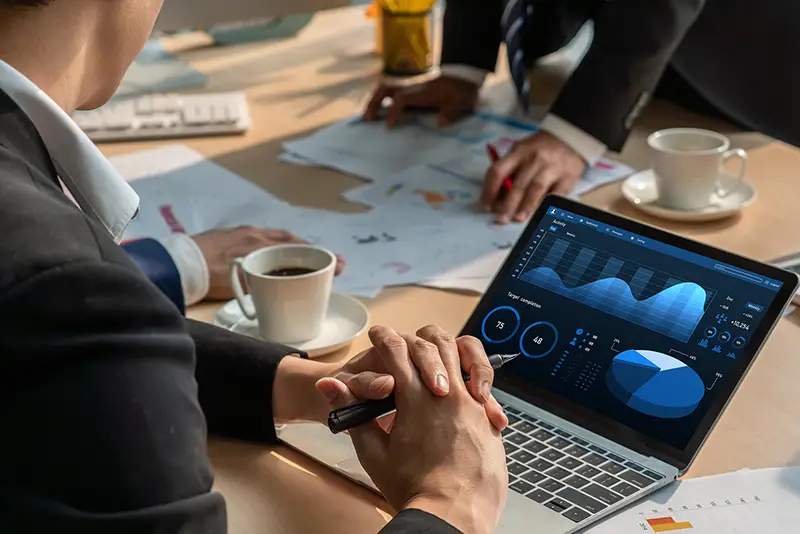 Many companies find that their business needs to grow, but they are stuck searching for solutions to facilitate customer growth. Today there are more ways than ever to grow a business. Some of them utilize new technologies from the financial sector. Financial Technologies (AKA Fintech) are a growing part of modern commerce. Let's explore how fintech solutions can improve the bottom line of your business. 
Fintech extends beyond banks, brokerage houses, and other traditional financial institutions. Banks can use fintech, but fintech is not considered a bank. Fintech can encompass a variety of new services and products available to customers and businesses. It can be a disruptive force that empowers customers to move away from the old traditional ways of doing business that can sometimes be restrictive and exclusionary.
Fintech Platforms
Some good examples of how fintech is already a part of our daily lives are in online banking platforms. Nearly every bank worldwide has some sort of online banking or smartphone app. Most offer both. Customers gravitate towards service and convenience, so a bank that does not offer online banking risks losing their customers to banks that do.
New fintech platforms often make use of machine learning, artificial intelligence, predictive behavioral analytics, and data-driven marketing to learn the habits of their users and adapt to their needs. This can help the underlying business grow its customer base, convert more leads into sales, and enhance customers' experiences.
Digital Products
Probably the most obvious example of fintech is the rise of cryptocurrencies such as Bitcoin and Ethereum. The advent of decentralized banking and the anonymity that crypto can provide has caused a revolution in the financial world. Many companies offer Bitcoin as a form of payment for their products. El Salvador was the first country to accept Bitcoin as a form of legal tender. Customers will always appreciate more ways to pay for the things they want.
For business management, online bookkeeping services such as FreshBooks now exist to keep a company's books in order. Most are cloud-based, enabling a company to access its records anywhere and anytime and ensuring that records are automatically backed up to comply with financial regulations such as Sarbanes-Oxley.
Bank Systems & Tech
For more traditional banks and financial institutions, fintech solutions can enhance the customer experience. High commissions and high fees from legacy bank offerings are gradually being replaced with low-cost, commission-free products such as no-fee stock transactions, lower interest rates on loans, and easy online bill-paying services. As high-speed internet access grows worldwide, the adoption of fintech products will undoubtedly grow. 
Customer Needs
Your customers expect service now. So how can your company best serve them? Fintech can help. Customers notice what features your company offers–and more importantly, what your company doesn't offer.
Suppose a customer has poor credit and they are applying for a loan. In that case, fintech can offer ways for them to be accepted by providing alternate methods to prove creditworthiness other than a traditional FICO score. A bank can serve more customers with more offerings from fintech. Customers will often consider whether their bank account can be linked with the fintech app of their choice and will often go elsewhere if the account is not compatible.
User Experience
The demand for service and convenience drives the development and expansion of online banking services in a rapidly changing world that favors speed and convenience. Customers want to obtain a company's services as quickly and cheaply as possible. 
Among legacy bank brands, poor customer service is a common complaint. Using fintech to improve customer support with new tools and capabilities can help retain fickle customers and prevent them from jumping to a competitor.
Fintech solutions are most often used by younger generations, although older demographics are rapidly catching up as the advantages and conveniences of fintech become more apparent and accepted. Most people enjoy the time saved, money saved, and extra control over their finances as the main reasons they use fintech products.
Fintech App
By its nature, fintech embraces advanced technology to enable its utility. Smartphone apps and websites are the most common method of delivering fintech services. Apps like Paypal, Robinhood, Affirm, GreenSky, Tala, and countless bank and cryptocurrency brokers lead the way with customer service and ease of access to their services. Not having a smartphone app can put a financial institution at a huge disadvantage.
Online Banking Systems
People use fintech even when they may not be aware that they are using it. A simple balance transfer between accounts or a cash withdrawal from an ATM is another example of fintech being used. Nearly any banking service accessed through a smartphone app may be considered a use of fintech. Many internet banks have no physical presence in the form of bank branches, with the entirety of their business being conducted online through fintech.
Banking Tech
Many banks offer automated customer service features such as chatbots, live chat software, and especially virtual assistants. Traditional banks and internet banks alike are adopting virtual assistants so customers can get answers and make inquiries 24 hours a day without regard for a bank's operating hours. Virtual Assistant fintech examples include Ally Assist from Ally, Eno from Capital One, and Erica from Bank of America.
These new virtual assistants can also automate bill paying, get regular FICO score updates, set up regular money transfers between accounts, and forward fraud alerts to customers. As Virtual Assistant usage becomes more widespread, customers will demand more and more capabilities and features, and financial institutions will be compelled to provide them or risk losing customers to their competition.
Conclusion
More and more people are using fintech solutions every day. The way fintech disrupts the traditional banking and finance sector will affect the future of the world economy. Customers demand more and more access to it, and companies and institutions that embrace fintech solutions in compelling ways will be best positioned to gain customers and market share over those who fall by the wayside. Don't allow your company to get left behind.
You may also like: Fintech Trends 2022 to Follow
Image source: Shutterstock.com