Click here to get this post in PDF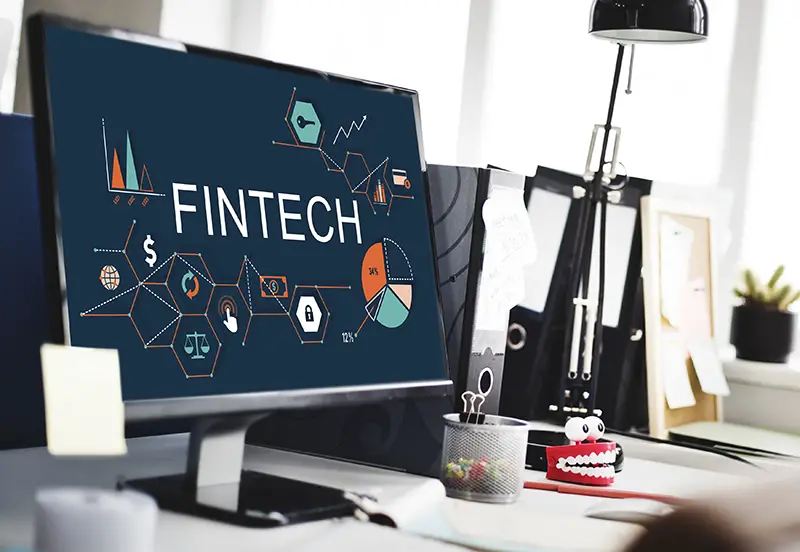 Let's start our chart with a trend that is obvious and yet important to mention.
Even if we have the COVID-19 vaccine by the middle of 2022, the world of traditional banks with their physical branches will never be the same. The seed of change has been sowed and there's nothing to stop the progress that was long due. Financial institutions have done their homework on competitiveness and are now closing in on digitizing every single operational aspect, from financial services and management to the financial products they offer.
Fintech software development company saw the first phase of digitalization finalized in 2020. Companies had to find a way to let their customers keep using their services while in lockdown.
The front-end, as we say in IT, of the digitization of traditional banks has been sealed and delivered. Meanwhile, upgrading back-end functions, such as automating back-office procedures, will be a key fintech trend in 2022. Choosing the right skilled staff will be crucial for companies.
Today's customers have no time to stay on the line "because their call is utterly important to the bank." They require rapid answers to their questions and issues. One of the leading fintech trends to follow in 2021 will be devoted to this. Get yourselves ready for an extensive rise in the number of communication tools between banks and customers.  
Everyone, regardless of their special needs, has to find those communication platforms easily accessible. If you're already using fintech software, which is quite probably the truth, you can expect its communication features refined next year.
Digital Wallets On The Rise
We can easily expect digital wallets to be among the main fintech technology trends in 2021 simply because people want to feel free when making transactions. The primordial era of online payments being chained to the internal system of one bank is long gone. 
Using a digital wallet lets people transfer their funds wherever they find it necessary and convenient. The industry players will have to come up with an extended range of digital wallet services. Transactions facilitation can be deemed the ultimate task of the entire fintech industry for 2021-2022.
Welcome The Blockchains
Satoshi Nakamoto, the man who has invented Bitcoin (well, at least it was the pseudonym he used), had come up with the first blockchain theory back in 2008. 
Blockchains are nowadays used as the world's most popular ledger of cryptocurrency (and not only) transactions that anyone can trace and access. Predicting how much popularity blockchain technologies will gain is a Sisyphean labor. Yet, their presence within the fintech trends of 2021 has been ensured by the major industry players' need to adopt them.  
Companies United
It was not that long ago that banks thought that the queues at their box offices were never going to vanish. People would have nowhere to go to have their funds managed. They believed that this entire fintech hoax would explode like a bubble. 
Fintech technologies have become an omnipresent banking solution for financial sector customers. Now, companies are left with no other choice but to unite their ranks and establish partnerships with those developing fintech software.
It is not hard to understand that there is no way the old-fashioned banking system is coming back. Financial institutions face a relatively simple choice to make: go fintech or go down in the history records. 
Regardless of how bizarre it might sound, one of the vital fintech technology trends in 2021 will be the presence of more fintech trends. Modern neobanks are found amid an unwavering need for fintech solutions. Bank CEOs no longer regard them as a disruptor of the good-old system, but as tools to preserve their customers' loyalty.
Buckle up, and get ready for a fascinating fintech journey in 2021-2022. Next year, fintech is going places. 2020 was all about making sure that the folks in the big cities can enjoy the benefits of fintech. Yet, there are still places where people struggle because they cannot access online banking or any other feature of modern financial products and services. 
Since the world is moving toward ubiquitous online payments, fintech has no alternative but to expand to smaller urban and rural areas. 
Following a recent World Bank Report, almost 1.7 billion people still lack access to substantial financial systems. What is more, back in 2018, 69% of adults, which was 3.8 billion people, had an account with an online open banking system, as nowadays, it is nothing else but a step on one's way of fleeing from poverty. 
So, we can surely expect the fintech industry expansion among the main fintech trends in 2021-2022.
Neobanking & Digitalization
Given that we have already mentioned the extension of limits, let's stay even more truthful and acknowledge that the brick-and-mortar banks' days are over.
Banking platforms are going online with no waste left, as the age of neobanking is looming bright on the horizon of irreversible changes. A neobank is nothing else but a bank without physical branches that perform on the cloud premises.
You have probably heard about Internet-only banks. Well, here they come, capturing more and more customers with the exquisite level of comfort they offer.
Fintech technology trends to enjoy in 2021-2022 will talk a lot about using real-time data. It will be applied to tracking down better loan and credit solutions. The obsolete tradition of scrutinizing a person's credit history will fade away. It does not provide an accurate picture of the person's current solvency. This is a rapidly-changing world that we are living in where tables can turn as simple as that. 
The rags to riches stories are nowadays aplenty. Nobody judges people on their credit histories of the past.  In 2021, tracking real-time cash flows has started to impact the majority of loan decisions. What is more, there is a fervent need to understand that 2022 will become the year of renewal: businesses will need loans to rebuild what they've lost in 2020. Looking at their fiscal flow in 2020 would have indeed not been the best decision to make. Hence, real-time data it is.
Robotic Process Automation (RPA)
Last but not least is the fact that banks and financial institutions will be looking dearly into becoming faster. 
Artificial intelligence systems are nowadays being adopted by banks worldwide as the greatest facilitators of autonomous decisions. There is nothing to be surprised about – they are faster and more efficient than humans. 
Yet, there is no mention of cutting the company's manpower loose, as RPA is being adopted within the framework of letting people deal with more creative and higher purposes within a company.
You may also like: The Rise of Fintech: How Fintech Thrives in Providing the Modern Needs of Tech-Savvy Customers