Click here to get this post in PDF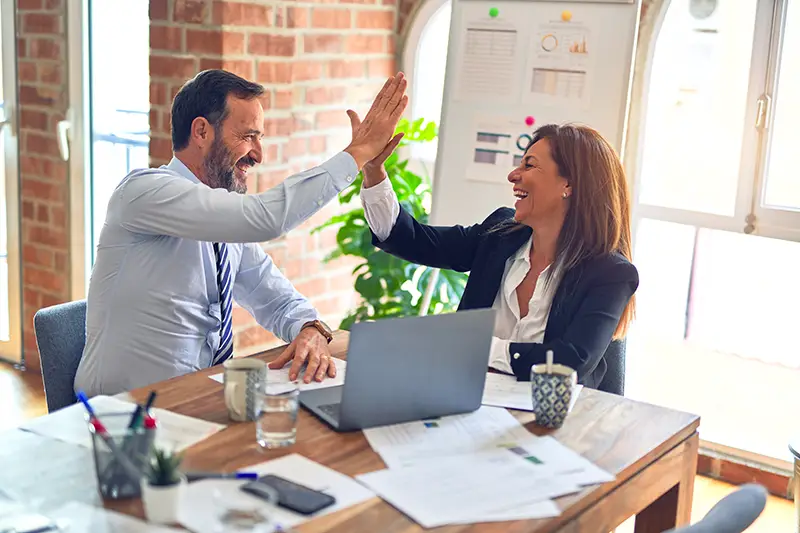 In the last year, there were 5.94 million micro-businesses in the UK, accounting for 99.3% of total businesses and employing 48% of all UK employees, according to the National Federation of Self-Employed & Small Businesses Limited.
These figures reveal that micro-businesses are common in the UK and make up a healthy portion of the country's economy. While micro-businesses vary, they all face the same challenge: getting new customers to purchase their product or service to grow or sustain their business.  
As a new business you should always be looking for ways to improve your business and make it stand out from the competition. Be open to new ideas and different approaches so that your business can remain nimble and react to new opportunities as they present themselves. Create short-term goals. Give yourself enough breathing space for people to get to know who you are, and the service/products you are offering. 
Here are our top 5 tips for you to get started.
1. Utilise Social Media Sites
About 87% of businesses believe that utilising social media goes a long way in helping them stay competitive, according to a Social Media Barometer report. Social media is considered a powerful channel for connecting and engaging customers. It enables you to present your more personal side, quickly address customer concerns and prove that you are an expert in your field.
Most of us are already aware of handling Facebook and Twitter, but what if you are not reaching the right audience? An excellent way to tap into a whole new group is to explore newer platforms, especially ones where your target customers are hanging out.
Joining anything from IGTV, YouTube, to Tik Tok is a good marketing strategy to increase your business's online presence. Once you are gaining traction, engage your clients with live videos and allow them to keep buying from you through live streaming.
Please take note that the audiences on social media can vary significantly from site to site, so do your research, look for your market, and go where they are. In addition, when using social media sites, there are a couple of strategies you should follow. These include:
Optimise your social media accounts.
Make your business as human as possible by interacting with your audiences.
Be consistent in your approach and tone of voice.
Share value added content.
Maintain output on your website, social media channels and blog.
Always answer your customers' questions.
Offer giveaways of your products and/or services.
Keep your content compelling and catchy.
Establish 'tribes' around your brand on social platforms like Instagram and Facebook.
2. Combine different marketing tactics.
This is probably the best marketing and advertising strategy to increase the number of clients you can attract to your business. Realistically, there is no one right way to establish your customer base. 
Different consumers will react differently to the same marketing campaign. The important thing is to employ a variety of tactics and channels to reach your audience. Casting a broad net is the best way to appeal to a diverse audience and reel in as many new buyers as you can.
Creating a flexible plan of attack will enable you to entice and reach the largest amount of people and yield your business the most growth. The easiest way to combine various marketing strategies is to utilise both on- and off-line tactics. 
You can also merge various techniques within your online marketing. Experiment with social media sites, direct mailing, word-of-mouth, etc., and decide which channels work best for you. 
Then use metrics & analytics to track your success using different marketing techniques. 
We know a lot of new businesses require funding when starting up and executing different marketing strategies for their business and understand that securing grants for your small business or start-up can be quite a challenge – but help is available. 
At some point, you may require funding or need to attract angel investors and new stakeholder, and an expert business plan allows a bank or any other lending provider to clearly understand your idea, how the business is shaping itself for the future with the ultimate aim of securing much needed funding. 
Fusion Accountants in London, has many years of experience in helping small & micro business owners create a professional and bespoke business plan and financial forecasts to achieve your goals.
3. Improve Your Website's SEO
When people are searching for a product or service, Search Engine Optimisation (SEO) can help push your business ranking to the top of search engine results, improve the visibility of your website and services, and get more click-throughs. 
This means that the better SEO optimisation your website has, you will achieve your goal of appearing on the first page of Google, which makes shoppers more likely to visit your business's website. Some simple ideas for having better SEO include using keywords related to your business, starting a blog, avoiding having multiple domains for your business, and adding your business's contact information and location to your website.
4. Partner with complementary Businesses
Business-people love to network, share knowledge and ideas, and your small business should take full advantage of these opportunities when they arise.
When you build partnerships and nurture relationships, you will be able to share your expertise and offer helpful solutions. Many individuals will then share your knowledge or advice, and their friends will become potential consumers. 
Offer a free newsletter with helpful tips and advice as a subtle way to establish buyer relationships. Provide valuable insights in your newsletter without overselling as this could impact negatively on future connections. 
Work with brands or other businesses that are part of your supply chain. Developing strong relationships and partnerships could open the door to new opportunities.
5. Get referrals from existing customers.
To boost sales, several businesses believe the only way is to find new clients, though this is true, it is important not to forget your loyal client base who have already invested in your product or service. It is much easier to get repeat sales from an existing customer than focusing all your energies in trying to convert a new one. Consider providing a referral or reward program for your existing buyers to help bring in new ones. This is a win-win marketing strategy that always works.
Final Tips
Customers are the lifeblood of most businesses, no matter how big or small, because they are the ones who purchase your products or services. Finding clients can be a challenge, but one that entrepreneurs and business owners can overcome. 
The key to getting new buyers is to pursue them actively. The tips listed in this article will make the process of attracting clients easier, helping you define a system that can generate leads and acquire the potential buyers your business deserves. 
Starting your small business venture is likely to be hard work initially, but it is also the beginning of an exciting period in your business journey. 
Fusion Accountants loves helping micro businesses and new startups succeed. Tell us about your great commercial idea, your vision for the business and long-term goals. 
Of course, there is much to think about, from having a business plan and strategy that attract new customers, to choosing the proper business structure to cash flow management. There are risks, of course, but the rewards can be great, from being your own boss, the revenue potential, and a happy work-life balance! Good Luck.
You may also like: 5 Ways To Attract New Customers
Image source: Unsplash.com