Click here to get this post in PDF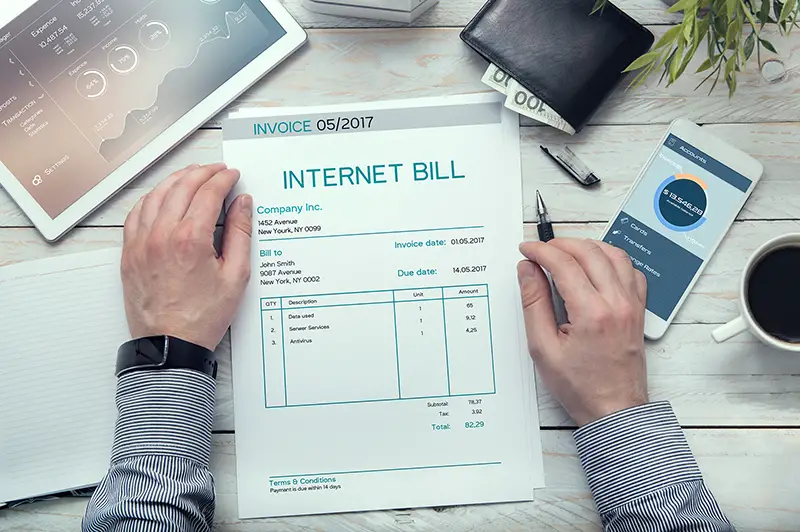 Internet fees always feature several hidden costs, as most internet providers are never 100% transparent concerning their internet bills. And while you can avoid most of these charges, some are industry standards that you must pay. 
However, it's important to note that whatever promotional cost you pay for internet services to your business every month is not the end of everything. This article discusses the hidden fees and extra charges you pay in your internet bill and how to avoid the avoidable.
Installation and Activation Fees
Of course, when you sign up for an internet plan for your business, the biggest bill is your first one. To set up an internet service you can expect to pay some starter fee. 
While most internet service providers charge an activation fee included in your installation costs, some charge it separately as a divide fee.
The activation fee by most service providers is approximately $10. With professional installations, you can expect the installation fee to be a bit expensive. For most providers, this ranges between $50 to $200. 
For example, AT&T may charge you an installation fee of up to $149, CenturyLink $125, Cox up to $75, and HughesNet up to $99.
Tips on Reducing Installation and Activation Fees
As you can see, installation fees can be quite high. Fortunately, there are ways of reducing these hidden charges. 
First, you can reduce the initial cost by purchasing internet service over your phone. In most cases, opting to use the mobile device instead of an online purchase results in the agent waiving some fees. 
So look for a promotional package by the provider online, and if you cannot get one, call their representative. Chances are they'll charge you less.
Also, you can reduce the high installation costs by opting for self-installation. Well, the amount will significantly reduce. AT&T will only charge an activation fee of $49, CenturyLink $50 for shipping and handling equipment, and Cox will charge $20.
Remember, self-installation means you don't ask for professional help to assist with installations. Instead, you receive the necessary items accompanied with instructions on how to set up the internet service and get running.
Equipment Rental Fee
In a business setup, you'll connect multiple devices to the internet service. For wireless connectivity, you'll require a modem and router so that you can join devices through Wi-Fi.
Most providers will rent you the equipment, resulting in additional business costs that they include in your monthly fee. Equipment rental fee typically ranges between $5 and $15. Verizon Fios and CenturyLink charge the highest for the combo ($15).
Business Tip on Avoiding Equipment Rental Fee
Business is about weighing on what benefits you most. In this case, investing in a router and a modem of your own will save you the monthly equipment rental fee you would otherwise have to pay if you lease. 
What's also great about having your own Network equipment is that you can go for the best that guarantees a smoother internet connection. 
You see, routers operate a lot like radios. Their communications frequencies are almost similar. That means, with neighboring businesses using routers from the same local internet provider, there's an increase in traffic, affecting connectivity.
Check out Networks Hardware approved modems page for the best modems and routers for each ISP. 
Redemption/Recovery Fee
Redemption fees are a bit unique. Usually, providers hide them among other fees and taxes. 
According to Patrick Ward (Editor-In-Chief, High Speeds Experts), this is a dangerous tactic that providers use, where they frame items as 'government fees' or 'taxes' to confuse consumers.
"Internet cost recovery fees" as they put it, go towards upkeep and expansion of broadband networks. This sounds pretty good in theory, but most business owners don't know is that the idea of a down payment (initial bill) for the internet covers the same thing.
Providers set the recovery fee at around $1 to $4 monthly. However, most of the packages have been leaving it out lately, thanks to numerous backlashes from customers. 
Data Overage Fees
Your internet service provider charges you a data overcharge fee if your monthly data usage exceeds your allotment.
According to ISPs, they charge this fee to minimize congestion. And as the fee keeps rising, especially as it has over the last few years, consumer advocates view this as a scheme by ISPs to offset the losses they incur as more businesses switch to streaming services from the traditional TV/ Cable.
Business Tips to Reduce Data Overage Fees
You can minimize or avoid paying the fee for data overrun by choosing a data allotment that fits your business needs. If your business operations involve more demanding internet activities like video streaming, make the allocation much bigger. That way, you ensure you stay within it, avoiding any data overage fee.
Some providers, such as HughesNet Internet, have no data limits. They don't charge you any over usage fee. Instead, once you go over your monthly plan, they reduce your internet speeds until the following billing round.
Others, such as AT&T and Cox, charge $10 for every extra 50GB of internet.
Late Payment Fee
If you delay or fail to pay your monthly bill, your service provider will include a late payment fee on the next bill. Most providers allow a few days after the deadline in case you forgot to pay your bill. However, after a week or so, the late payment fee will apply.
Some charge a fee of $10 to $25, while others include it as a percentage of your total bill.  
How to Avoid Late Payment Fees
You can avoid paying your internet bill late by employing automatic online payments. That means the system will pay the bill immediately at the end of the month. 
What's equally great about online payments is that some providers offer some discounts if you go paperless. 
Early Termination Fee
Terminating your contract with your current internet service provider can be costly. 
Some providers require that you pay for the remaining period of the contract. Others may charge a flat early termination fee of not less than $300.
How to Avoid this Fee
Before you can sign any contract with an ISP, consider how long your business needs the service. 
In addition, consider how much early termination may cost you. Maybe breaking that contract may save you more than it would have cost you for the remaining period.
Now You Know
There's no doubt about it. Getting your business internet services comes with hidden fees. The fees mentioned above are some of those you're most likely to encounter. Note, some of these fees are industry standards. In contrast, others like late payment and termination vary from one provider to another.
If considering installing internet services, ensure you understand the contract details fully. This article's recommendations (business tips) should also help you reduce or avoid most of these hidden charges. 
You may also like: How To Find The Best Internet For Your Business
Image source: Shutterstock.com