Click here to get this post in PDF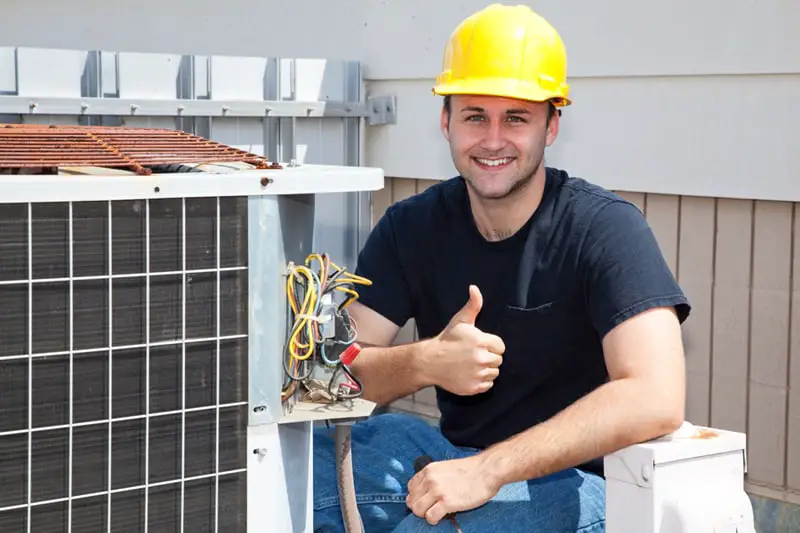 Due to advances in technology, certain careers are starting to become obsolete. However, as long as people need air conditioning, heating, and ventilation, HVAC companies will have a foothold in the market. 
So, if you're thinking about starting an HVAC business, then you're setting yourself up for success. 
But, if you want to start your own HVAC company, where do you begin?
Check out this guide to learn how to start an HVAC company. 
1. Get Your HVAC License 
In order to start your own HVAC company, you first need to get your HVAC license. Many people don't know this, but HVAC is actually a trade that's highly regulated, and most professionals who work in the industry need a license. According to HVAC Schools 411, some states don't require a license to work as an HVAC tech but still, there are others who do. 
If you don't already have your HVAC license, here's what you need to do to obtain it:
Earn your high school diploma or GED
Attend an accredited trade school or program to earn your HVAC certificate
Obtain your HVAC license from the state in which you plan to work (different states have different requirements, so it's very important that you look into your own state's licensing process)
Pass the certification exam for the different types of HVAC careers
After obtaining your license, we suggest getting some experience in the field before opening your own business. Luckily, HVAC companies are hiring technicians all the time, so this shouldn't be that hard to do.
2. Create a Business Plan 
After gaining some experience in the field, it's time to create a business plan for your HVAC company. 
Here's what your business plan needs to cover:
Information about local competitors
Startup budget/financial obligations
Marketing plan
Revenue projections
General market research
The more thorough your business plan is, the better chance you have of setting up your company for success. Plus, a business plan gives you a general guide that you can refer back to when you're feeling stuck. 
When creating your business plan, there are certain specifics that you'll want to cover as well. This includes:
How far you're willing to travel to complete a job
What types of services you'll offer
How you'll structure your payment (hourly vs per project)
When you'll be open
Whether or not you'll provide emergency repair services
Whether you plan to hire full-time employees, part-time employees, or subcontractors (Remember, if you hire full-time employees, then you'll have to worry about benefits, PTO, etc.)
It's important to figure out all of this information beforehand, as then your customers will know from the get-go what they can expect from you.
3. Figure Out Startup Costs 
We're not going to lie to you, starting an HVAC business is expensive. And, one of the biggest mistakes you can make early on is failing to account for all of your business expenses. 
In order to make sure nothing goes unaccounted for, it's important that you lay out all of the expenses beforehand. Here are some basic things you'll need to start your HVAC business:
A vehicle that's large enough to carry all of your tools and supplies
Workers' comp insurance and liability insurance (worker's comp insurance should cover you and all of your workers, including subcontractors)' Check out specialized HVAC Contractors insurance.
General tools such as tape measures, electrical testers, battery-powered drills, crimpers, shears, drive benders, staple guns, and a Snap Loc coolant hose
Vehicle signage
Safety equipment
Apparel with company logo
Marketing materials such as business cards, brochures, website, and door tags
If you can't pay for all of these expenses upfront, then you may want to consider taking out a business loan. You should work with your bank or with your financial planner to figure out which type of loan is best for you. 
4. Create a Business Name and Address 
Once you've figured out the startup costs for your HVAC business, its time to create a business name. 
Remember, this name is going to stick with you for as long as your company is in business, so it's important that you choose wisely. To get an idea for a good name, research HVAC businesses in your area. 
You'll find that many people name their HVAC business after their last name or after the city they reside, so this is always a good default idea if you can't think of anything else you like. 
In addition to choosing a name, you also need to get a business address. If you have the money for it, we suggest getting your own office space. However, if you don't have this kind of funding yet, then you should at least invest in a P.O. box. 
Whatever you do, don't use your home address as your business address. Not only is this unprofessional, but it can also be a safety concern. 
Once you have your name and address figured out, you should also create contact information for your business. Your email should contain your company name, and your business phone number should be separate from your home phone number. 
5. Register Your Business 
With your name, address, and contact info in hand, it's now time to register your business. 
Licensing and registration laws vary greatly by state, so it's important to do your own research to figure out how to register your business. 
With your business license you'll also get a tax number, which will help you avoid issues should you ever be audited. 
6. Market Your Business 
Once you've taken care of all the above, it's time to market your business. 
When marketing your HVAC business, the very first thing you should do is create a website. Your website, above anything else, is how new customers will find you. 
In addition to creating a website, we also suggest buying ads online, creating a blog, creating social media pages, and investing in print advertising such as newspaper ads, flyers, and billboards. 
Are You Ready to Start Your Own HVAC Company? 
Now that you know how to start your own HVAC company, it's time to get down to business. 
Starting your own HVAC company in Athens, GA is a huge undertaking, so make sure you're really in it for the long-haul. 
And, if you liked this article, be sure to check back in with our blog for more business-related advice.
You may also like: Top 7 Tips for Growing a Home Remodeling Contracting Company