Click here to get this post in PDF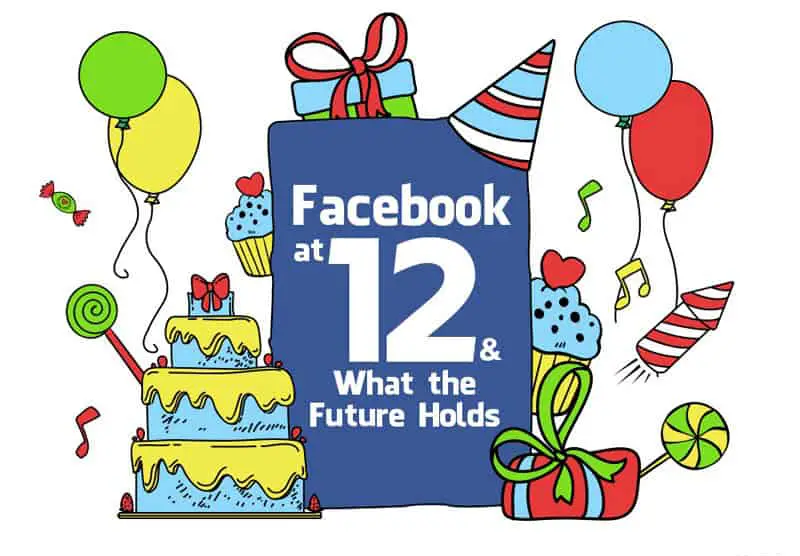 Did you know that Facebook will celebrate its 12th birthday on the 4th of February? The social network has come a long way since its Harvard dorm room days. It now runs four of the six largest social networks in the world and boosts over 1.5 billion users of its core service.
WhatsApp, which it also owns, has 900 million users and Instagram, (also a Facebook-acquired company) has 400 million users respectively. Since it first announced its bid for IPO status in February 2012, it has been going from strength to strength and is well-placed for the future.
In 2015, mobile overtook desktop for the first time and Facebook is well placed in the mobile market with three-quarters of its $4.3 billion in advertising revenue coming from mobile users in the third quarter of 2015. In fact, 90% of Facebook users access Facebook on a mobile device at least part of the time.
To celebrate Facebook's 12th birthday and to get a peek into what lies ahead for the industry giant, One Productions put together this infographic that covers Facebook's evolution since the IPO, where it is today in 2016, and what comes next.
About the Author
Tom Hopkins is the Managing Director of One Productions an integrated communications agency, with headquarters in Dublin, Ireland. Tom is a Film and Video Director as well as an Art Director. He has 22 years' experience working in the media and communications sector. Since 1991, he has worked in agencies and production companies in Dublin, Milan, London and San Francisco. Clients Tom has completed media work for include Pfizer, Guinness, Microsoft and Sony. His work has appeared on national television and at global film festivals, including the prestigious Venice film festival.