Click here to get this post in PDF
Safety signs are a vital part of any workplace, but especially warehouses. Constantly moving, and with lots of people, machines and vehicles around, they're places in which there are many potential hazards and risks. Signs help to reduce the risk of injury to people and accidental damage to goods, protecting your workers and your company.
Why Are Safety Signs Important?
It's a legal requirement for workplaces, as well as public spaces, to display safety signs to warn people of potential dangers. Different environments need different signs according to the hazards in that space.
Safety signs help people to use their common sense to avoid danger, but they also help to remind staff of safety rules. For example, a 'wet floor' sign informs people of the hazard so they can avoid the area, while a 'gloves must be worn' sign enforces your safety procedure.
Every company needs a health and safety policy and safety signs should be incorporated into this. Whether it's the wearing of safety equipment or restricting access to hazardous areas, a sign helps to inform people of the regulations in place.
This is vital in busy areas where there are lots of potential hazards, such as warehouse floors. To keep staff safe, warehouses must have signs to warn of potential dangers and enforce rules.
Essential Warehouse Signs
If you manage a warehouse floor or are responsible for health and safety procedures in your workplace, then check that you have considered the potential hazards. Signs are an essential way to enforce regulations and keep people safe.
Forklift Signs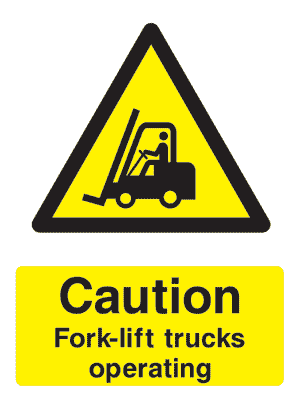 When there are forklift trucks moving around your warehouse space, they can pose a hazard to staff members. Placing signs that warn people of their presence will help people act more cautiously, reducing the risk of accidents.
You should also use signs to restrict the areas in which forklift trucks can operate. This reduces the risk of vehicles ending up in more dangerous areas where they pose a greater hazard.
Fire Exit Signs
Fire exit signs are essential. If an emergency were to occur, staff members have to know where the fire exits are and how to react safely.
Extinguisher Location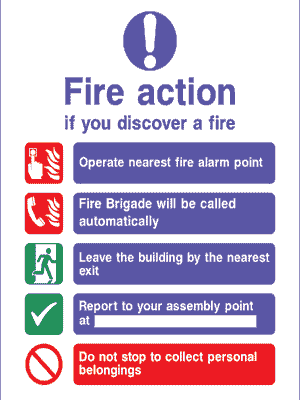 Signs can be used to inform people of the location of extinguishers or fire blankets so in an emergency, people can find what they need quickly.
Exit Locations
Fire exit signs need to be put onto doors, but also throughout the warehouse floor directing people to their nearest exit. It is also important to have secure steel doors featuring a multi-point locking system, which will protect your business from forced entry
Fire Action
While staff members can be informed verbally of how they should respond in an emergency fire situation, signs help to reinforce this and to remind people of the procedure.
First Aid Signs
First aid signs are a vital part of a health and safety system. Should an accident occur, it's important that the member of staff can seek immediate first aid easily. In a large warehouse environment, signs help direct people to the locations of the first aid kits or stations.
Emergency stop signs can also be part of the first aid system and can be extremely useful where potentially hazardous machinery is in use, from automatic doors to scissor lift tables. They help people to know how to stop machinery in an emergency situation.
Access Signs
It can be extremely helpful to restrict access to certain areas of your warehouse through the use of signs. This protects members of staff who have not got the right level of safety training.
Access signs can also be used to manage traffic to your warehouse, directing lorries and other vehicles safely. If you have a customer-facing portion to your building, access signs prevent members of the public from entering potentially dangerous spaces.

Protective Clothing Signs
Protective clothing helps to ensure the safety of staff members in regards to a range of different hazards. If the wearing of protective clothing, from hard hats to reflective jackets, is part of your health and safety procedure, then signs are essential to enforce it. They help to direct people in which areas they need to be wearing protective clothing.
Safety signs are essential for warehouses. If you're setting up a new warehouse or reassessing the health and safety procedures in your business, then it's important to ensure you are compliant with laws around signage.
You may also like: 5 Ways for Construction Workers to Stay Safe