Click here to get this post in PDF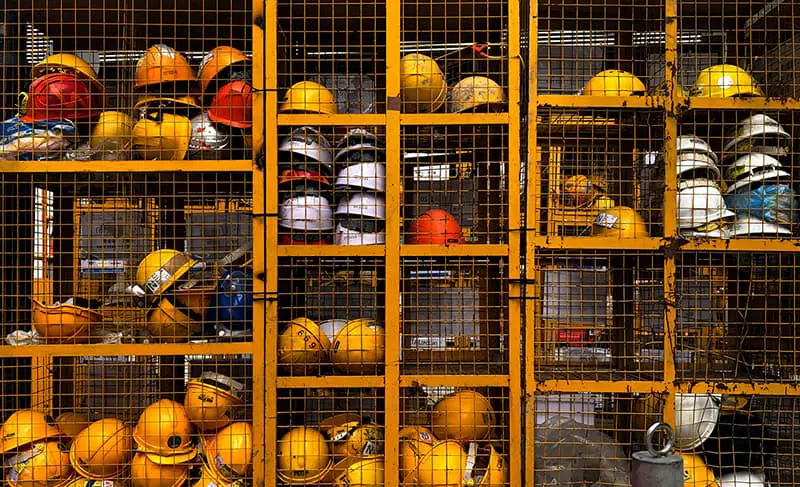 It shouldn't come to a surprise that construction is one of the most dangerous industries. For every 100,000 full-time employees, 18 deaths occur each year in this industry. Construction workers use scaffolds, ladders, and cranes, which means they are at a high risk of getting injured from falls. Other common construction injuries include getting hit by falling objects, having equipment-related accidents, getting burned or injured in a fire or explosion, heatstroke, and sustaining repetitive motion injuries. Because construction work is such a hazardous industry, it's imperative to do everything you can to keep your construction workers safe.
Here are five ways for construction workers to stay safe.
1. Always Use Tools and Equipment Correctly
Construction workers use a variety of tools in their job. Many of these tools, including handsaws and power saws, have sharp edges, which makes them dangerous to use. One of the most dangerous tools, however, is the nail gun. This tool alone has caused over 42,000 injuries. Ladders are also considered dangerous. About two million people each year are hospitalized from falling off a ladder. When it comes to using any kind of construction tool, especially these more dangerous ones, it's important to know how to use them correctly. Knowing how to properly use construction tools will greatly reduce the chances of getting injured.
Besides dangerous tools, construction involves a variety of equipment. Heavy equipment can be especially dangerous. Some of the most dangerous pieces of equipment used in construction include:
Cranes
Bulldozers
Dump trucks
Backhoes
Excavators
For many types of heavy equipment, the operator must be licensed to use it. Also, drivers who operate heavy equipment must have a commercial driver's license. When equipment is used correctly, and the operators have the correct training and licenses, it makes the construction site much safer. Additionally, equipment tends to become less effective as it ages. This is the result of the machinery deteriorating over time. Learning how to examine tools and maintain equipment, especially the structural components is an essential safety precaution at your worksite. If you think that some of the components have to be changed or replaced, don't hesitate to find reliable suppliers and get a quote for structural components. Inadequate maintenance of tools and equipment can result in reduced effectiveness, lowered work quality, and a variety of additional effects that ultimately jeopardize the safety and cause injuries.
2. Use the Right Equipment for the Job
Besides knowing how to use the tool or piece of equipment, construction workers should always use the right tool or piece of equipment for the job. It's easy for a construction worker to be in a hurry and improvise with another tool or piece of equipment.
However, certain equipment is made for specific jobs. In order to avoid serious injury, the right tool or equipment should always be used for specific jobs.
3. Use Apps that Ensure Worker Safety
There are a variety of apps that can prevent a construction worker from becoming seriously injured. Some of the best apps for maintaining construction worker safety include:
Fall Safety App – useful for construction workers who work at heights, this app can detect if a worker has fallen and send out an alarm and an alert to the worker's emergency contact person.
Safesite – used by project managers and their teams, this app allows personnel in charge to log safety hazards and conduct inspections.
iHandy Translator Pro – used by construction workers and contractors, this app allows for clear communication at all times while on the job.
Safety Meeting App – useful for project managers, this app lets them keep track of safety meetings required by OSHA, along with recording accidents and employee attendance.
Decibel 10th: Professional Noise Meter – used by construction workers, this app can help to monitor noise levels, which is important for hearing protection.
While these apps can't guarantee that construction won't become injured, they can be very helpful for providing optimum safety.
4. Wear the Appropriate Safety Gear
When it comes to construction workers, one of the first pieces of safety gear that comes to mind is the hard hat. These hats are indeed a must-wear in order to stay safe. Wearing one can prevent head trauma, such as concussions and traumatic brain injuries. For optimum safety, it's important for construction workers to follow the rules when it comes to wearing a hard hat.
These rules include:
Hard hats must have the ability to resist penetration, absorb shock, be water-resistant, and slow to burn.
Hard hats must be approved by OSHA and contain certain information in the hat, such as the manufacturer's name, the size, date of manufacturing, and American National Standards Institute (ANSI) class and type.
Hard hats need to be worn when there are electrical hazards present when there is the threat of falling objects, or there are fixtures present on which workers can bump their heads.
Besides hard hats, other common safety gear worn by construction workers include safety glasses, gloves, safety vests, and safety harnesses. Because construction sites are very loud, ear protection should also be worn.
5. Take Extra Safety Precautions in the Heat
Construction workers often work outdoors, even when it is hot outside. For this reason, construction workers need to take extra safety precautions when working in the heat. Every year, there are stories about construction workers dying of heatstroke and other heat-related causes. In 2016, 11 construction workers died. These deaths are completely preventable when the right safety precautions are taken. They are also preventable when other project managers and construction workers know the symptoms of heat exhaustion.
When working in the heat, it's imperative for construction workers to drink plenty of water and take frequent breaks in the shade or air conditioning. Construction workers should also wear light clothing and sunscreen. They should never overexert themselves in the heat, especially when the heat index is high.
Every project manager and construction worker should know the signs of heat exhaustion. Some of these signs include an altered mental status, slurred speech, skin that is not sweating and having seizures. If any of these signs are present, it's important to get medical attention right away. An app called OSHA Heat Safety Tool can be very useful when working in the heat as it calculates the heat index for a particular job site.
Construction workers who use their tools and equipment correctly and for the right job, have access to certain safety apps, wear the appropriate safety gear at all times, and take extra precautions when working in the heat will be set up for success when it comes to staying safe on the job.
You may also like: 4 Reasons to Invest in Workplace Health and Safety