Click here to get this post in PDF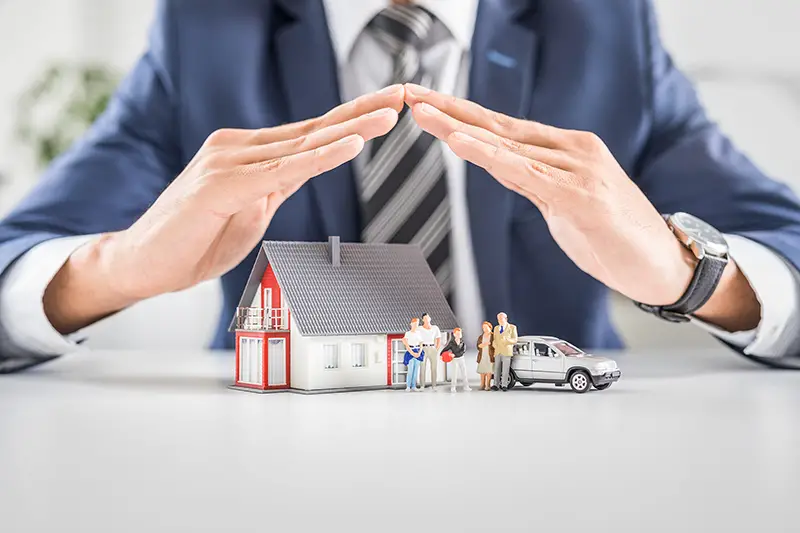 Does your business need business insurance?
Unless you're a complete risk-taker, the answer is yes. The world has far too much risk in it for businesses to get market share by tempting fate. More than that, many aspects of running a business need some kind of insurance.
So, your business needs business insurance. However, depending on what your business does and what it sells, the types of insurance you need vary.

Fortunately, we're here to provide you with a guide to business insurance, with an emphasis on the different types of business insurance there are, what they consist of, and why they're important.
With this guide in your back pocket, you'll be ready to draft an insurance checklist that covers every risk your business faces. Let's get started.
Types of Business Insurance: Property Insurance
Property insurance is an important type of insurance, especially for starting a business. Businesses need to buy property insurance to cover their physical assets.
It is important to get an estimate of the value of the business property assets. Then, the business must decide which type of property insurance will provide the best coverage. 
There are several types of coverage options, such as fire and theft, civil commotion, and all risks. Once coverage is decided upon, it is essential to understand the policy details. Ensure that premium payments are kept up-to-date. 
General Liability Insurance
General Liability Insurance is a type of business insurance that provides coverage for your business from loss due to injury, property damage, and lawsuits. Knowing the ins and outs of this insurance is an important part of running a successful business. 
Make sure you understand the coverage options and limits of your policy. Read the exclusions of the policy carefully to ensure no surprise liabilities aren't covered.
Add specialized riders to your policy to cover any high-risk activities. Ask your insurance provider questions and get clarification if you don't understand anything.
Workers' Compensation Insurance
This type of small business insurance covers medical costs, lost wages, and death benefits for injured or killed employees. So, this is important for every business size.
Research the laws in your state regarding workers' compensation insurance. Every state has different requirements, so it's important to understand the laws in your state. 
Compare different policies to find the best one for your business. Be sure to pay attention to the coverage amount, deductible amounts, and premiums.
Suppose a business does not have workers' compensation insurance. In that case, this means any and all medical expenses and wages lost due to the injury would directly come out of the business's pocket. As a result, employers would be more exposed and vulnerable to lawsuits. To understand this insurance more, check https://hinkleinsurance.com.
Professional Liability Insurance
It protects businesses and professionals if they are held liable for certain claims made against them. It covers any legal costs that may arise from defending a claim and any possible damages that need to be paid.
Make sure all employees are trained in proper procedures for completing tasks and handling clients. In addition, all employees are aware of any risks and liabilities associated with their work. 
After that, ensure the insurance company is accredited and has a good track record. Check your premiums to make sure they are up to date and that you are getting the right coverage for your needs. Follow all safety practices and procedures recommended by the insurance company and your industry.
Business Interruption Insurance
It covers the income a business would have generated if the unexpected event or disaster had not occurred. This insurance can help pay for the continuing costs of running a business and any resulting losses of income or finances. It can also provide coverage for wages, taxes, rent, and other bills.
It is an invaluable asset to a business and can give peace of mind in the face of uncertain times. So, it is important to establish the particular period of time after the event during which the losses can be claimed.
Understand which perils are covered, such as power outages, equipment breakdowns, and fatalities. Establish the beginning, end, and duration of coverage. Evaluate the validity and strength of the insurance provider.
Clarify the type of business losses that will be eligible for coverage and calculate the estimated income loss. Complete the policy and make returnable premium payments.
Product Insurance
Product insurance is a form of business insurance that covers items that are purchased, leased, or rented for use in the business. Both large and small companies can provide protection here, so be sure to shop around to see what fits best.
Next, it's important to assess your individual business needs. This will help you determine the kind of coverage you need and the necessary levels of liability and protection.
Before signing any agreements or contracts, always be sure to read the fine print and ensure that you understand what is covered by the policy.  Product insurance is an important aspect of protecting any business, and taking the time to understand it will be beneficial in the long run.
Decide Which Types Are Best for You
These types of business insurance provide protection for many businesses. Deciding which types of insurance best suit your business needs is important.
Consider what assets are important to your business and decide which coverages will provide your business with the protection it needs. Do your research to identify the right coverage at the right price. Talk to your insurance agent or broker to find the best insurance for you.
If you find this article helpful and want to read more great content, check out the rest of our blogs today!
You may also like: The Different Types of Shop Insurance Available and How to Pick the Best One for Your Business
Image source: Shutterstock.com