Click here to get this post in PDF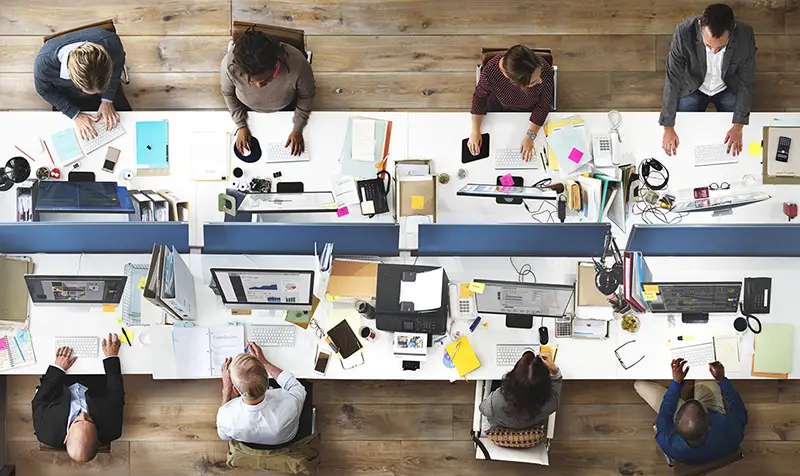 Employees are increasingly looking for more than a paycheck when they are considering jobs. If you want to attract and retain the top talent in your industry, you'll also need to compete in other ways, see the detailed breakdown here.
Here are some of the benefits companies are adopting to entice workers.
1. Remote Work
In 2020, companies sent many employees to work from home during the pandemic. Guess what happened?  People liked working at home, and for many companies, it worked just fine. When people can work from home, they can work anywhere as well. So adding remote work options will be a big selling point moving forward.
Remote work also opens the door for employment opportunities beyond geographic borders. When you don't have to commute to work physically, it doesn't matter where you live.
2. Telehealth
With more employees working remotely during the pandemic, more employers are offering telehealth benefits so workers can visit the doctor without leaving their homes. Telehealth jumped more than 50% in 2020 and is expected to grow another 5% in 2021. Employees granted telehealth benefits during COVID are now expecting them to become permanent.
3. Mental Health
82% of employees have expressed concerns about their mental health in today's environment, yet only a quarter of them thought their companies provided adequate support. Offering holistic benefits to address the mind and body is becoming more in demand by workers. These are being added as part of an overall approach to expanding Wellness benefits.
4. Hybrid Work Environments
42% of US workers were doing at least some work from home during last year. As employees become more comfortable working from home, expect to see increased demands for telecommuting and hybrid work environments.
Hybrid environments, where workers split their time working from home and in the office, will become more desired. 83% of workers in one study said they want to work from home for at least part of their workweek. Another study showed that more than a third of workers said they would rather quit their jobs than go back to working full-time in the office.
5. Unlimited PTO
One of the hottest trends is unlimited paid time off (PTO). It's a policy where employees aren't given a predetermined number of vacation or sick days but are allowed to take off whatever they deem as reasonable.
First seen as a perk in startups and tech companies, it's now become adopted by more established companies that see it as an important recruiting tool. Research into unlimited paid time off shows that most employees still take only 2-3 weeks off during the year. 5% of employees didn't take anytime off.
6. Offering Expanded Payment Options
A number of companies are offering expanded payment options for employees, such as Bitcoin or other cryptocurrencies. This can be incredibly attractive as cryptocurrency prices are exploding. Companies doing this should pay particular attention to regulations regarding wages to ensure they are following proper guidelines.
7. Additional Investment Opportunities
Another way businesses are evolving is to work with benefits providers to offer additional investment opportunities for 401(k), retirement programs, or deferred compensation plans. By offering cryptocurrency and investment opportunities through Fintech companies, companies are creating broader alternatives that are attractive for Millennials and Gen Z workers.
8. Educational Expenses
Tuition reimbursement and student loan repayment programs are also being used to recruit and retain employees. Some companies are offering to make a one-time payment to reduce student loan debt as a signing bonus. Others are offering significant loan payoffs if employees complete multiple years of service.
As part of employee development programs, companies are also adding tuition reimbursement for ongoing training that's in line with company goals.
9. Stock Options
Historically, stock options were offered as a retention tool for highly-compensated employees and those with highly-specialized skills that were difficult to replace. In recent years, more companies are opening up options to other levels of employees.
For startups and companies that are not yet publicly traded, it's been a way to power growth and investment in the company. Predefined periods for vesting and cash out have helped with retention while options have become a powerful tool for recruiting.
10. Profit-Sharing
Whether it's cash bonuses, stock options, or some other form of compensation, companies are offering profit sharing to companies. One approach is to set annual goals for P&L, EBIDTA, or taxable income and share a portion of any revenue that exceeds budget goals.
Top Talent Is Always in Demand
Top talent will always be in demand. Companies will need to provide a great work environment, competitive compensation, and benefits to attract and retain high-performing workers. Employee recognition with Empuls is both easy and fun. Start rewarding good performance now.
You may also like: Engaged Staff Retain Customers: How to Engage Your Employees
Image source: Dreamstime.com