Click here to get this post in PDF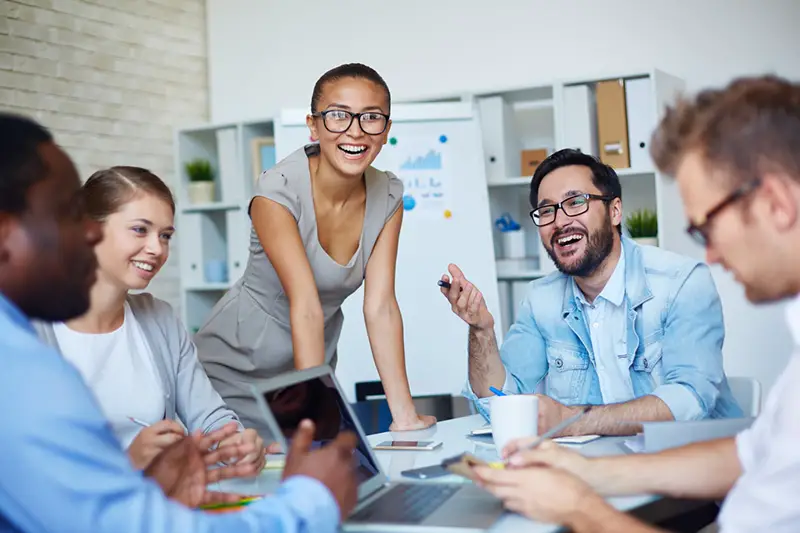 Staff engagement continues to be a complex puzzle for employers worldwide, with a paltry 15 percent of employees saying they're actively engaged at work. That implies the vast majority of today's workforce view their workplaces negatively, doing only the bare minimum to get through the day.
Having disengaged staff can hurt your business more than you imagine. Instead of walking into the office every morning to find your team energized, eager, and focused, you have employees who are actively looking for or open to new work opportunities.
The good news is that maintaining engaged staff doesn't have to be hard or expensive. But where do you start?
We've compiled four actionable staff engagement tips you can try, so keep reading for our best tips for keeping staff engaged.
What Is Employee Engagement?
Employee engagement describes how committed your staff is to the company and its success.
It's shown by your employees' motivation to complete their work, as well as how closely workers relate to your values as a business. Staff engagement also has to do with employees' willingness to work and collaborate as a team.
Thus, employee engagement has a lot more to do with whether or not employees "love" their job.
Why Should You Care About Staff Engagement? 
Keeping staff engaged is essential for a variety of reasons. Engaged employees are satisfied employees, and this satisfaction will be reflected in their work. Unless employees feel motivated, they won't perform well, which means that overall productivity suffers.
Employee engagement also plays a huge role in helping retain employees. Disengaged workers require little incentive to leave your company. 69 percent of disengaged employees say they'd leave their current positions for as little as a 5 percent pay increase.
Meanwhile, it would take four times that much to tempt an engaged employee.
There are lots of other perks you stand to reap by having engaged team members in your company. The point is that engaged workers make great business sense.
How to Engage Employees
At first, it sounds like a huge challenge to transform every worker's attitude. But nothing could be farther from the truth. The following simple initiatives can go a long way in engaging staff.
1. Support Your Employees' Personal Development
Many companies encourage professional development for their staff. But it's quite challenging to achieve professional development without personal development. 
So, how do you motivate personal development in your employees? Start by taking the time to know your workers on a personal level. That means learning about their interests and passions outside of their work.
Look for areas in your business that might suit your employees better based on their personal aspirations. Are there extra responsibilities that employees may want to take for their personal development?
Identify training programs that may help workers acquire new skills that offer them personal and professional fulfillment.
When you support your workers' personal development, it's a powerful sign that you want them to achieve their goals. This motivates them to work harder, and you get to retain talent.
2. Provide Psychological Safety
Do your employees live in perpetual fear of getting punished if they make mistakes? That's an unhealthy work environment and a sure way to keep a disengaged workforce.
Without pleasing management, no employee wants to be productive. Workers stop sharing new ideas as they know you're going to shut them down.
So, how do you provide psychological safety? Try to adopt a kinder and more positive approach. Invite your employees to give new ideas, ask questions, voice concerns, and offer suggestions freely.
When you empower your staff to speak out freely without fear of ridicule or judgment, engagement levels stay high.
3. Recognize and Reward Hard Work
Few things are more powerful in boosting an employee's morale than to know their boss notices and appreciates their contribution to the company. If a worker doesn't feel like you see or hear them, they won't believe that what they're doing matters much to the organization. 
Take the time to recognize, reward, and celebrate your team whenever they've achieved a milestone. Acknowledge their hard work whenever possible.
There are lots of ways to offer recognition. You can do so verbally, which means taking a couple of minutes to tell an employee that you appreciate what they're doing. Make the interaction more meaningful by pointing out the positive things from their contribution you appreciate. 
Where the accomplishment a worker has made is big, consider promoting them or offering some other opportunity for career advancement. 
4. Invest in the Right Tools and Resources for Work
For your team to be productive, they need the right tools and resources. If you're still using outdated tools or, worse still, lack the resources your team needs, your team may get frustrated.
Take the time to research the latest software people in your industry are using. Sites like WorkBright.com may prove helpful when it comes to some of the software you need to be using.
You can also ask your employees to suggest what software they feel will be most helpful with their specific duties. If possible, provide a variety of tools and programs from which your employees can choose.
Of course, the best software will do you little good if employees are unfamiliar with it. That's why it also helps to invest in sufficient onboarding, so workers know how to use the tools you provide well.
Keeping Engaged Staff Shouldn't Be a Hassle
Having engaged staff can greatly contribute to the collective well-being of your organization.
As you've seen, it doesn't take much to keep your workers happy, motivated, and productive. The tips we've suggested above can help you get there in no time.
Are you interested in reading more content on keeping your staff happy? Please keep browsing our blog for other great articles.
You may also like: How to Increase Employee Engagement: 7 Actionable Ideas
Image source: Depositphotos.com