Click here to get this post in PDF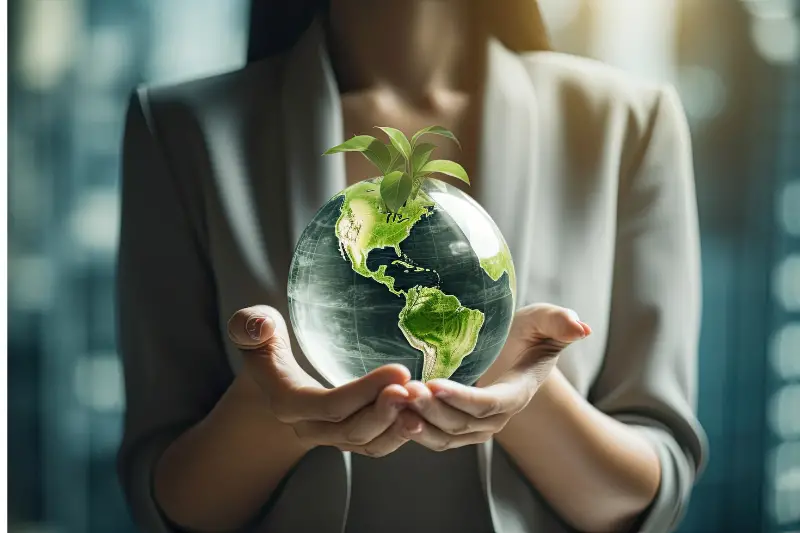 In an era where environmental consciousness is not just valued but expected, businesses are increasingly turning towards eco-friendly practices. One key area where this shift is evident is in the choice of promotional products. Opting for sustainable promotional items not only reflects a company's commitment to environmental stewardship but also resonates with a growing demographic of eco-aware customers. In this post, we will explore why businesses should embrace eco-friendly promotional products, how it benefits them, and how companies like Pavilion Earth are leading the way in this green revolution.
The Environmental Impact of Traditional Promotional Products
Promotional products have long been a staple in marketing strategies, but their environmental impact is increasingly coming under scrutiny. Traditional promotional items often rely on non-biodegradable materials like plastic, contributing significantly to environmental degradation. These products, from pens to keychains, often end up in landfills after brief periods of use. Moreover, the production process of such items, coupled with excessive packaging, results in a considerable carbon footprint. The short lifespan and disposable nature of these products exacerbate waste and pollution issues, making them unsustainable choices in an eco-conscious world.
Consumer Perception and Brand Image
In today's market, consumer perception is greatly influenced by a company's environmental stance. Eco-friendly promotional products are powerful tools in shaping this perception positively. When a business opts for sustainable promotional items, it sends a clear message about its commitment to environmental responsibility. This approach can significantly enhance brand reputation, fostering customer loyalty. Consumers are increasingly drawn to brands that demonstrate a genuine concern for the planet, and eco-friendly promotional products are a tangible reflection of this commitment.
Cost-Effectiveness and Long-Term Investment
The notion that eco-friendly products are prohibitively expensive is a misconception. In reality, the long-term cost-effectiveness of sustainable promotional items is a significant benefit. These products are often more durable and have extended usability, which translates into prolonged brand exposure. Additionally, investing in eco-friendly products can lead to savings in waste management and disposal, offsetting initial costs and proving to be a prudent long-term investment.
Compliance with Environmental Regulations
With environmental regulations becoming stricter, compliance is essential for businesses. Opting for eco-friendly promotional products is a proactive step in adhering to these regulations. Non-compliance can result in legal challenges and hefty fines, making sustainability not just an ethical choice but a practical necessity. By choosing environmentally friendly promotional items, businesses can avoid the risks associated with non-compliance and align themselves with best practices in environmental stewardship.
Competitive Advantage in the Market
Sustainable promotional products can provide a significant competitive advantage, especially in markets where environmental consciousness is a priority. Businesses that commit to sustainability often experience increased customer loyalty and market share. Numerous case studies demonstrate how companies have leveraged their commitment to eco-friendliness to stand out in the marketplace, attracting environmentally conscious consumers and enhancing their overall market position.
Marketing Opportunities with Eco-Friendly Products
Eco-friendly promotional products open up unique marketing opportunities. They allow brands to align with global sustainability initiatives, enhancing their appeal to a broader audience. These products can be powerful tools in communicating a company's commitment to environmental issues, thereby increasing its visibility and resonance with an environmentally aware demographic.
Boosting Employee Morale and Shaping Company Culture
Adopting eco-friendly practices, including the use of sustainable promotional products, can have a positive impact on employee morale. Employees often feel more engaged and satisfied when working for a company that aligns with their personal values, such as sustainability. This shift can foster a culture of environmental awareness within the organization, creating a sense of pride and collective purpose among the workforce.
Enhancing Customer Engagement Through Sustainability
Sustainable promotional products are an excellent means to engage customers in a brand's environmental initiatives. They can help foster a deeper connection between the brand and its audience by involving them in meaningful environmental actions. Successful campaigns have used eco-friendly promotional items to create an interactive and engaging experience for customers, strengthening brand loyalty and customer relationships.
Innovation in Product Development
The move towards eco-friendly promotional products is driving innovation in product development. Companies are exploring new, sustainable materials and designs, leading to a more diverse and environmentally friendly range of promotional items. This innovation is not only beneficial for the environment but also opens up new avenues for creative and unique marketing products.
The Role of Suppliers in Promoting Eco-Friendly Options
Suppliers play a crucial role in the shift towards sustainable promotional products. Providers like Pavilion Earth are essential in offering a diverse range of eco-friendly options, making it easier for businesses to choose sustainable products. These suppliers are pivotal in promoting environmental consciousness within the promotional products industry and are vital partners for companies looking to make more responsible choices.
In the pursuit of sustainability, businesses face the challenge of balancing profitability with environmental responsibility. Eco-friendly promotional products offer an effective solution to this dilemma. They are not just marketing tools; they represent a company's values and commitment to a sustainable future.
By opting for green promotional items, businesses can significantly reduce their environmental impact while still achieving their marketing objectives. This approach also aligns with the growing consumer preference for brands that demonstrate social and environmental responsibility. Moreover, investing in eco-friendly promotional products can lead to long-term cost savings, as these items are often more durable and have a longer lifespan than traditional alternatives.
Furthermore, embracing sustainability can open up new markets and customer segments. Eco-conscious consumers are more likely to support and promote brands that reflect their values. Additionally, sustainable practices can enhance a company's reputation, making it more attractive to potential employees, partners, and investors who prioritise environmental responsibility.
In conclusion, the shift towards eco-friendly and sustainable promotional products is more than a trend; it's a strategic business decision that aligns with global environmental goals and consumer preferences. By choosing to promote their brand with sustainable products, businesses not only contribute to the well-being of the planet but also gain a competitive edge, enhance their brand image, and build stronger connections with their customers. This approach demonstrates that profitability and sustainability can coexist, leading to a future where business success and environmental stewardship are intertwined.
You may also like: 5 Eco-Friendly Businesses to Start Right Now
Image source: stock.adobe.com