Click here to get this post in PDF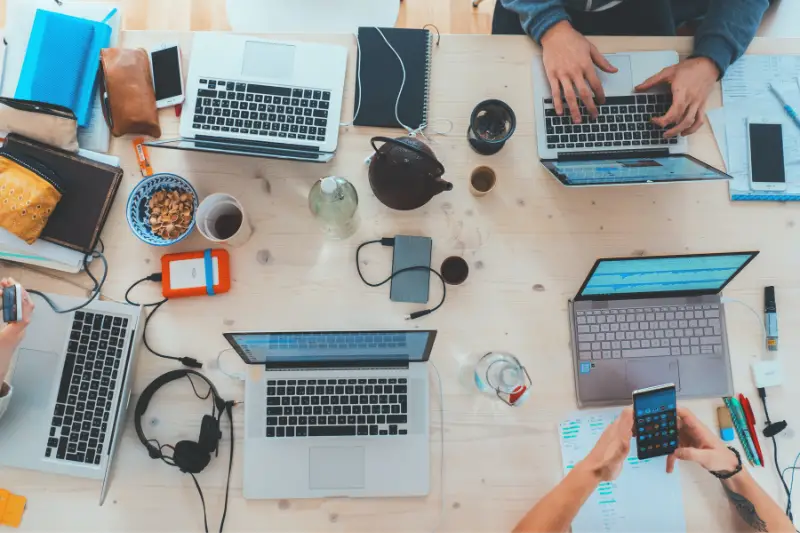 Digital transformation has become imperative for businesses to remain competitive and relevant in today's world where technology reigns supreme. As companies embark on their journey to embrace digital technologies, it is crucial to navigate through change effectively and seamlessly. This blog post explores strategies and success stories that can help guide businesses in implementing digital transformation, building resilience, and ensuring long-term success.
Choosing the Right Technology Partners
Selecting the right technology partners is a critical factor in the success of your digital transformation journey. By collaborating with reputable and experienced vendors, businesses can access cutting-edge technologies and gain valuable guidance on their implementation. Strategic partnerships can drive innovation and create synergies that propel the organization toward its digital transformation goals, ultimately resulting in increased market competitiveness. One such technology partnership that has gained prominence in recent years is cloud computing, offering businesses scalable and cost-effective solutions for their digital needs.
Creating a Digital Culture
An essential aspect of digital transformation is cultivating a digital culture that permeates throughout the organization. This includes fostering a culture of innovation, collaboration, continuous learning, and adaptation, which can be achieved by emphasizing the importance of staying updated with the latest technological trends, encouraging open communication, and promoting digital-savvy leadership at all levels.
Achieving Organizational Agility
As technology continues to advance rapidly, businesses must develop a deep-rooted sense of agility to keep up. Organizational agility enables companies to respond quickly and effectively to changes in the market, customer behavior, and emerging technologies. By breaking down silos, adopting a flexible business model, and embracing change as an opportunity for growth, businesses can become more nimble and better equipped to handle the challenges of digital transformation.
Measuring the Impact of Digital Transformation
It is essential for businesses to monitor and analyze the results of their digital transformation initiatives. Implementing appropriate performance metrics, tracking progress, and evaluating the outcomes can help companies make informed decisions, fine-tune their strategies, and maximize the return on investment. Regular assessments can provide valuable insights into areas of improvement and opportunities for growth, allowing businesses to adapt and evolve with the digital landscape.
Emphasizing Data Security and Privacy
In the age of digital transformation, ensuring data security and privacy is more crucial than ever. As companies become increasingly reliant on digital technologies, protecting sensitive customer and business information from cyber threats is paramount. Implementing robust cybersecurity measures, adhering to data protection regulations, and maintaining transparency with customers about data handling practices can build trust and foster a sense of security within the organization.
Developing a Customer-Centric Digital Strategy
Putting customers at the center of the digital strategy is vital for success. By using data analytics and customer feedback, businesses can gain a deeper understanding of their customers' needs, preferences, and behavior. This helps improve customer experiences, increase customer satisfaction, and ultimately drive growth. As companies prioritize customer-centricity, they can better align their digital initiatives with their overall business objectives, resulting in value creation for both customers and the organization.
Investing in Talent and Upskilling
People are the cornerstone of success in digital transformation. Identifying and attracting the right talent and upskilling existing employees are crucial steps in building a digitally savvy workforce. By focusing on continuous employee development, creating nurturing work environments, and offering opportunities for personal and professional growth, businesses can sustain long-term success in the digital arena.
Success Stories: Learning from the Best
Looking at real-world success stories can illuminate effective strategies for implementing digital transformation. Here are some notable examples:
Netflix is an exemplary case of a company recognizing the need for change and adapting accordingly. Initially a DVD rental service, Netflix successfully transitioned into a streaming giant by leveraging data-driven decision-making and embracing disruptive technology.
Walmart has established itself as a competitive player in the e-commerce space by acquiring innovative startups, investing heavily in technology and analytics, and continually optimizing its online and in-store experience for customers.
DBS Bank embarked on a comprehensive digital transformation journey in 2014 and has been recognized as one of the world's leading digital banks. By adopting a customer-centric approach and fostering a digital culture, DBS Bank has successfully managed to stay ahead in the competitive landscape.
Conclusion
Digital transformation is an ongoing process, and navigating its ever-changing landscape requires constant adaptation, innovation, and the right mindset. By cultivating a digital culture, maintaining agility, developing customer-centric strategies, investing in talent, and learning from the success stories of others, businesses can build resilience and write their own success stories in the digital era.
You may also like: Top 6 Key Benefits of Digital Transformation For Businesses
Image source: Unsplash.com