Click here to get this post in PDF
Learn how to plan a successful VR team building event and what are the most effective VR games that can help you improve team power.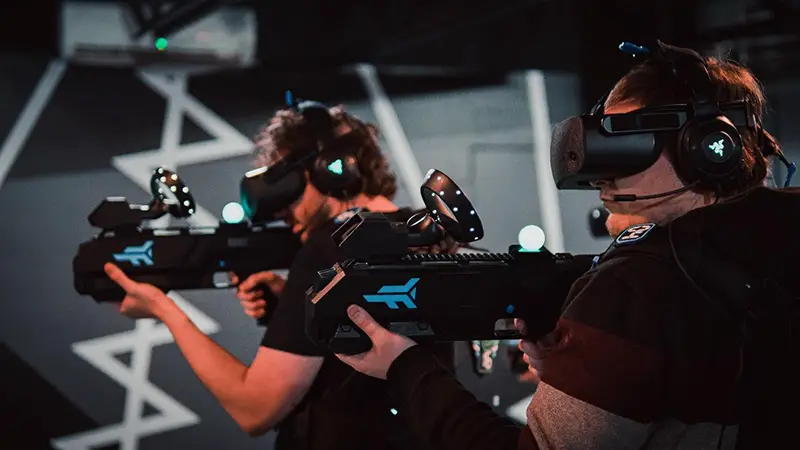 Team building that improves communication and collaboration is an inseparable part of a company's success. Collaboration in solving problems can lead a company to innovations and profits. However, companies often fail due to the absence of excellent teamwork.
However, bonding between team members does not happen in a day. They need to work, spend time, and enjoy each other's company to exhibit the best outcome as a team.
Companies that understand the importance of team building are always testing exciting new things that improve team members' relationships while keeping them entertained. These days, VR events are the rage.
Benefits of VR in Team Building
At first, VR might not strike you as a teambuilding method. Instead, we often consider it an entertainment tool for games and videos.
Traditionally, offices had recreation rooms with some board games like table tennis, chess, dart, etc. Employees would hang out in that room and connect with each other. Sometimes they would go out together, have fun, and get close through that.
With the increase in remote working and geographical diversity among employees, having the traditional team building experience has become quite challenging.
Now, with VR, the idea remains the same but in a different reality. You can simply put on your VR headset and enter the dimension where all your colleagues are hanging out.
So, if we have to pinpoint the benefits of using VR as a teambuilding method, they would be as follows.
Active Participation of Team Members
People are more likely to attend an event they are interested in. VR is extremely exciting. The fun gets multiplied when you enjoy it as a pack. 
Team Members Tend to Be More Energetic
As we mentioned, VR games are super fun and exciting and keep you captivated. Something exciting is always coming up, which brings out the energy in people. 
People Can Join from Anywhere
You do not have to be physically present in a team meeting while enjoying a VR session. You can join it while working from home, on vacation, or even when traveling.
Moreover, many companies these days have employees working from different countries. Despite the distance, they can enjoy some time together as part of a team.
Organizing the Event Takes Minimal Time
Unlike traditional events and meetings, arranging a VR event is very convenient and less time-consuming.
How to Plan a VR Team Building Event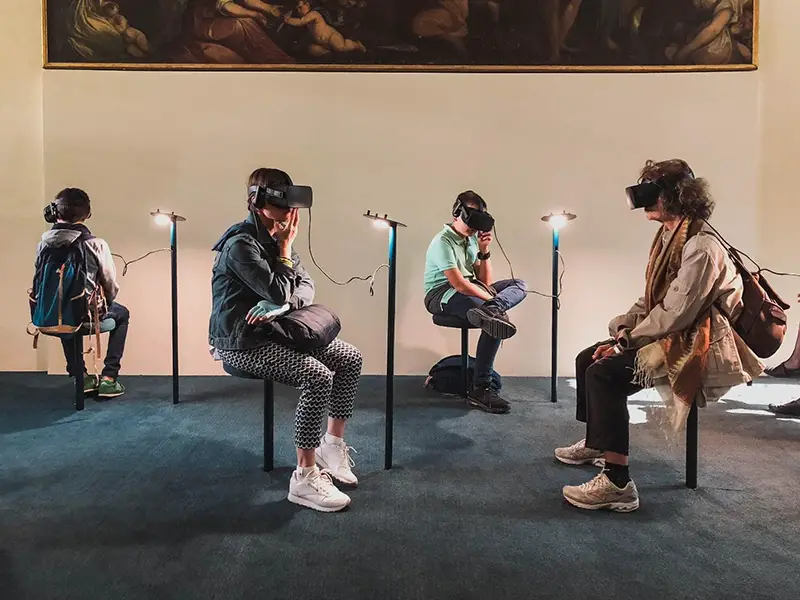 As mentioned earlier, it takes minimal time and effort to plan and execute an event for team building in VR. Following are the steps:
1. Get the Required Equipment 
It is pretty obvious that all team members need to have the necessary gear and gadgets for a successful VR session. Apart from that, some of them might also need some technical assistance to set things up. It is better to be prepared or provide set-up instructions for that.
The requirements for every member participating in the VR event are as follows.
VR headset
Gaming console or PC
VR application 
Microphones
Stable Internet connection
2. Schedule the Event
Like any other event, you need to schedule the event duration for the VR event. It is better to fix a time when most of the members can join. 
3. Pick the Streaming Platform
Decide on what type of game you want for your teambuilding event. Also, decide on the streaming platform. As there are many options available, choosing one can take some time.
4. Share Event Information with Team Members
The event host should inform the participants when the event will take place, what game everyone is about to play, the streaming platform, or any additional details.
Seven Effective Ways of Team Building using VR
You will find a variety of options when it comes to VR games. However, not all of them are suitable for multiplayer or helpful for team building. Some games, such as simulators or experiences, can be enjoyable even if you play them alone. 
On the other hand, some games are more enjoyable with family and friends, such as Walk the Plank VR, Chicks and Tricks, etc. 
We have gathered information from various companies and made a list of the top seven VR games that are incredibly helpful and popular in team building.
1. Improve Team Work under Pressure | Keep Talking and Nobody Explodes
Keep Talking and Nobody Explodes is a VR game where you along with your team, need to defuse a bomb. Here, one person is in charge of deactivating the bomb while others work on strategies to defuse it.
As the clock is ticking, the only thing that can help you is the collaboration of your team members. Your team needs to communicate, come up with solutions, and tell you what to do. If you succeed, the bomb will not explode; otherwise, it will.
This game helps with communication, generating new ideas or solutions, and working under pressure – skills often required in the corporate world.
2. Hang out with Your Team Members |Rec Room 
Rec Room is more of a casual game through which team members can bond. This is an alternative to the traditional recreation room in offices. In Rec Room, your team can have a separate event room to get along or hang out.
However, there is more to this game. Within Rec Room, you can play mini-quests or mini-games like paintball, dodgeball, laser tag, etc. These games improve team cooperation and allow members to bond. 
There are also some relaxing places like parks, lounges, etc., where the members can relax and chat.
3. Experience the Horrors and Work Together | Reiko's Fragment
In the VR teambuilding experience, the aim of the event organization does not always have to be about fun and excitement; it can be horrifying too. This game named Reiko's Fragment is all about scaring you while you, along with your team, try to escape this horror.
This game can bring out a different side of the team members. While one member frantically tries to escape from the terror, other members will try their best to stop them. This might seem like an opposing idea for bonding, but you can trust us on this. They will connect in a different way after this game.
Choose a venue wisely if you are organizing the event somewhere. The visual effects of this game are very realistic and can be extremely scary, so we cannot guarantee that your team members will not scream their lungs out.
4. Recreation with Teammates | Sports Bar VR
Not every VR event has to be energetic. Sometimes, you can arrange some easy-going VR sessions. The participants can have fun in this game while chilling with their colleagues. 
Sports Bar VR provides the virtual experience of traditional sports bars back in the day. You can sit back and relax while enjoying some of your favorite sports. 
Here you can play games like billiards, darts, Skee ball, chess, and so on. The experience can get competitive yet fun. Your team members will surely have fun while having an enjoyable time. 
If your team members love sports bar games, they will definitely enjoy this VR experience. 
5. Be Innovative and Solve Problems | Fantastic Contraption
Fantastic Contraption is a mind-blowing game when it comes to creativity and innovations. It is an extremely fun way to project your ideas by building contraptions. 
You can build different types of contraptions. The fun gets doubled when you enjoy it with your team members. This game literally illustrates the saying "teamwork makes the dream work." 
Innovation, problem-solving strategies, and collaboration are the key takeaways from this amazing game if you are playing it as a teambuilding method. 
6. Relax with Your Team Members | Guided Meditation VR
After completion of a stressful project, a meditation session can be rewarding for the team. As the team has gone through the chaos together, it is only fitting that they relax together as well.
Guided Meditation VR allows you to calm yourself and restore inner peace in some breathtaking places. It feels like you are on vacation and surrounded by nature.
The game helps relieve stress and energize you and your team for the upcoming challenges. VR sessions with such games need to be encouraged more, especially considering workloads and lifestyles these days.
7. Overcome Challenges with Your Team | Everest VR
Everest VR is a nerve-wracking game that puts your team through various challenges. It is the replication experience of climbing the highest mountain in the world. 
You will face the challenges you might face in the real world if you climbed Mt. Everest. You need to be in a group and work as a team in this game.
Collaboration and helping each other are essential to overcome challenges, which ultimately develops the bonding between the team members in real life. 
To Sum Up
Team building is incredibly important for the development of a company or organization. Usually, when employees are drowning in work, they are hardly in the mindset to properly communicate with their colleagues. 
That is why a dedicated time to relax and connect is necessary, which can be achieved through event planning and execution. Thankfully, this challenging task has become easier and more exciting for VR.
We hope that your company will consider team building in VR after going through this article.
You may also like: 3 Opportunities for VR and AR Tech in the Business World