Click here to get this post in PDF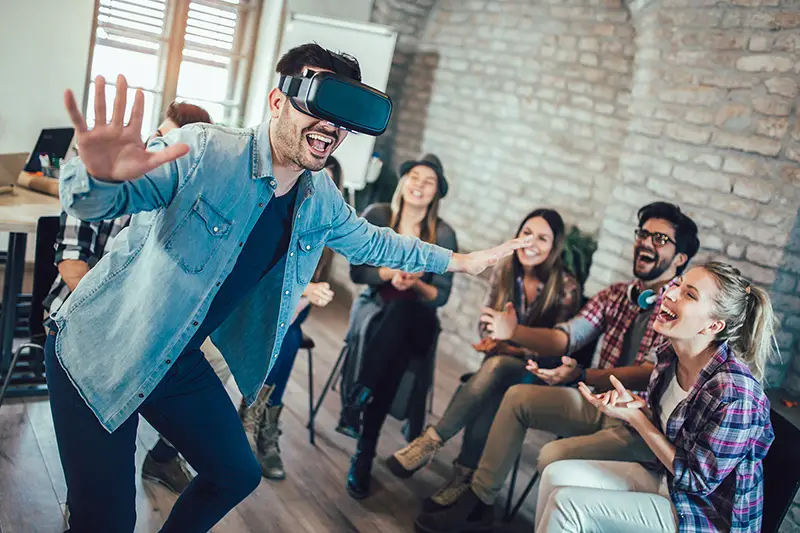 Organizing events online has become more than just a trend. It's a way of life. An event organizer must utilize the best platforms to host events that keep attendees safe and ensure that they enjoy the event. The idea of enduring uncomfortable online employee meetings that should benefit them but instead makes them cringe is something no host wants. 
Encouraging employees to participate in virtual team-building activities is hard enough, and building their morale along the way might be even more difficult. 
There are strategic ways for an employer to go about planning a huge event that involves team building activities that are fun and engaging. Here are some great reasons to utilize team-building activities while using alternative platforms to organize events.
Why Team Building is Important
Since the beginning of time, team-building activities have actively been a part of the workplace scene. However, virtual team building is a relatively new concept and might come with a few challenges. 
Regardless, the shift to virtual meetings is now the norm for the foreseeable future, and employers need to take advantage of the opportunity. Team building activities help to:
Build Morale
Improve Productivity
Forge a bond
Heightens motivation
Increase collaboration
Builds trust
When employees interact with their teammates in a non-work setting, it can help to shed new light on different personalities and allow them to see each other in a new way.
Essential Tools to Host Virtual Team Building Activities
Without the right tools and technological know-how, an employer may fail at hosting a successful team-building exercise. Even without being tech-savvy, putting in some research, or asking the IT department for some advice could help. 
To make sure the event is a success, here are a few tips that every employer should have in mind:
Prepare For the Event
Before embarking on a meeting or event, an employer should know the reason for hosting the event, the main points to being across, what resolutions should be achieved and how to interact with attendees. This will be the case for almost any event in the workplace. Thinking about what the audience is expecting can be a great step in the right direction.
Use a Reliable Platform
This point is essential, as it's the primary mode of communication among attendees. Many virtual technology tools have multi-purpose use and can work for almost any company. A few examples are Zoom, Skype, or Microsoft Teams. No one platform is a one-size-fits-all, so it's best to look at company needs and functionality. 
Access to High-Speed Internet 
No one likes a glitchy video, especially when it's live. Accidents happen, and even the best internet providers have their off days. However, having recurring virtual meetings that are slow and inaudible can be a hindrance. Upgrading the router might be an option in making sure meetings are secure and have a strong connection. 
Fun Team Building Activities That Work
There are many ways to engage your team in activities that bring them closer together and raise team morale. The following are a few exciting and unique options for fun team building games and activities.
Create Artwork
Whether team members do or do not have a creative bone in their body, creating art pieces can be a really fun team-building exercise to enjoy together. Team members could create funny caricatures of each other or create a scene about their favorite vacation. Either way, this activity is a great way to embrace artistry while having a good laugh. 
Virtual Karaoke 
Who doesn't love to sing? Employers can engage their team in a lively concert over the virtual airwaves, with each member belting out their favorite tunes. It would be a good idea to take advantage of filters to add dynamic backgrounds, costumes, and other fun filters to make the experience more fun. 
Have a Fun Quiz 
Quizzes don't have to be boring, and they don't need to be about work either. Ask attendees about quiz topics they like beforehand and set up questions on a platform like Kahoot. Everyone will be able to engage in a virtual quiz-off and get to see just how smart their team members are.
Give Awards
To make your team members feel some level of confidence in their work ethic, giving awards for attendance, behavior, or hard work is a fantastic idea. Not only will it boost their self-esteem, but it can drive them to work harder and focus more on the job at hand, putting in even more effort for the appreciation shown. 
Team Work Makes the Dream Work
Employers and businesses need to utilize engaging team building exercises to help boost morale and create a sense of community. Virtual meetings will only continue as they are a convenient way to communicate within the workplace or across the globe. Hopefully, these virtual team-building ideas will help more businesses or employers foster growth within the work environment and bring team members closer together. 
You may also like: Why Team Building Should Be on Every Business's Goals List
Image source: Shutterstock.com